Vietnamese films to shine at Busan Int'l Film Fest

Vietnamese films Thưa Mẹ Con Đi (Goodbye, Mother) directed by Trinh Dinh Le Minh and Anh Trai Yêu Quái (My Annoying Brother) directed by Vu Ngoc Phuong will be presented at the Busan International Film Fest on October 3-12.
MOVING: A scene in the film Thưa Mẹ Con Đi (Goodbye, Mother) directed by Trinh Dinh Le Minh. Photo courtesy of CJ HK Entertainment
They will be screened in the framework of A Window on Asian Cinema, a part of Official Selection, where new films by Asian filmmakers are highlighted.
While Goodbye, Mother has been screened nationwide since August 16, the film My Annoying Brother will premiere on November 29. All are inspired by family bonds.
Goodbye, Mother is an indie film starting with the love story between two men, Ian and Van. But it's more than a story about the empathy and equality for the LGBT community in Vietnam. The film tells the story of two gay men and the discrimination they face from the community.
Above all, it's about the tolerance of the mother and family love.
The performances by actors Lanh Thanh, Vo Dien Gia Huy and actress Hong Dao have been highly praised.
My Annoying Brother is a comedy about brotherhood and redemption. It stars Isaac, Kieu Minh Tuan, Dieu Nhi and Phi Phung. Lam is a skilled Judo athlete but falls into a dark hole when he loses his eyesight after an accident. His brother Phong has been away from home for 10 years. When he comes home from jail, the two brothers reconnect and redeem themselves with the help of the other.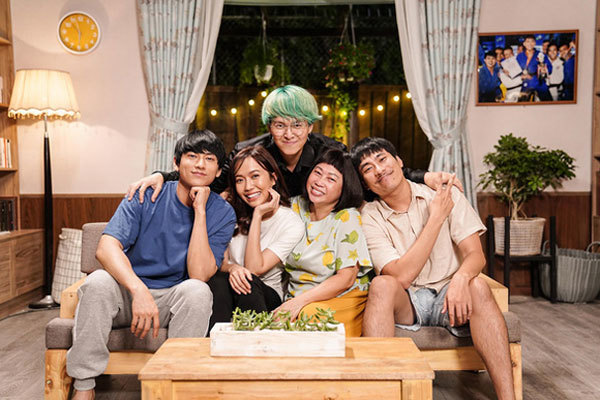 FAMILY TALE: Director Vu Ngoc Phuong (standing) and the cast of Anh Trai Yêu Quái (My Annoying Brother). Photo courtesy of CJ HK Entertainment

Isaac said he has spent months practicing Judo and living as a blind person. "I'm excited with this challenge so I tried to practice to convince the audience and offer a good performance", he said.
"Besides the conflict between brothers, we also reflect their love for each other."
Today the official website of the BIFF also announced that Ròm directed by Tran Dung Thanh Huy will compete in the New Currents category.
"Ròm is a young bookie in bustling Saigon. He tries everything he can to help the residents of an old apartment complex keep their homes and fulfil his dream of finding his parents," according to the website.
Director Minh said the presence of Vietnamese films at the BIFF demonstrates the quality of the national cinema industry.
"Vietnam has three films presented at the official selection of BIFF, which is big encouragement for Vietnamese filmmakers," he said.

It is not often that a movie keeps you on the edge of your seat while reducing you repeatedly to tears.This is what "Thưa mẹ con đi" (Goodbye, mother) did to me.
VNS