Vietnamese fashion designer's collection launched in Milan
The collection called "Quintessence" by Vietnamese designer Phan Dang Hoang is one of the top 30 best collections voted on by the fashion council, with representatives from the LVMH group, Versace, and Vogue Italy.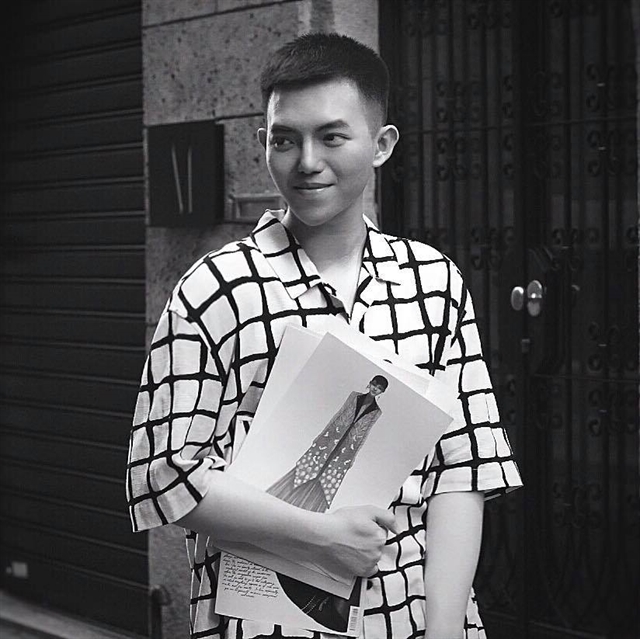 Phan Dang Hoang is a final-year student of NABA (Nuova Accademia di Belle Arti) in Italy — Photo courtesy of Hoang
Hoang's "Quintessence" is one of his two collections that were his graduation projects at the Nuova Academia di Belle Arti (New Academy of Fine Arts), also known as NABA, a privately run university in Milan, Italy. It took Hoang eight months to prepare for these projects. The first - "Quintessence" – came out in late June and the second will be introduced in October 2021.
"Quintessence" is inspired by traditional craft villages in Vietnam, such as weaving from silk fibers and making handicrafts from bamboo and rattan. The collection also sends a message about preserving and protecting traditional beautiful things that are gradually being lost. It also contributes to advertising the image of Vietnam.
Due to the Covid-19 pandemic, Hoang could not return to Vietnam to collect the materials, which are abundant in Vietnam. He had to seek alternatives in Italy.
Hoang uses environmentally friendly materials to maximize sustainability, but there are still many limitations in finding materials as some stores have had to close due to the pandemic.
The young designer said that the best 30 out of 100 collections of NABA's students will be introduced at the university's annual show. These designs are selected by a panel of experts who come from famous fashion brands, fashion magazines, and fashion influencers.
This year, the judges include Vogue Italy editor, talent development director of LVMH, representative of Versace brand, PORTS1961 brand and many fashion influencers. Hoang is one of six international students whose designs were selected for the annual show of NABA this year.
The show was livestreamed at 3pm (Vietnam time), June 29.
Mai Linh

Despite being affected by the COVID-19 pandemic, Vietnamese fashion designers have opted for innovation and meaningful projects.