Vietnamese athletics eye reign defence at SEA Games 31
In the last two editions of the Southeast Asian (SEA) Games, Vietnam surpassed Thailand to top the overall track and field medal tally. As the host of the 31st SEA Games this year, it is highly feasible for Vietnam to take the supreme honour
 in the sport for the third successive time.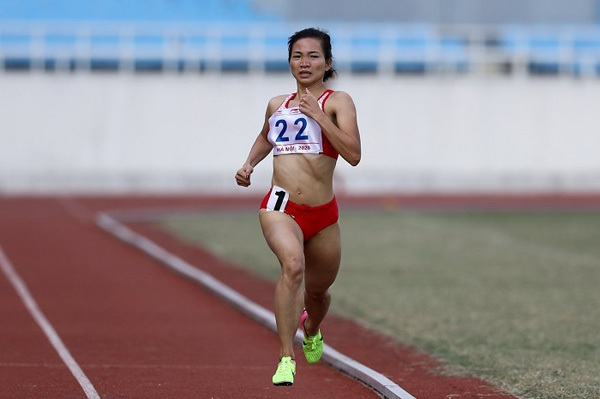 Nguyen Thi Oanh scores four gold medals at the 2020 National Athletics Championships. Photo: Zing

Vietnamese athletics' top-spot ambition for the upcoming regional Games is posed with significant challenges as, throughout 2020, the COVID-19 pandemic hindered Vietnamese athletes from participating in any overseas training courses as well as international competitions. Entering 2021, amidst the complicated evolution of the disease, international track and field tournaments have remained halted without confirmed dates for return, while it remains unknown when the sending of athletes for overseas training will resume. On mass media, Vietnam's athletics arch-rivals Thailand have also constantly affirmed their determination to reclaim the lost position. Given that fact, the host country of the 31st SEA Games will have to exert much greater efforts if they wish to defend their regional reign.
Last year, as a result of the two COVID-19 outbreaks, Vietnamese athletics only managed to organise two official domestic tournaments, the Speed Cup (Ho Chi Minh City, June) and the National Championships (Hanoi, November). The inability to train and compete overseas significantly affected the performance of athletes. In previous years, most of the national teams chose to train abroad to improve their profession and performance. In fact, practising in the countries with advanced sport levels brings athletes greater excitement and helps them further improve themselves in terms of both psychology and fitness compared to training at home. By engaging in overseas training camps and competitions, Vietnamese athletes will be able to break their limits to reach new heights. Meanwhile, at the present time, due to the pandemic, athletes in most of the events in which Vietnam is capable of securing a Tokyo Olympic Games 2020 berth have yet to achieve the performance indicators as expected. For example, Vietnam currently ranks 17th in the world regarding the 4x400m relay event and stands a chance to make the top 16 teams qualifying for the 2020 Olympics if international performance is improved in 2021. Even so, athletics is not a key sport of Vietnam in the Olympic arena and the real focus of the track and field department in 2021 is on the 31st SEA Games.
Looking towards the regional Games later this year, Vietnam athletics is completely confident in realising the goal of defending its reign thanks to a team of prominent athletes, such as Le Tu Chinh, who smashed her way to five gold medals at the 2020 National Championships – with two individual titles in the 100m and 200m dash and three team gold medals in the women's 4x100m, women's 4x200m and mixed 4x400m disciplines, recording an especially notable time of 11.43 seconds in the 100m distance. Tu Chinh took gold in this event at the 30th SEA Games with 11.54 seconds, 0.14 seconds far from her personal best (11.40 seconds). Another SEA Games 2019 champion, Nguyen Thi Oanh, also scored four gold medals at the National Championships last year and established a new national record in the women's 10,000m run with a time of 34:08.54, breaking the 17-year-old record set by Doan Nu Truc Van in 2003 (34:48.28). In the men's medium-distance categories, Duong Van Thai, who won eight SEA Games gold medals, was surprisingly surpassed by 20-year-old Tran Van Dang. Dang's performance will surely create a big motivation for Duong Van Thai to exert greater efforts at the upcoming 31st SEA Games.
According to experts, in order to top the 31st SEA Games track and field medal tally, Vietnamese athletes will need to secure 17-19 gold medals in a total of 47 events. In the previous Games, the Vietnamese athletics team won 16 golds, four clear of Thailand and five more than that of the Philippines. Thanks to its effective control of COVID-19, Vietnamese athletics is making better preparations for this year's Games compared to many other countries in the region which are being raged by the pandemic. From the beginning of 2021, coaches and athletes will enjoy a diet costing VND320,000 each per day during their training time at the national team level, which will increase to VND480,000 for a maximum of 90 days prior to official competition. With thorough preparations in the past year as well as in the coming time, athletics and football are the two departments which have been assigned with the biggest tasks and are the most likely to finalise the goal of winning the overall championship title at the 31st SEA Games later this year.  NDO
Vietnamese athletes are training hard to do their best at the 31st Southeast Asia Games (SEA Games 31), to be held from November 21 to December 2 in Hanoi and ten nearby localities.

The organising committee of the 31st Southeast Asian Games (SEA Games 31) and 11th Southeast Asian Para Games (Para Games 11) has devised three scenarios in response to developments of the COVID-19 pandemic.