Vietnam wins big at AFF Awards

Vietnam were named best men's National Team of the Year 2018 at a ceremony in Hanoi.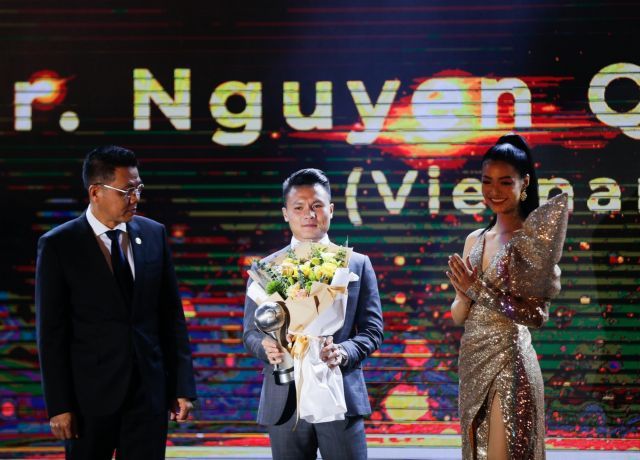 Vietnamese midfielder Nguyễn Quang Hải named men'sAFF Player of the Year at the award ceremony in Hà Nội.
Vietnamese midfielder Nguyễn Quang Hải won the men's AFF Player of the Year, while his coach S Korean Park Hang-seo won men's Coach of the Year.
"I'd like to say thanks to my coaching staff, teammates and fans. This prestigious award will be a big motivation for me to strive for even greater achievements in the future," said the 22-year-old Hải. 
Park, who led Việt Nam national men's squads to lift the trophy at the AFF Cup 2018, AFC U-23 Championship final and Asian Cup 2019 semi-final, said his award reflected the efforts of his players and each and member of his team. 
"I want to say thanks to the Vietnamese fans. They have been the source of motivation that got us to where we are today," said Park at the ceremony.
Vietnamese players were also included in the AFF Best XI at the AFF Suzuki Cup 2018: midfielder Nguyễn Quang Hải, defender Quế Ngọc Hải and keeper Đặng Văn Lâm. 
Trần Văn Vũ was named Futsal Player of the Year, but the Vietnamese squad lost out to their rivals Thailand, who won Futsal Team of the Year for the second consecutive year. 
Pitsamai Sornsai of Thailand won women's AFF Player of the Year 2018, while Suphanat Muenta, also from Thailand, won Young Player of the Year. The Thai women's team were also named National Team of the Year along with their coach Nuengruetai Srathongvian. — VNS 

After its constant success over the past two years, Vietnamese football is expected to run away with a glut of awards at the ASEAN Football Federation (AFF) Awards Night 2019, to be hosted in Hanoi on November 8.

Vietnam's national football team's head coach Park Hang-seo has been nominated for the title of Best Coach in the AFF Awards 2019, which will be held in Hanoi on November 8.

Vietnamese defender Doan Van Hau has been eliminated from the shortlist for the AFF Awards 2019's Best Young Player in Southeast Asia title.