Vietnam's medal chances at Tokyo 2020 Olympics
Vietnam will be sending a 43-strong contingent to the Tokyo 2020 Olympics, including 18 athletes competing in 19 events across 11 sports, with its medal hopes pinned on weightlifter Thach Kim Tuan (men's 61kg) and Hoang Thi Duyen (women's 59kg).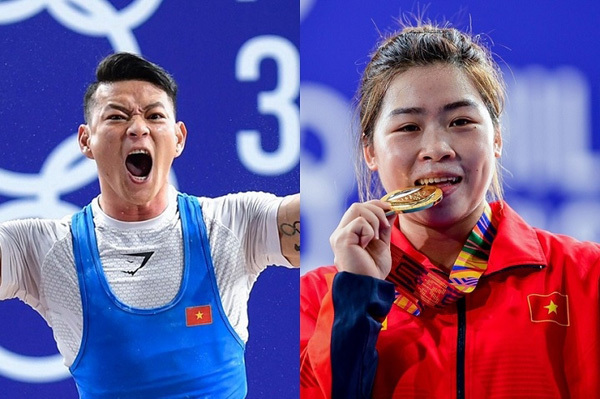 Weightlifters Thach Kim Tuan and Hoang Thi Duyen are among Vietnam's possible medal prospects at the Tokyo 2020 Olympics.
The national Olympic delegation are scheduled to depart for Tokyo this July 18, a few days after they were given a warm send-off by the Vietnam Olympic Committee in Hanoi. According to head of the contingent Tran Duc Phan, the Ministry of Culture, Sports and Tourism has not assigned a specific target for the contingent, but all members will strive to bring home medals from the Games.
Among the total 11 sports featuring Vietnam's presence at Tokyo 2020, weightlifting has been identified as the one with the brightest medal outlook for the country.
Do Dinh Khang, former deputy director of the High-Performance Sports Department II under the General Department of Sports and Physical Training, affirmed that weightlifters Thach Kim Tuan and Hoang Thi Duyen are both capable of vying for medals in their weight categories.
According to International Weightlifting Federation (IWF) statistics, Tuan's best total lift is 304kg (135kg in snatch, 169kg in clean & jerk), achieved at the 30th Southeast Asian (SEA) Games 2019 as he took the silver medal overall, 5kg fewer than the Indonesian gold medalist Irawan Eko Yuli.
This performance has placed the Vietnamese lifter third in the IWF rankings with the same total lift as Colombia's Mosquera Valencia Antonio. China's Li Fabin is leading the men's 61kg weight class with 318kg, followed by Irawan Eko Yuli with 1kg fewer.
Meanwhile, Tuan is followed by Itokazu Yoichi (Japan, 298kg), Serna Mendoza (Colombia, 297kg), and Grozdev Stilyan Rosenov (Bulgaria, 296kg). Despite that fact, the door to the Olympic medal is opening to the 27-year-old Vietnamese as Colombia has been stripped of five Olympic slots for doping, with both Mosquera and Serna Mendoza left out of their Tokyo 2020 contingent. In addition, Bulgaria's Grozdev will also be absent from the Games, making Tuan the third best total lifter among the 14 competitors in the 61kg category. This means the 1994-born athlete can bring home an Olympic medal for Vietnam if he sustains his best form.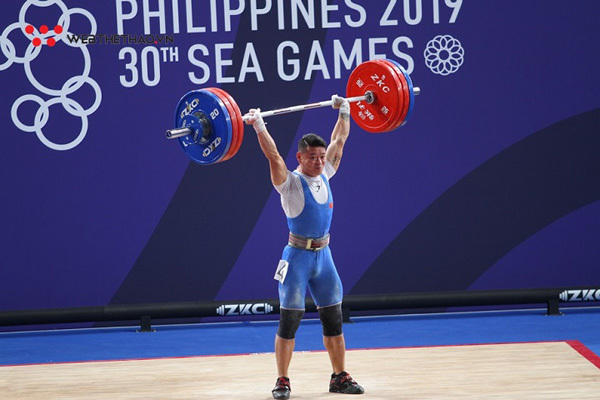 Thach Kim Tuan is an experienced athlete but competition psychology has been a big hurdle for him.
However, the largest opponent Tuan needs to overcome is himself as competition psychology has always been a big hurdle for him. At the Rio 2016 Olympics, Tuan had been expected to win a medal, but then failed in all three clean & jerk lifts and returned home empty-handed. Most recently, he missed the podium at the Asian Championships in April 2021 after failing to conquer the clean & jerk levels of 151kg and 152kg.
Together with Tuan, Duyen has been deemed Vietnam's top medal prospect at the Tokyo 2020 Games. Yet, she will still need to overcome herself as well as other potential rivals to realise her medal ambitions.
"We have carefully studied the opponents, from their competition history and achievements to their strong and weak points. In the 59kg weight class I compete in, Kuo Hsing-Chun of Chinese Taipei is at a higher level than myself. My two main opponents are Andoh Mikiko of the host country and Escobar Guerrero of Ecuador," the 25-year-old commented on her opponents at the 2020 Games.
Undoubtedly, top-ranked Kuo Hsing-Chun is the odds-on favourite for the women's 59kg gold medal in Tokyo with a best total lift of 247kg, up to over 20kg clear of others in the IWF rankings. The Chinese Taipei athlete can be considered a mountain for Duyen to climb, but the Vietnamese lifter stands a great chance to compete for a medal, even a silver, in this category as a series of higher-ranked competitors could not feature at Tokyo 2020.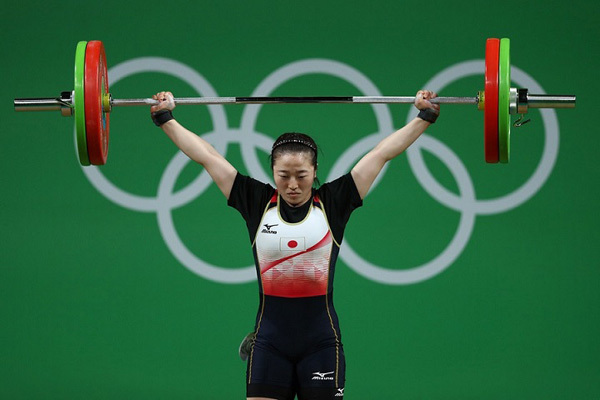 Japan's Andoh Mikiko is a tough opponent for Vietnamese lifter Hoang Thi Duyen in her medal bid in the women's 59kg category.
Second-ranked Choe Hyo Sim (DPR Korea) is absent as the DPR Korea decided not to participate in the Games amidst COVID-19 fears. Meanwhile, China will not send athletes to compete in the women's 59kg weight class despite having three in the top six, namely Chen Guiming (third), Lou Xiaomin (fourth) and Li Yajun (sixth). With a best of 223kg, Duyen, ranked seventh in the event, is third best among the Olympic participants. Even her best lift is just 2kg fewer than that of higher-ranked Andoh Mikiko (Japan). In addition, Colombia is not fielding any athletes for this category due to doping. It is much more likely that the Vietnamese lifter will battle it out for the silver against Japan's Mikiko and Ecuador's Escobar Guerrero (best total 220kg).
In previous Olympics, weightlifters earned Vietnam a silver medal thanks to Hoang Anh Tuan at Beijing 2008 and a bronze by Tran Le Quoc Toan at London 2012.
Together with weightlifting, Vietnam's medal hopes are also pinned on taekwondo with the presence of fighter Truong Thi Kim Tuyen. Tuyen is the only athlete from the Vietnamese Olympic contingent to have undergone overseas training before heading to Japan.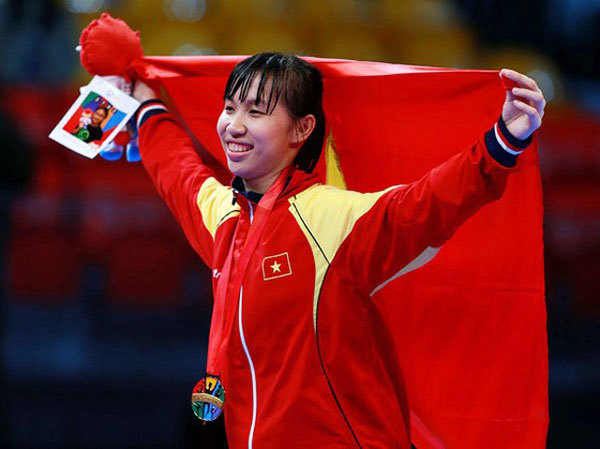 Vietnamese taekwondo fighter Truong Thi Kim Tuyen is expected to produce a surprise at Tokyo 2020.
The 24-year-old martial artist practised in Kazakhstan together with a Republic of Korea expert. She is expected to face tough challengers in the race for the 49kg podium at Tokyo 2020, particularly Thai world champion Panipak Wongpattanakit and the Republic of Korea's Sim Jae-young. Nevertheless, the Asian gold medal last month will be a big source of motivation for Tuyen to produce a surprise in the coming Games.
Shooter Hoang Xuan Vinh will compete in the Tokyo 2020 as the reigning champion in the men's 10m air pistol event. The title holder, 47, booked his Olympic place after the International Olympic Committee (IOC) offered an invitational ticket for Vietnam in the category, asking the Vietnam Shooting Federation to send an outstanding or well-known marksman to the Games.
According to head coach of the national shooting team Nguyen Thi Nhung, Vinh regularly scored 580-582 points during some recent training and testing sessions, which, if maintained, will be able to put him through to the eight-competitor 10m air pistol finals in Tokyo. Statistics from 2019 ISSF World Cup events showed that a marksman needed at least 582 points in order to finish among the top eight of the preliminary round.
Members of the Vietnamese Olympic contingent pose with Deputy Prime Minister Pham Binh Minh at a recent send-off ceremony in Hanoi.
The Tokyo 2020 Olympics is scheduled to take place from July 23 to August 8, featuring 339 sets of medals to be awarded across 33 sports. Vietnam will be represented by 18 athletes in 11 sports at the Games, including Thach Kim Tuan, Hoang Thi Duyen (weightlifting), Nguyen Thi Tam, Nguyen Van Duong (boxing), Le Thanh Tung, Dinh Phuong Thanh (gymnastics), Nguyen Huy Hoang, Nguyen Thi Anh Vien (swimming), Nguyen Tien Minh, Nguyen Thuy Linh (badminton), Do Thi Anh Nguyet, Nguyen Hoang Phi Vu (archery), Hoang Xuan Vinh (shooting), Quach Thi Lan (athletics), Truong Thi Kim Tuyen (taekwondo), Nguyen Thi Thanh Thuy (judo), and Luong Thi Thao / Dinh Thi Hao (rowing).
Sprinter Quach Thi Lan and swimmer Nguyen Huy Hoang have been chosen to bear the national flag for the Vietnamese delegation at the opening ceremony on July 23.
Five years ago, Vietnam enjoyed its most successful Olympic journey ever, ranking 45th in the overall Rio Games medal table with one gold and one silver, both won by shooter Hoang Xuan Vinh.
Source: Nhan Dan

A send-off ceremony was held in Hanoi on July 13 for the sports delegation of Vietnam to the Tokyo 2020 Olympics, slated for July 23 - August 8.

The Vietnamese delegation to the Tokyo 2020 Olympics consists of 43 members led by Deputy General Director of the Vietnam Sports Administration Tran Duc Phan, according to a decision issued by the Ministry of Culture, Sports and Tourism.