Vietnam's answer to Don King aims for boxing glory
Kim Sang Bum walks into his club and enters a room filled with boxing equipment, a champion's belt and photos of well-known boxers on the wall.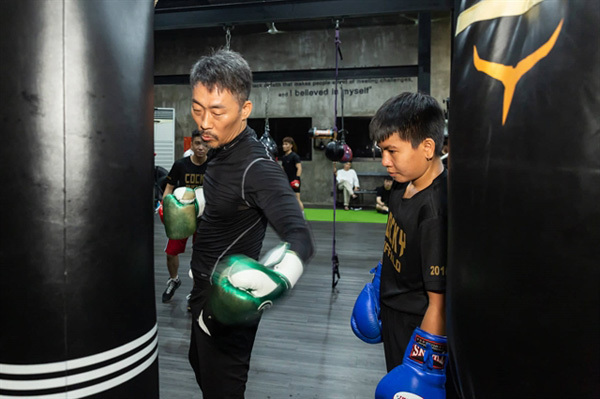 Kim Sang Bum (left) trains with Vietnam's first WBO Asia Pacific champion Nguyen Thi Thu Nhi. Photo thethaohcm.vn
Every member of Cocky Buffalo Boxing Club must go through this room and see these items that signify their hopes and dreams before entering the training area.
Kim has been branded Vietnam's 'Don King' by some, and he doesn't lack the legendary American showman's confidence.
He thinks he's going to bring a local boxer to a world championship before long. 
Love at first sight
The 27-year-old Kim suffered failure after years in Japan and China as well as in his home country of South Korea before he came to Vietnam in 1998.
"I had many businesses. I went to many countries and met many people. I had grabbed successes but I had not felt really happy yet. I arrived in Vietnam and felt peaceful here," Kim told Việt Nam News.
"I saw many young people and I believed that a country with a young population would have great future and potential," Kim said. "And I am not wrong. I have found my second home where I will stay and contribute all of my heart."
Kim has loved boxing since he was a small boy and worked for the mixed martial art association when he was in South Korea before becoming a promoter.
When he arrived in Vietnam he found it was a country of great sporting spirit with many talented athletes but they didn't know how to take the next step.
"I saw their admiration and enthusiasm. But they had no mentor who could guide them the right way. I felt sorry for them and thought about giving a hand to help them.
"I wanted to help boxing athletes because it is my favourite sport. I want to create champions and make history here," said Kim, who has worked with many Korean boxing legends such as Yoo Myung Woo, Park Yeong Yun and Hong Soo Hwan.
To carry out his plans, Kim made a reckless decision and sold everything in South Korea to move to Vietnam.
He opened several clubs in HCM City but was unsuccessful. At that time many people in Vietnam thought boxing and Muay Thai were not sports.
"It was a difficult road. I used to be very close to the abyss. But luckily, I received strong financial support and encouragement from both Korean and Vietnamese friends. Without them, I would have given up already," said Kim.
Kim started to find success when he found his current partners.
"In my first meeting with Kim, he told me about his dream of making Vietnamese boxers champions. He showed me his plans which I was really persuaded by. Then, we joined hands to establish the Cocky Buffalo Club," said Hwang Seok Jin, vice president of Cocky Buffalo.
"It was not easy for us to get a licence for operation here as we were foreigners. At the time, boxing in Vietnam was an amateur or semi-professional sport only. And we also had the problem of capital too," said Hwang. 
Dedicated promoter
Kim wanted to first work with smaller fighters, starting from flyweight (52kg) to bantamweight (56kg) and then lightweight (60kg).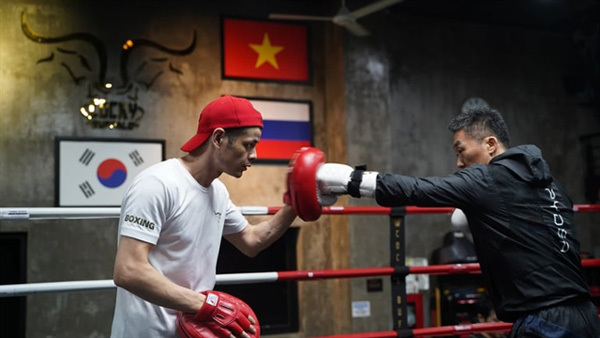 Kim Sang Bum (right) works not only as a promoter but also a trainer at the Cocky Buffalo Club. Photo courtesy of Cocky Buffalo Club
"To earn people's trust, I must show them how I train the world champions quickly even though they are from lightweight categories," said Kim.
"I use my personal money to pay their salary, meals, accommodation, training equipment and even hospital bills. I want to support them with all of my ability so that they don't have to worry about anything, but just boxing," said Kim.
After three years, Cocky Buffalo has still not turned a profit, but Kim is undeterred.
"We are still suffering losses currently. If I decrease the number of athletes and expenses on supporting them, we would be alright. But I accept to cover losses to help them," said Kim who has to work harder in his other business interests, which include hospitality, Korean cosmetics, ginseng and other products, while searching for sponsors for the club.
Kim's main tasks are to organise and market boxing matches. But he also regularly checks in on the athletes and trains them.
"I want to 'repair' their weaknesses and help them bring into play their strong points," he said.
The South Korean does not seek perfect boxers but those willing to grow through blood, sweat and tears spilled in the ring.
"The champions must be the most hard-working ones," said the 49-year-old.
Kim also invites athletes from countries such as the Philippines and Ukraine to practice in his club to help Vietnamese boxers gain experience and improve their technique.
When Vietnamese athletes reach a higher rank in the world, Kim hopes to invite high-quality boxers and competitions run by the World Boxing Organisation (WBO), World Boxing Council (WBC) and World Boxing Association (WBA) to the country.
There are fewer than 10 professional boxers in Vietnam and Kim's club is home to three.
Among them, Nguyen Thi Thu Nhi is expected to become the first Vietnamese world champion.
Nhi won the WBO Asia Pacific Boxing Title's minimumweight (45kg) in Cambodia in March. It earned her the right to fight Etsuko Tada of Japan for the WBO title which has, due to the COVID-19 pandemic, been rescheduled for February 27 in Vietnam.
The other two are Sam Minh Phat and Dinh Hong Quan who also target Asian and world competitions in the coming two years.
"I am really confident that in the next 10 years, Vietnam will have world champions. What we need is meticulous investment in boxers who are smart, agile and hard-working," said Kim.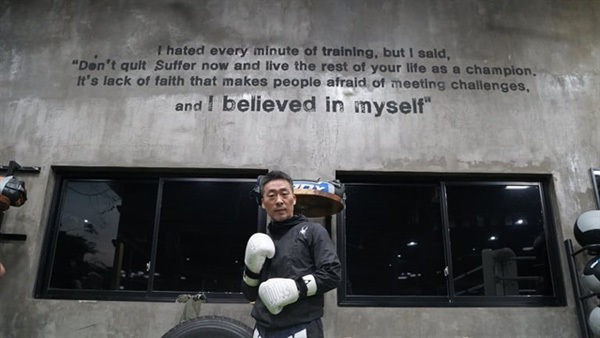 South Korean Kim Sang Bum will make history with first Vietnamese world boxing champions. Photo courtesy of Cocky Buffalo
Currently, Kim is setting up another boxing club in HCM City that is expected to be finished in early 2021.
He said it would be the largest and most advanced centre in the country which could host huge events and profits from that will be reinvested in his athletes.
After more than 22 years living in Vietnam, Kim believes the sport is how he contributes to his second home and he hopes to follow in the footsteps of fellow South Korean, football coach Park Hang-seo.
"I have not yet thought about returning to South Korea. I still have many things to do here. Years ago I dreamed to help Vietnamese boxers to win world titles. Now I want boxing to be as popular and loved as football in Vietnam," said Kim.
"Park is my idol and I will try my best to reach his level and do something good for Vietnamese boxing." VNS
Thanh Ha

Nguyen Thi Thu Nhi has become the first Vietnamese female boxer to win the World Boxing Organisation (WBO) Asia Pacific competition in Cambodia on February 29.

All eyes will be on Nguyen Thi Thu Nhi when she fights for the World Boxing Organisation Asia Pacific minimumweight title on Saturday in Cambodia.