Vietnam defeated by Japanese team at U21 football tournament

Vietnam's national U21 football team suffered a defeat at the hands of a team made up of Japanese students in their final group match of the International U21 Football Championship 2019 in Da Nang yesterday.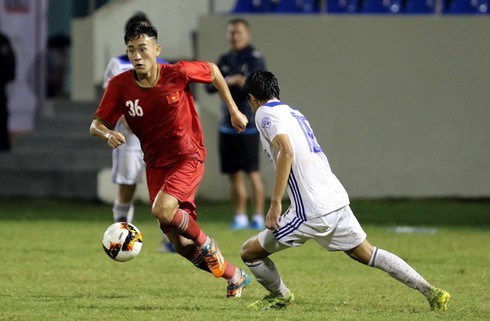 Vietnam defeated by Japanese team at U21 football tournament (Photo: Thanh Nien)

The squad of Japanese students began the fixture with fierce determination and a proactive attack, forcing the Vietnamese team to sit back. 
This positive play was rewarded in the 23rd minute when Otake Shogo of Japan opened the scoring.
Despite going a goal down, Vietnam's U21 side immediately hit back with forward Tran Cong Minh scoring an equaliser.
The second half saw the Japanese team increase the pressure, with the Vietnamese side remaining resolute in defence.
However, the Japanese students found a winner in the last minutes through Sumiya who scored his team's second goal. As a result, the match concluded with a final score of 2-1 in favour of the Japanese students.
At the conclusion of the group stage, the Japanese student team finish ranked first with three wins, just ahead of the Vietnamese team in second. Both teams are scheduled to meet each other again in the competition's final, which will take place on November 5.
The tournament's champions will win a trophy, medals for each player, and US$12,000 in cash. VOV