Vietnam Brocade Festival celebrates national culture
A festival to honour the traditional brocade products of Vietnam's ethnic minorities will take place in Gia Nghia City and at several tourist attractions in the Central Highlands province of Dak Nong from November 24-29.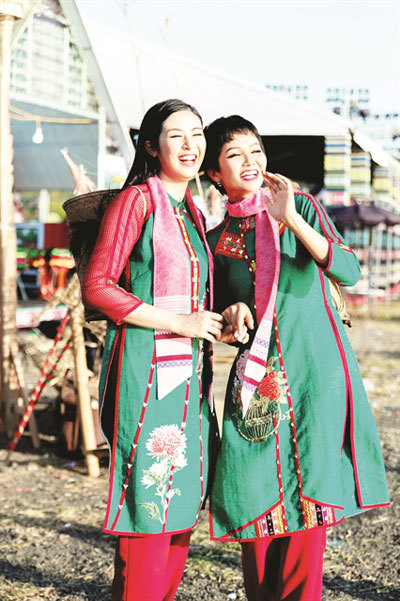 Miss Vietnam 2010 Dang Ngoc Han (left) and Miss Universe Vietnam H'Hen Nie wearing traditional brocade costumes from Dak Nong Province. The second Vietnam Brocade Festival will take place in the province from November 24-29. Photo thuonghieuvaphapluat.vn
The second Vietnam Brocade Festival is being organised by Dak Nong's People's Committee with the theme Cultural and Tourism Festival -- The Quintessence of the Orient.
Fourteen provinces and cities nationwide have registered to participate in the event. The organisers have also invited artists from Laos, Cambodia, Indonesia, the Philippines, Singapore, Malaysia, Japan and South Korea who are now based in Ho Chi Minh City to join the festival.
The festival aims to honour the cultural values of traditional craft villages, contributing to preserving and promoting the cultural identities of Vietnamese ethnic groups.
It is also expected to introduce Vietnamese tourism and cultural beauty and to both domestic and international tourists.
The festival will create an opportunity for ethnic artists nationwide to meet and exchange experience and search for a stable output for brocade products, increasing incomes for locals and creating potential tourism products for Dak Nong.
The event will include a ceremony to grant UNESCO recognition of Dak Nong as a Global Geopark, a brocade festival and fashion show, and a conference to promote and call for tourism investment in 2020.
Other highlights will include the semi-finals and final of the 2020 Miss Tourism Vietnam Beauty Pageant, a festival of light, hot air balloons and charity activities to raise funds for disadvantaged districts in the province.
The organisers will also donate VND1 billion (US$43,000) to help people in central Vietnam overcome the consequences of natural calamities.
According to Ton Thi Ngoc Hanh, vice chairwoman of Dak Nong Province, the area has long been the home of ethnic communities like the M'Nong, Ma and E De, as well as of many other people from around the country who have started new lives in the province.
"The local ethnic cultural is very colourful," she said.
"For generations, brocade weaving has been a symbol of traditional cultural beauty, and become an indispensable part of life for the ethnic minorities living in the Central Highlands in general and in Dak Nong Province in particular.
"Brocade weaving is still maintained in Dak Nong to serve both daily needs and tourism. Traditional brocade costumes are worn by locals every day and particularly during traditional festivals and rituals." 
The first Vietnam Brocade Festival was held in Dak Nong in 2009. VNS

The Ministry of Culture, Sports and Tourism has asked the provincial authority of Dak Nong to prepare for the Vietnam 2nd Brocade Culture Festival 2020 in the province later this year.

The Ede ethnic people have long been proud of their brocade weaving and are trying to preserve the traditional craft amid the rapid industrialization, modernization, and fashion changes.