VN Football Federation to extend contract with coach Park Hang-seo
Vietnam Football Federation (VFF) is confident national team head coach Park Hang-seo will extend his current contract.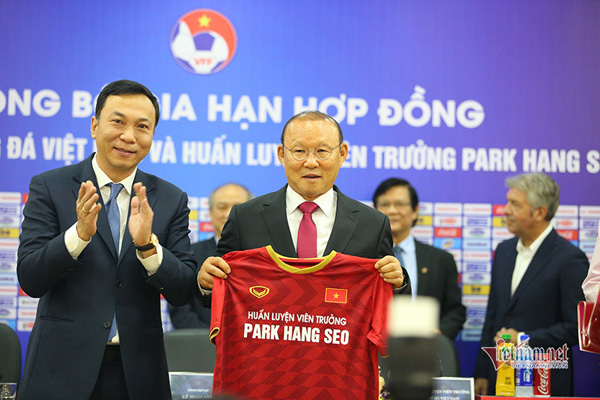 Head coach Park Hang Seo (right). Illustrative image. Photo: VNN
Park first came to work in Vietnam in 2017 on a two-year deal, which he then extended by three more years.
His current contract runs out in four months' time, at the end of January next year. A further one-year extension to that deal is already written into his existing contract, therefore it is likely the coach will honour the extra 12 months. 
"Of course, we both want to cooperate with each other," said VFF President Le Khanh Hai. 
"VFF appreciates what coach Park has contributed to football and our country.
"I think that, at present, there is no reason that prevents us from working with each other. I also believe that coach Park will continue his reign in Vietnam.
"VFF will try best to meet the demands from the coaching board for the national team."
The national football governing body did not reveal more details about the contract but a close source to VFF said the federation is waiting for confirmation from Park's agent, Lee Dong-jun.
He will arrive in Vietnam after Vietnam's 2022 World Cup matches against China and Oman later this month to open discussions about Park's long-term future.
In a latest interview about his contract, Park said he left it in the hands of Lee to make final decision so that he could focus 100 per cent on the football. 
In August, VFF General Secretary Le Hoai Anh also told local media that two sides will choose a suitable date to talk about the contract when both could conduct open negotiations.
The South Korea is said the most successful coach of the national team to date. Under Park, Vietnam secured fourth position at the Asian Games, second place at the AFC U23 Championship and won the AFF Championship in 2018. The team also won the Southeast Asian Games in 2019.
Park, who receives around US$50,000 per month salary after tax, has four important tasks ahead. The national teams are expected to go as far as possible at the 2022 World Cup's third qualifier and the 2022 Asian U23 Championship qualification. They will then defend their titles at the 2021 AFF Cup and the 31st SEA Games.
Park and his players are currently in the UAE to prepare for their match against China on October 7. Five days later, they will play host Oman in Muscat.
Source: Vietnam News

Head coach Park Hang Seo will stay with Vietnam's football until the end of 2023 once the Vietnam Football Federation (VFF) can reach agreements with the South Korean strategist on the goals and ambitions for Vietnam's football in the time to come.