Veteran artists show silk paintings in Hanoi

Silk paintings depicting nature and the female form are on display at an exhibition titled 'August' in Hanoi.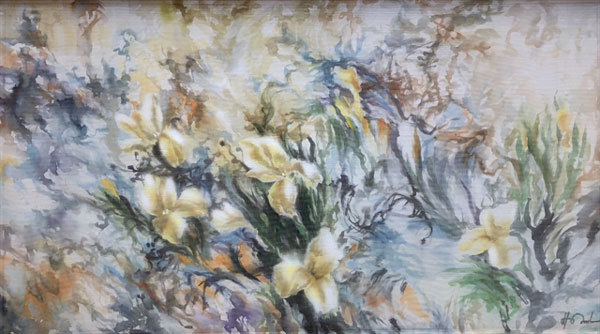 NATURAL BEAUTY: Yellow Iris, one of the silk paintings by Hoang Dinh
Veteran artists Hoang Dinh and Bui Viet Dung are close friends in art and life. They share the same passion for painting. Though they have organised many exhibitions, this is the first time they have showcased silk paintings.
They named the exhibition 'August' to respect the beauty of nature in autumn and the time of the exhibition.
While Dung specialises in silk paintings, Dinh considers this material a hobby, while he is better known for oil paintings.
"Oil on canvas and silk bring me different inspirations," said Dinh.
"Silk is a graceful and tender material, I use wet colours to paint and wash the artwork many times until I feel satisfied with the colour."
He started working with silk in 1997. His first silk painting Lily was displayed at the national fine arts festival in 2007. He is showcasing the painting at this exhibition as a landmark in his career, where the love for silk began.
Dinh is one among very few painters in Vietnam to follow abstract expressionism, with flamboyant strokes and emphasis on free, spontaneous and personal emotions. In silk paintings, he tends to follow Impressionism and Romanticism. Dinh was born in 1953 in Hai Phong City. His exhibition of oil paintings with artist Somsak Chaituch from the Netherlands held last year in Hanoi received acclaim from viewers and critics.
Dung was born in 1957 in Hue. Currently he works as a designer at Kiến Trúc (Architecture) Magazine and a lecturer at the Ha Noi Architectural University.
Painter Le Huy Tiep, president of the Graphic Arts Council of the Viet Nam Fine Arts Association, said he was impressed by the silk paintings exhibition.
"Together with lacquer, silk is a remarkable material of Vietnamese fine arts, however in recent years silk painting has not been popular, not many artists focus on this genre," said Tiep.
"So the large silk paintings (mostly 100cm by 150cm) displayed at this exhibition are really amazing proving the talent and effort of the two artists."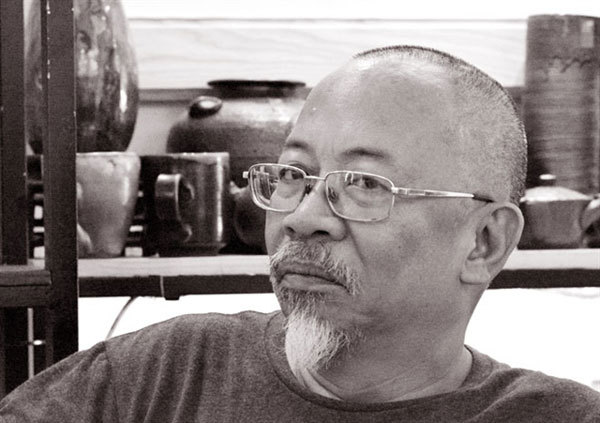 SILK SPECIALIST: Portrait of artist Bui Viet Dung. Photo courtesy of organiser
"While Dinh draws inspiration from nature, Dung displays the female form. While Dinh's colours are spread on the silk, Dung leaves many blank spaces in the paintings to highlight the characters and his hidden intention."
The exhibition will run until August 27 at the Vietnam Fine Arts Museum, 66 Nguyen Thai Hoc Street, Hanoi.
VNS