V.Leagues sign three year sponsorship deal
LS Holdings Groups will support the national football leagues for three years after agreeing a sponsorship an signing contracts on December 24 in Hanoi.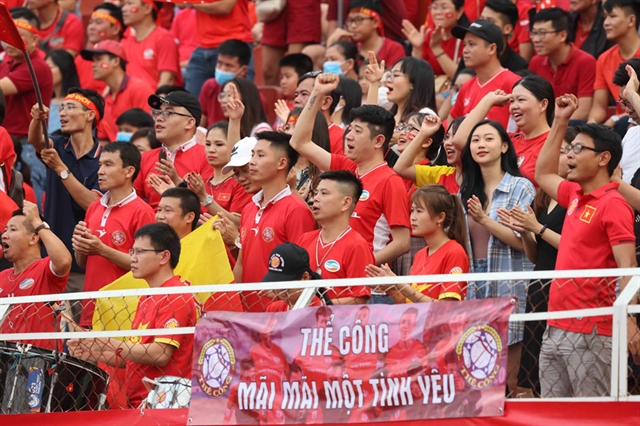 Supporters attend a V.League 1 match between Viettel and Sài Gòn FC last season. The national premier league will be sponsored by LS Holdings Group for the next three years. — Photo of VPF
It is the second year in a row that the South Korean firm has teamed up with the domestic leagues.
"After Vietnam successfully organised competitions in the middle of the COVID-19 pandemic, the sponsor was really happy and wanted to continue the relationship," said Tran Anh Tu, chairman of the Vietnam Professional Football Company (VPF).
"Vietnam is one of rare countries where football was played and supporters were allowed to enter the stadium in the world. LS representatives came to meet and discuss with us and we quickly reached new deal with a three-year contract and its value is much higher than the previously," he added.
Kim Jong Pil, General Director of LS VINA Cable & System, said while many tournaments were cancelled in 2020, Vietnam, whose government had effective policies to manage the pandemic, and the season finished with few interruptions. 
"Becoming sponsor of these events, LS Group wanted to push local professional football as well as help in the country's economic development," said Kim who himself admitted a citizen of Hai Phong City and expected that his Hai Phong FC would do well in the next season.
The two highest competitions will be named the LS V.League 1 and LS V.League 2, respectively. The first one will see the participation of 14 teams competing from January 16 while the second one will begin in April with 12 squads.
The Super National Cup match between LS V.League 1 champion Viettel and National Cup winner Hanoi FC will mark the beginning of the 2021 season on January 9. — VNS

After 12 years, Binh Dinh FC now has a promotion slot to return to V-League 1.

Coach Kiatisuk Senamuang will have little time to prepare Hoang Anh Gia Lai as the new V.League 1 season will begin in the middle of next month.