V.League 1 relegation battle heading to the wire

While the V.League 1 title looks to be heading back to Ha Noi, everything's to play for at the bottom end of the table.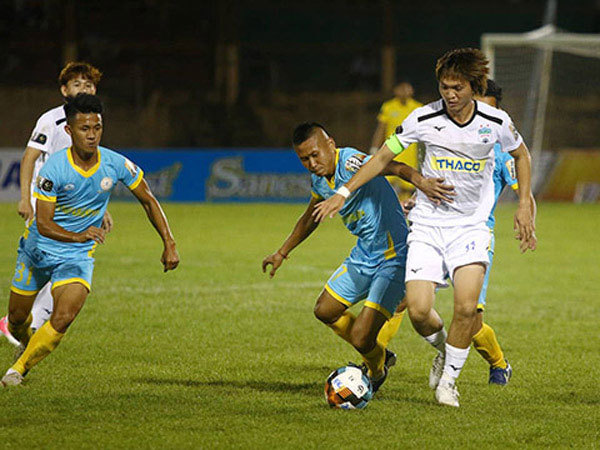 Sanna Khanh Hoa and Hoang Anh Gia Lai seen in V.League 1 this year. They face the risk of relegation. Photo daidoanket.vn
Every team from third all the way down to 14th could potentially be relegated and with only five rounds of fixtures left the tension is high.
The race for the title is easier to predict as Ha Noi FC sit on 43 points, five ahead of HCM City and 12 points in front of third-placed Quang Ninh Coal.
With only one automatic relegation spot at the bottom of the table and one playoff position at 13th, the margins are fine.
Binh Duong, who are in fifth place, are only ahead of bottom-placed Sanna Khanh Hoa by nine points.
Mid-table teams like Quang Nam FC, SHB Da Nang, Nam Dinh and Viettel also have plenty to worry about.
Following a loss against Quang Nam in injury time at Thien Truong Stadium last weekend, Nam Dinh dropped three spots in the table to eighth position and only seven points clear from automatic relegation.
In the remaining matches, Nam Dinh will face fellow strugglers Sanna Khanh Hoa, Hai Phong and Sai Gon FC as well as the top two teams.
According to coach Nguyen Van Dung of Nam Dinh, his team need four or six points in the upcoming matches to ensure their safety.
Teams can relegate
Among candidates for relegation, Thanh Hoa, Hoang Anh Gia Lai (HAGL) and Sanna Khanh Hoa seem most likely to fall.
With a 0-3 loss to Binh Duong at Go Dau Stadium, HAGL slipped to second from bottom.
Manager Nguyen Tan Anh of HAGL said referees' errors had led to his side's misfortunes.
"Referees didn't manage well and put my players under pressure in terms of psychology. They felt they weren't protected. They weren't confident and couldn't play well," said Anh.
Recently, the Viet Nam Football Federation's referee board announced assistant referee Nguyen Trung Nam committed a serious error in the match between HAGL and Binh Dương. Ho Sy Giap of Binh Duong was in an offside position but Nam failed to raise his flag so Giap made the score 2-0 for his team.
HAGL will take on HCM City, Da Nang, Sai Gon FC, Hai Phong and Sanna Khanh Hoa in the remaining games of the season, with Khanh Hoa looking like a six-pointer at this stage.
Today, Khanh Hoa will face former champions Quang Nam at Tam Ky Stadium in Quang Nam Province and attempt to climb off the canvas.
VNS