The long walk to a gold medal
Nguyen Thanh Ngung has become a familiar name in Vietnam's walking scene, having won gold in the men's 20km event at the National Athletics Championship for the last 11 years.
He was also one of the first walkers in Southeast Asia to make it to the Olympics. He spoke with Thanh Nga.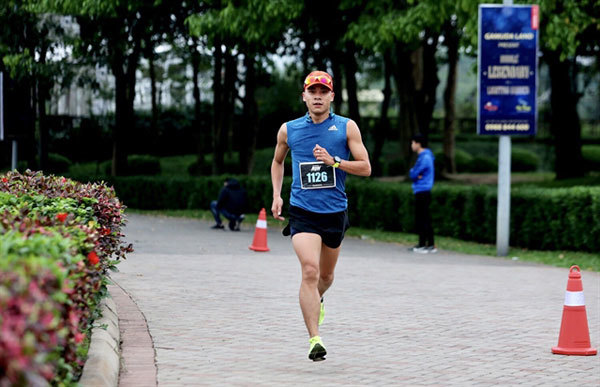 DOMINATING: Nguyen Thanh Ngung has won 11 gold medals in a row in the men's 20km walk at the National Athletics Championship. Photo courtesy of Nguyen Thanh Ngung
Athletes have also been greatly affected by COVID-19, with training and competition being limited. What difficulties have you faced and how did you overcome them?
The pandemic has interrupted the training plans of all athletes, Vietnamese or otherwise. International competitions have been postponed, so there is no real chance to hone the skills and improve performance. And Da Nang City, where I was born and now train, was the epicentre of the second outbreak in Vietnam, so I couldn't train at all outside, only at home. But I still found ways to keep in shape for when I can return to proper training.
Can you tell us a little bit about your athletics achievements?
I was the only Vietnamese athletic to qualify for the Rio Olympics in 2016. I picked up a bronze medal at the Southeast Asian (SEA) Games in Indonesia in 2011, and have won 11 consecutive national championships in the 20km walk. I hold the national record in the 10km and 20km and the Southeast Asian record in the 20km.
Though you made it to the Olympics in 2016, a gold at the SEA Games has continued to elude you …
A SEA Games gold medal would be wonderful and I'm still working hard to make it happen.
But there have been many times when I've asked myself why gold hasn't come my way yet. I became bored with it all at one point, but then I thought that God had challenged me, so I still put in the effort. My aim is to win gold at the SEA Games in Vietnam later this year.
I've competed at five SEA Games and my best result has been the bronze medal, in Indonesia in 2011. It's true that the difficult things in life are more appreciated. I know I've worked hard, and hope that with a bit of luck I can win gold in Vietnam.
Every career has its hardships, but it's about following passion. Because passion is formed from a process and isn't natural. But if I could choose again, I would still choose walking.
What is the most memorable moment of your career?
It was at the Asian Walking Championships in Japan in 2016. I put all of my energy and will into one event, the 20km. My time of one hour, 23 minutes and 29 seconds put me under the Olympic standard of one hour and 24 minutes.
When I reached the finish line and realised I was heading to Rio, my coach and I hugged each other and shed a few tears. That race was in pretty cold conditions, and when it was over it was a couple of hours before I could move my arms and legs properly.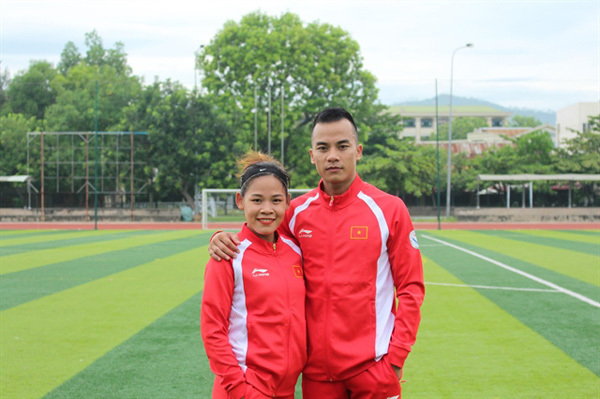 TWO ON THE TRACK: Nguyen Thanh Ngung and his sister, Nguyen Thi Thanh Phuc, both of whom are walkers. Photo courtesy of Nguyen Thanh Ngung
Your sister Nguyen Thi Thanh Phuc is also a leading walker in Vietnam and has competed at the SEA Games, the Asian Games, and the Olympics. How do you help each other in training and at competitions?
I was born in 1992 in Da Nang in a family of seven children. My sister Phuc [two years his senior] and I are quite close and share everything.
She started walking when she was 13, while initially I was a runner. Walking wasn't so common back then. After watching Phuc train alone, I decided to start training for the walk with her and challenge myself in a new sport.
We encourage and guide each other in our training.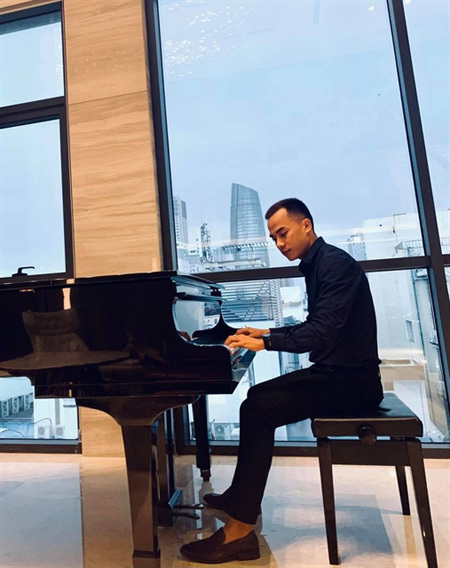 PIANO MAN: Nguyen Thanh Ngung away from training and competing. Photo courtesy of Nguyen Thanh Ngung
So, starting to train in the walk with Phuc was the turning point in your career?
Yes, it was. A year after changing to the walk, in 2009, I won the national championship and have dominated the men's 20km ever since. My sister and I have been fortunate enough to do well in the sport, and walking has now received funding for its development.
The number of walkers is growing all the time, and Vietnam has become a strong country in the event in Southeast Asia. I feel happy to have been a pioneer.
Is there anyone in athletics you idolise?
I don't idolise anyone, but I really admire runners Truong Thanh Hang and Vu Thi Huong, who have retired from competition. Now there are Nguyen Thi Oanh, Quach Thi Lan, and Nguyen Thi Huyen.
Many of my fellow athletes have overcome difficulties to shine in domestic and international competitions.
You opened a snack shop in September in Da Nang called Co Food & Drinks. Can you tell us why you ventured into the food business?
I'm a food lover, so I opened a small shop for some fun in my free time. I actually opened a Da Nang food shop in HCM City before, but I had to close it because training was so hectic. I have a manager at the shop now, so I feel secure about it and want to continue to experience something new.  
Thanh Nga (VNS)

Vietnam still has opportunities to earn Olympic berths after World Athletics (IAAF) changed the qualification deadline.

Back in action after two years, speed-walker Nguyen Thi Thanh Phuc proved her worth at the National Championships by taking the title, and now has her sights set on the upcoming Southeast Asian Games in the Philippines.