The German photographer who recorded Hanoi in wartime
Anyone who has seen the photography book Hà Nội 1967-1975 by German photographer Thomas Billhardt can see the true emotions of Hanoi.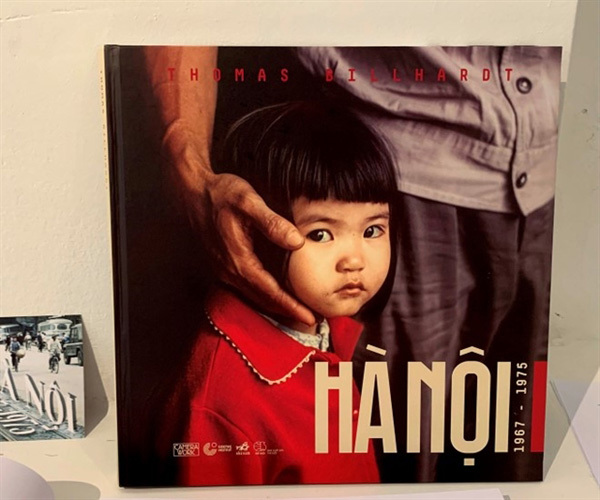 Cover of the photobook titled Hanoi 1967-1975 by Thomas Billhardt. — Photo thethaovanhoa.vn
Writer Do Phan noted: "Traces of wartime were featured peacefully, gently and romantically through the lenses of the German photographer… Of course, there are also painful moments."
When he first came to Vietnam in 1967, Billhardt considered it a big moment in his life and the first time he truly understood the role of a photojournalist.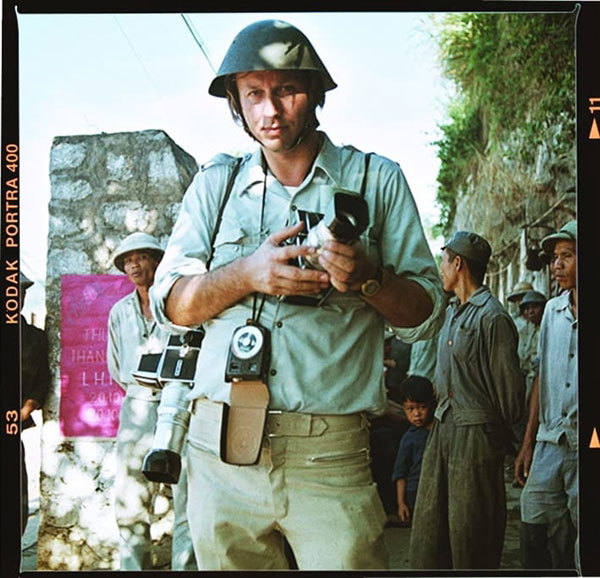 Thomas Billhardt when he came to Vietnam for the first time. — Photo thethaovanhoa.vn
"At that time, Billhardt was well aware that was not a trip to take photos or to gather materials, he would also have to stand up for rights," said Wilfried Eckstein, director of Goethe Institute in Hanoi.
"Billhardt set out his duty of not only bringing back photos but also things that his heart received in Vietnam."
The photos Billhardt took in Vietnam of the destruction of the war awakened many people in Europe to the grim reality, Eckstein said.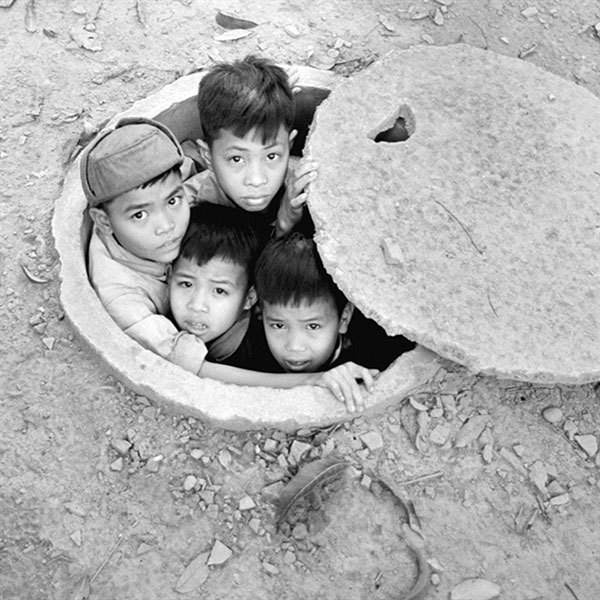 A photo in the book featuring some children seeking shelter from American bombing in a street. — Photo Thomas Billhardt
Photographer with heart
Tran Ngoc Quyen, a former Charge d' Affaires of the Vietnamese Embassy in Germany, said Billhardt was a person with a deep love for the Vietnamese country and people.
Quyen said he met the photographer at the Vietnamese Film Week in Berlin in 2000 when Billhardt came to the launching ceremony of the German's documentary Iced Lemonade for Hồng Lý.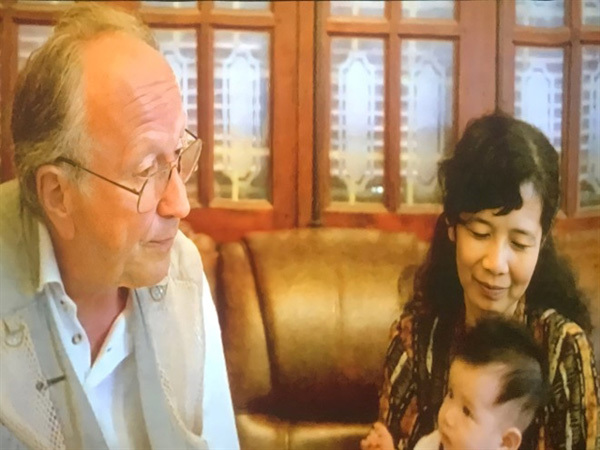 Billhardt meets former young volunteer Hong Ly. — Photo thethaovanhoa.vn
In one of his trips to Vietnam, Billhardt came to the central province of Quang Binh, where he met a female volunteer soldier named Hong Ly.
He asked the volunteer about her desire when the war ended. Ly replied: "I just want to visit Hanoi and have a glass of lemonade."
Inspired by the answer, Billhardt made a documentary on her.
"Billhardt had so much feeling for his characters," Quyen recalled.
In 1999, Billhardt decided to search for characters in the photos he took during the war. He worked with the Ministry of Culture, Sports and Tourism to host an exhibition of 40 big photos at Dong Kinh Nghia Thuc Square in downtown Hanoi.
Quyen said Billhardt then told him many people came to see the photos, where some of them saw their neighbours and friends. Many of them came to see Billhardt. Some of those he photographed worked as businessmen and army officers but all had stable lives after the war.
Whenever he had the chance to visit Vietnam, Billhardt would visit or send regards to those he had photographed, Quyen said.
Among his thousands of photos taken in Vietnam, Billhardt was struck most by the image of a grandmother crying by her nephew's corpse he took in October 1972. The boy died after a bombing run by the Americans.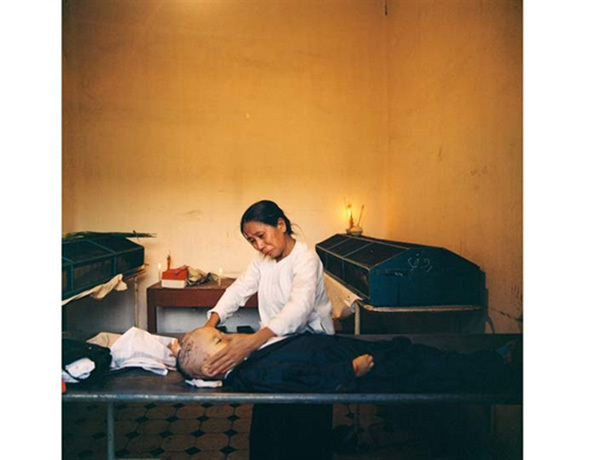 A photo featuring a grandma cried by her grandchild's corpse. He died in the last bombing by Americans in Hanoi. — Photo Thomas Billhardt
"I don't want to take photos of the dead or destructions in the war to be famous then," Billhardt recalled. "But I cannot do anything else but take photos. I cried at that time. I talked to the grandmother. She did not understand what I said. I told her that I will publish the photo millions of times to let the whole world know about the war in Vietnam."
"In 1999, when I displayed the photo at Dong Kinh Nghia Thuc Square in Hanoi, a man full of emotions in his face came to meet me. Thanks to my interpreter, I knew that he was the father of the dead boy," Billhardt said.
The man invited Billhardt to his house, where he had displayed the same photo he had cut from a German magazine that a friend sent him from Germany.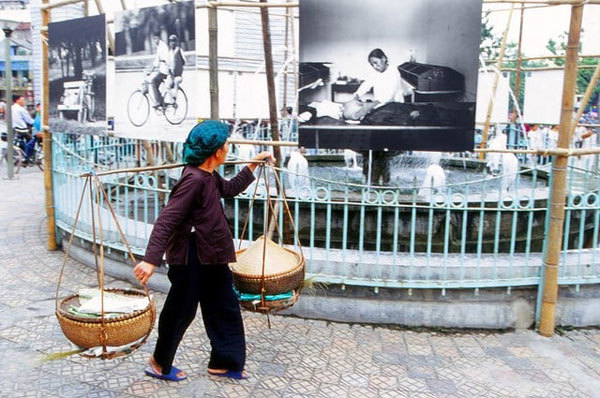 His photos have been exhibited in downtown Hanoi. — Photo thethaovanhoa.vn
"My duty now is to continue to display photos on Vietnam," Billhardt said. "I hope more audience will see my old and new photos on Vietnam, understand Vietnam and love Vietnam like me. I have met warm and hard-working Vietnamese people. I want to spread my impression to the whole world."
Born in Germany in 1937 into a family working in photography, his childhood memories include the chemical smell of the film developing process. His mother worked as a freelance photographer and ran a private studio. At 14, he was taught to take photos.
He studied a BA on photography and photo design from Leipzig Visual Arts College before working as a freelance photographer in state-owned agencies in the former Democratic Republic of Germany, news agencies and UNICEF.
Billhardt has travelled to Bangladesh, China, Chile, Guinea, Indonesia, Cambodia, Lebanon, Mozambique, Nicaragua, the Philippines and the former USSR.
"I experienced the joys and sorrows of people from gas mines in the USSR and battles in Vietnam," he said.
Billhardt came to Hanoi for the first time in 1967 after stopping in Moscow, Irkutsk, Beijing and Nanning, when he worked as a freelancer for Heynowski & Scheumann Independent Documentary Studio.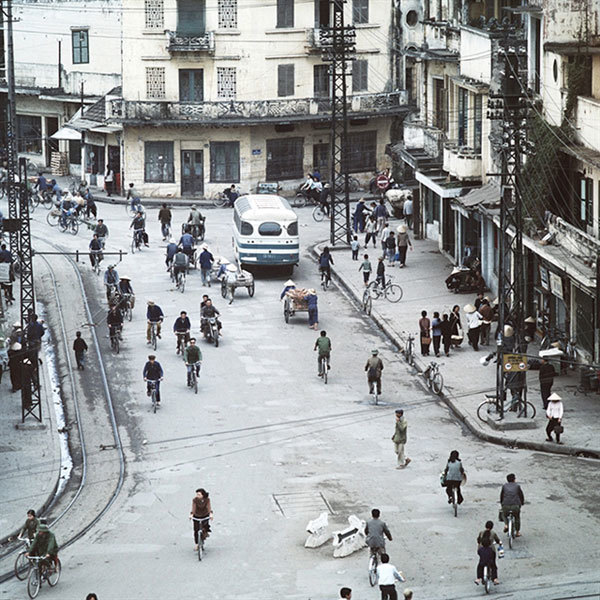 Hanoi's streets in 1975 by Thomas Billhardt 
The trip was to gather materials for a documentary on American pilot prisoners captured in North Vietnam. The photos he took on the trip appeared throughout the world in Life magazine (the US), Paris Match newspaper (France), Stern and Spiegel magazines (Germany) and other magazines.
His first photobook on Vietnam was published in 1973 in Leipzig. Between 1962 and 1975, Billhardt visited Vietnam six times and then he returned six more times. The photos he took during the trips were published in four books: Pilots in Pajamas (in 1968), Desire for Peace: Việt Nam (1973), Hà Nội – Days before the Peace (1973) and Vietnamese Faces (1978).
Since 1999, photos by Billhardt have been showcased at the Camera Work Photo gallery in Berlin and many exhibitions around the world.  VNS
Tran Hoang Nam

A photo exhibition featuring images of Hanoi from 1967 to 1975 taken by world-renowned German photographer Thomas Billhardt is being held at the Manzi Exhibition Space at No. 2 Hang Bun lane and at Manzi Art Space on 14 Phan Huy Ich.

A photo exhibition in Hanoi aims to bring visitors back in time over half of a century to see the city and its people in a memorable period of history.