The Arbitrator sighs his last, leaving a generation of young talented actors
People's Artist Hoang Dung passed away on Valentine's Day at Hanoi's National Institute for Haematology and Blood Transfusion aged 65.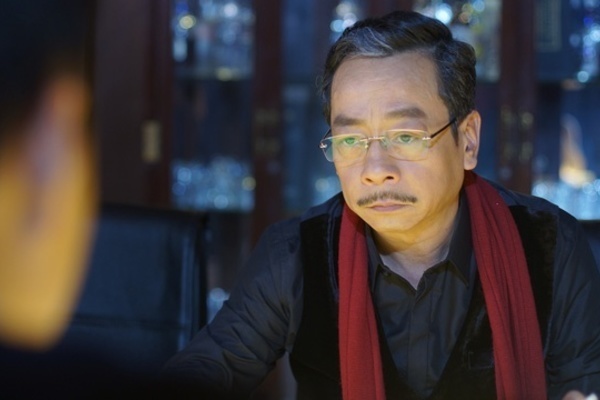 People's Artist Hoang Dung
People's Artist Hoang Dung, dubbed "The Arbitrator" after the lead role he played in the TV series Nguoi Phan Xu of the same name that captured the attention of millions of viewers and set the trend for TV entertainment over the past few years, passed away on Valentine's Day at Hanoi's National Institute for Haematology and Blood Transfusion aged 65.
He was still acting in a TV series, "Returning among the Loved" when he found out about his acute cancer. He kept his shooting schedule amid chemo sessions. His passing away has been anticipated among the actors' circle, but still it shocked many of them.
"We know that life, ageing, illness and death make the circle of life no one can avoid," People's Artist Trung Hieu, Director of Hanoi's Theatre Company, his successor reportedly told Tuoi Tre online. "But Hoang Dung's passing away makes all our actors ache. An artiste life is like that of a silkworm, who passionately pulls out his silk threads, until the last, and he dies."
Trung Hieu was quoted as saying that he would turn the National Funeral Home into a stage to solemnly honour the late actor's signature roles on theatrical stage, the musician Ba Nho in Tieng Dan Vung Me Thao (The Sound of Music in Me Thao land). A short extract from the play will be staged and a chorus shall sing the lead song of the theatrical play. Trung Hieu committed to throwing a solemn yet simple funeral that will not become too painful, just like what People's Artist Hoang Dung wanted.
Trained to be theatrical
Born in 1956 in Hanoi, Hoang Dung graduated from Hanoi's Performing Arts College in 1978 and worked at the Hanoi Theatrical Troupe.
He could play many roles, both comedy and tragedy. His theatrical repertoire included 11 plays, where the most memorable roles could be musician Ba Nho in the above-mentioned play, as Chinh in Toi Va Chung Ta (I and We) by late writer Luu Quang Vu. Toi Va Chung ta, with a record of more than 1,000 shows being performed in the 1980s, forecast the ground-breaking changes in the Vietnamese society many years later.
He rose up in the theatre management, to become its Deputy Director in 2002 and Director from 2007 until 2017 when he retired.
He was awarded Emeritus Artiste in 1994 and People's Artiste in 2007. Besides, he was member of the Artistic Committee of the Vietnam Stage Artists Association, Vice President of Hanoi Theatrical Society, Hanoi City's Arts Council.
"Hoang Dung was a committed artiste and he took his role, be it main or supporting, very seriously and creatively," People's Artiste Khac Loi was quoted by saying.
Cinema and TV roles
Though he was successful as a theatrical actor, Hoang Dung became famous nationwide for his role in cinema and TV series. He had played in three feature films and 20 TV series.
Since he officially retired from Hanoi Theatre in 2017, he became even more famous for his acting styles and his role's statements became trendy.
For some unknown reasons, all the roles he took since 2017 until the last one in 2021 were all fathers. In 2017, he played a successful businessman but an underground ring leader in "The Arbitrator," an adaptation from an Israeli series of the same name. His quote became famous, "Family is the only thing that exists, all the rest things are not important!"
Then he played a harsh father and successful businessman in "Come home, dear child!" in 2019.
The same year he had another role, also as a loving yet tough father, who works as a provincial party secretary in Sinh Tu (Life or Death). His acting in this political-inspired series sealed his signature: his commanding eye contact, his brief yet clear and powerful prose, his manners, all set the standards for the role.
In 2020, he played in the Covid-19 inspired series called, Nhung Ngay Khong Quen (The Unforgettable Days) about Vietnam's fighting the pandemic from the early days.
His last TV series, Tro ve giua yeu thuong (Returning among the Loved) was premiered on December 16, 2020, was Hoang Dung's last public appearance. After revising his playing in the first series, he reportedly told director, "I wasn't doing very well, I will try harder the next time," which moved director Trinh Le Phong deeply, according to Phong's Facebook post.
The Patriarch
Hoang Dung leaves behind a team of young actors and actresses, who all called him Dad.
Farewell the Patriarch, the Arbitrator, the Musician. You were the Silkworm that weaved life's multicolour and diverse painting until your last breath.
People's Artiste Hoang Dung is survived by his wife and two sons, one is seeking an acting career like his father.

VNS

People's Artist Nguyen Trung Kien, the voice maestro of many generations of singers in Vietnam has sighed his last yesterday morning (27 Jan) at the Bach Mai Hospital.