Thanh Hoa ready for V.League 1 under coach Ljupko Petrovic
Ljupko Petrovic, who won the European Cup with Red Star Belgrade in 1991, has vowed to bring Thanh Hoa back to the top of V.League 1 this season.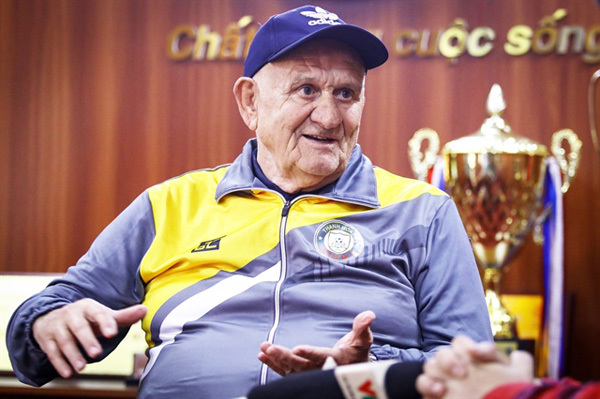 Serbian coach Ljupko Petrovic is hoping to lead Thanh Hoa good results in this year's football season. Photo feed24h.net
The Serbian coach led Thanh Hoa to the second place of the national premiere league in 2017, the highest league position in the club's history. However, after a disagreement with the club owner, his contract was not extended.
Last year, Thanh Hoa finished third in the group of relegation. While in 2019 V.League 1, Thanh Hoa scored a league record by employing three consecutive coaches in one season. They parted ways with Spanish coach Fabio Lopez, then replaced coach Nguyen Thanh Cong with another domestic manager, Mai Xuan Hop.
Now the 73-year-old has returned to Thanh Hoa under president Cao Tien Doan and has insisted that he is ready to lead Thanh Hoa back to their golden age.
"I don't know how much the possibility of Thanh Hoa club ranking one, three or four will be this year," said Petrovic. "However, I believe a spot in the top six is fine. The whole team must do their best to do that this year. Next year, we are definitely aiming for the top three in the league.
"Earlier, Thanh Hoa had many better players to play. Now, I don't have such people in the squad. However, the team have many young talents and are improving day by day. I can use them in the future. I am glad that the talented youngsters are an asset to the team." 
The coach wants his players to play fast, one touch football.
He added: "I want to speed up working together with the hard working of people at the club. Vietnamese players are hard-working and have a good spirit. After one or two years, many good players will appear here. Their level will be similar with players in Europe. I believe I can do that." 
According to Petrovic, Thanh Hoa are still a strong team. This year, he wants better performances and a higher finish. Next year he is setting his sights on Asian tournaments.
Petrovic started his coaching career in 1982. He used to manage many famous clubs like Spain's RCD Espanyol, Serbia's Red Star Belgrade, and Greece's Olympiakos. Petrovic's biggest achievement was to coach Red Star to European Cup victory in 1991 before the tournament changed its name to UEFA Champions League in 1992.
To prepare for the new season, Thanh Hoa kept key players such as midfielder Loius Epassi, naturalised striker Hoang Vu Samson, midfielder Le Pham Thanh Long, goalkeeper Nguyen Thanh Diep, captain Hoang Dinh Tung as well as bringing in many quality players such as Brazilian midfielder Paulo Pinto, midfielder Le Quoc Phuong, defender Doan Ngoc Tan, Jamaican striker Chevaughn Walsh.
Thanh Hoa contribute two players for the national team including midfielder Nguyen Minh Tung and defender Vu Xuan Cuong. They have one player, goalkeeper Trinh Xuan Hoang, in the national U22 team.
This year will see plenty of opportunities for the younger players to break into the first team. Attention will also be paid to the club's youth teams.  VNS

Serbian coach Ljupko Petrovic will take the helm of Thanh Hoa FC to lead the club in the upcoming V-League 2021.