Thanh Hoa FC coach resigns
Coach Nguyen Thanh Cong expressed his regret at leaving Thanh Hoa FC, having resigned recently after being forced out by the board.
Last Friday, reports emerged that the club's board had told the coach his starting lineups and substitutions would have to be approved by a majority of the coaching staff, making for a transparent effort to force the coach out.
Cong's contract stated he would have had to compensate the club upon resigning, but the club agreed to waive its right to compensation.
A few days ago, coach Cong resigned, citing frustration in his position and being no longer suitable for the working style and vision of the board.
"More than three months including eight matches and the hard times during the pandemic, we created a strong bond between coaches and players," Cong told bongdaplus.vn.
"Saying goodbye in an unexpected way, I regret not having enough time to evoke the full potential of the players, not standing by their side during their career development."
"With the fans, I had a great time with them. Thanh Hoa people love football and the team so much. To me, they will always be one of the biggest football supporters."
"I always cherish and thank the fans for always closely following the team. Hopefully, the players will continue to dedicate themselves, regardless of the love of the supporters," he added.
Cong became head coach of Thanh Hoa FC in early June, replacing Italian coach Fabio Lopez.
From the bottom of the table with three losses, Thanh Hoa FC under coach Cong rose to eighth with four wins and two draws in his eight matches. 
 
Thanh Hoa FC president slams critics as 'ignorant'
 
Thanh Hoa FC president Nguyen Van De has hit out against criticism of him over the resignation of coach Nguyen Thanh Cong, calling his critics "ignorant".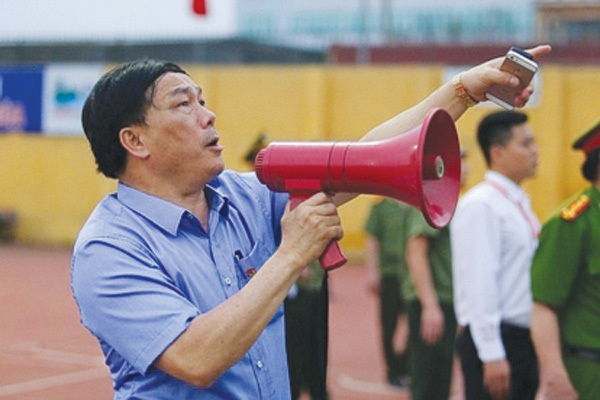 LOUDSPEAKER: Thanh Hoa FC president Nguyen Van De said that all football centres should learn from his example. Photo thethao247.vn
Last Friday, reports emerged the club's board had told the coach his starting lineups and substitutions would have to be approved by a majority of the coaching staff, leading the coach to tender his resignation days later, despite having the club to four wins and two draws in his eight matches in charge.
Much criticism was levied against the board's decision, with some calling it a ridiculous intervention.
"I affirm that the decision is completely legal and has a basis for implementation," De said.
"The coach decides the expertise, but I'm the president and manager of the club. If the club has a bad result, who will be responsible? It's me.
"At first, they gave me a list of nine players. But a lineup requires 11 players, so we just asked them to complete the lineup.
"I didn't force anyone to quit. I am the manager, responsible for the performance of the team, so I need to ask for better management. My instructions are very reasonable, in accordance with the law," he said.
De also expressed confidence in new coach Mai Xuan Hop despite the disapproval of the fans, saying they don't understand his management.
"I always wonder why Thanh Hoa has so much talent but no one can lead the club. Last year, I decided to work with Mai Xuan Hop, but the fans criticised him for not having enough experience, causing me to hire Fabio Lopez.
"Now I have decided, I will let Mai Xuan Hop lead the team. But if Thanh Hoa don't have good results in the remaining two matches, maybe, I will find another one."
According to De, his decision was made with love and passion for the club in mind.
"I'm sure I did the right thing. Football management centres should learn from me and incorporate this into their curriculum.
"Two years ago, FLC Group left, if I didn't manage it then the club wouldn't be what it is today," De said.
"The provincial leaders encouraged me, so I tried, but in fact, I never take any personal profit for myself.
"Managing a football club, apart from passion and responsibility for the homeland, is really not fun. I am unhealthy but still have to work really hard for the club," he said. VNS

The 2020 V.League 1 season is almost upon us and (coronavirus permitting) matches will kick off coming week.