HCM City's Taekwondo artist kick-starts political career
Chau Tuyet Van is one of the most unique candidates in the upcoming elections to HCM City's People's Council, or the municipal legislative council, for the 2021-26 tenure.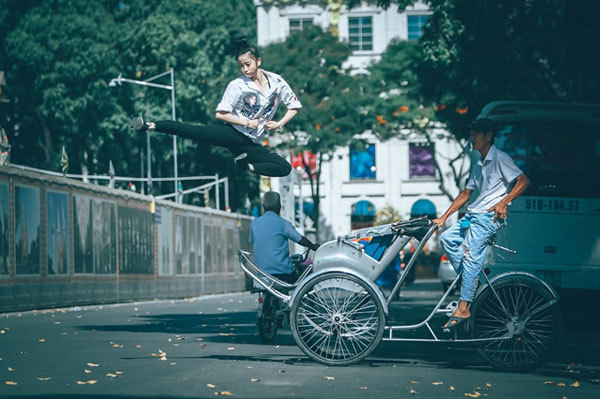 Taekwondo martial artist Chau Tuyet Van is running for a berth in the HCM City's People's Council in the period of 2021-26. Photo nld.com.vn
That's because she's best known for her prowess as a taekwondo martial artist.
As well as being the only athlete of the 158 candidates up for elections in the city, she is the youngest and most inexperienced candidate. 
A compassionate politician-to-be
Van, 31, was nominated by the city's sports department and received strong support from the National Sports Training Centre 2 where she works and District 4's Commune 13 where she lives. 
Van expects to bring a fresh perspective to the council if she is elected on May 23.
"It is really nerve-wracking and exciting to vie against nearly 160 candidates for a berth in the council. It is somehow kind of a competition," Van told Việt Nam News.
"Yes, I am younger and have less experience in this field than anyone. But I have my own advantages. I have my youth, my passion and more than 20 years of training and competing. I also have about 3,000 athletes who trust in me," she said.
"Having been a martial artist for many years, I understand the challenges we face. I want to bring sport and athletes closer to the community. I would try my best to draw people's attention to athletes who compete for the nation's pride and bring beautiful images of Vietnam to the world.
"I will make them understand sports' positive influences on life. You all know good health is priceless, the most important value in human life. A healthy person can work well in every field including politics and business and take care of their families.
"As an athlete, I will focus on people's health. I would push the development of sport and improve people's physique in the community. I will help create more places for sports training and increase the number of people who train every day to at least 30 per cent of the population," she said.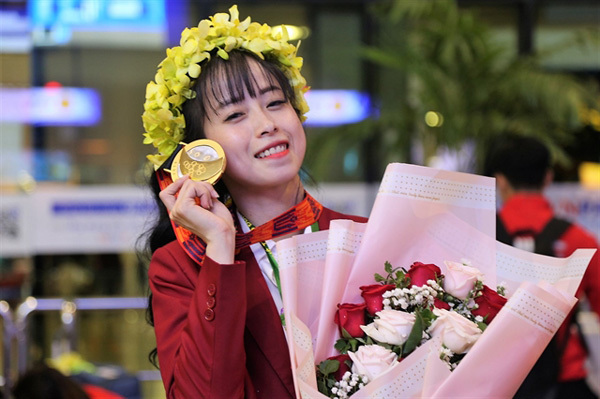 Chau Tuyet Van poses with one of hundreds of gold medals that she has grabbed through 20 years of competitions. Photo courtesy of Chau Tuyet Van
Van also hopes to bring martial arts to schools as a subject. She also plans to offer hands-on self-defence training to women and children as well as strengthen the fighting skills of the armed forces.
If elected, Van expects to develop different kinds of service and businesses concerning to her strong points such as sports tourism, sports entertainment and sports health. 
An outstanding athlete
When they chose martial art as a solution to improve their six-year-old daughter's health, Van's parents did not know their decision would turn her into a world champion.
The little girl first practised taekwondo's kyorugi (combat) but she then moved to poomsae (performance) in 2009 and found it was her true passion.
Van was one of the first athletes of this discipline of the city's taekwondo team and is the most experienced member and captain of the squad.
Through two decades of training and competing, Van has conquered all level of competitions. She has won in world events eight times, six times in the continental championship, many times at regional tournaments and is a four-time SEA Games winner.
She was also named as one of the outstanding citizens of the city in 2013.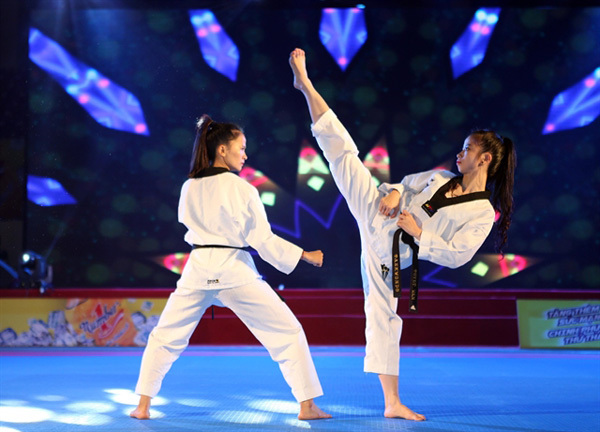 World champion Chau Tuyet Van (right) expects sport will be practised everyday by at least 30 per cent of population to improve people's health. Photo nld.com.vn
"Vietnamese people are only suitable for middle and light weight categories in kyorugi but in poomsae, a small size is definitely a strong point," said coach Nguyen Thanh Huy.
"Our athletes have been at the world level for many years and we have no worthy rivals in the region. Van has made use of her advantages and recorded the best results," he said.
Van is an ideal athlete for poomsae not only because of her small size but also her diligence, discipline, determination and creativity. Her leadership also made coach Huy give her the captaincy.
"Taekwondo has brought me many things. It forces me work hard, be patient and strict in training. It builds me a firm, strong, tough and flexible person," said Van, who recently received her MA in sports management from Ton Duc Thang University.
The champion is currently busy meetings with voters but she still spends time to train in preparation for the coming SEA Games later this year.
"The SEA Games is always the most difficult competition. The regional Games receive great attention from people who always want highest results. They pay attention to us and put trust in us. It is a great honour but also heavy pressure," Van said.
"It is difficult to take the title but more difficult to defend it. Not like combat, in performance events referees give points base on rulings and sometimes on their feelings. The only way to win is to perform much better than anyone so we can win irrefutably."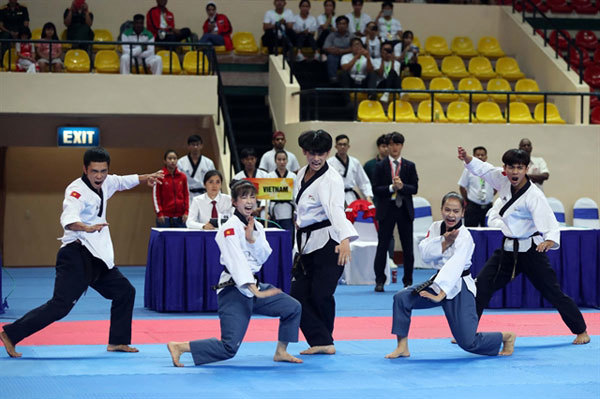 Chau Tuyet Van (second, left) will take part in the creative poomsae mixed team of five members at the coming 31st SEA Games in Hanoi. Photo nld.com.vn
Van will compete in the creative poomsae mixed team of five members. She wants to secure her fifth title in a row this December although COVID-19 pandemic has strongly impacted her plans.
"It is the only creative category of the Games. My teammates and I have made used of every day left to perfect our performance. COVID-19 has prevented us from attending international events but we have kept the passion and determination in hearts.
"Competing on home turf would be an advantage and we will persuade judges, supporters and our rivals about how good we are. Hope that at the time of the Games, the pandemic is well controlled and we can show off our talents," said Van, who hopes to open her own taekwondo clubs after having been an assistant coach for several years.
"I will gradually move to coaching job after the Games but I will compete until I can't anymore and will try my best with taekwondo until my last breath."  VNS
Thanh Ha

The Vietnamese taekwondo team failed to hit its targets at the last two Southeast Asian Games, but the team is ready to shine again at this year's Games in the Philippines.

Vietnam secured an additional eight gold, seven silver and ten bronze medals on December 7 – the seventh competition day of the 30th Southeast Asian Gamesin the Philippines, retaining its third place on the medal tally.