Sy hopes to lead runners to best success

When Pham Thi Hue finished her SEA Games' 10,000m race in first place, she shared her joy with one man watching from the stands.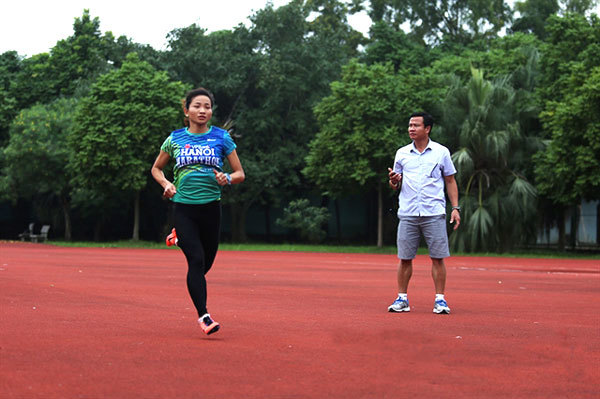 Coach Tran Van Sy and runner Nguyen Thi Oanh train in Hanoi before the 30th SEA Games. — Photo webthethao.vn
There were tears in both their eyes.
For the man spectator watching was none other than Tran Van Sy, her coach and mentor. And this was triple joy for him, as he is also the coach of fellow winning athletes Do Quoc Luat and Nguyen Thi Oanh.
The group could not be separated as they all hugged each other tightly.
Under his reign, his athletes won six gold medals at the Philippines Games in Vietnam's total of 16 in athletics.
With their achievement, Vietnam confirmed its No 1 position in the region although they did not have best competitors at the biennial sporting event.
After Hue, Oanh grabbed three golds in the women's 1,500m, 5,000m and 3,000m steeplechase grabbing a record in the latter event. Luat dominated in the men's 3,000m steeplechase and Duong Van Thai triumphed in the men's 1,500m.
Moreover, Sy's athletes also pocketed a total of six silvers and bronzes in other categories. The result makes him one of Vietnam's five most successful coaches of the year, his first honour after 10 years of coaching career.
Among the famous athletes under his belt are runner Nguyen Van Lai who won three SEA Games in 2013, 2015 and 2017. Lai, who set up the Games' 5,000m record, also took part in the 2019 Games but he failed to defend his titles in the 5,000m and 10,000m, losing to naturalised runner Kieran Tuntivate of Thailand.
Oanh won a bronze in the 3,000m steeplechase at the 2018 Asian Games. Earlier, she won a gold in the same event at the Asian championship in 2014. She has been classified as one of Vietnamese athletes who reach continental level.
Hue, after her silver in the 29th Games, went one better this time around picking up a gold last month.
The 47-year-old coach also guided two of his junior athletes, Le Tien Long and Doan Thu Hang, to qualify for the Youth Olympics in 2018 in Argentina.
His athletes also succeeded in key tournaments held in Vietnam. Among them, runner Pham Thi Hong Le has qualified for the 2020 Boston Marathon after her first place at the International VnExpress Marathon in June.
Le won a bronze medal at the women's marathon event, which was the first medal of Vietnam athletics team at the SEA Games.
Coach Sy said: "To me, nothing is more important than the best for the athletes."
"I set targets for each of them and work on plans to make sure they would reach their highest results but I have never created pressure on them. It is better to ignore talk about result. It would help them to feel comfortable and free their mind ahead of tournaments.
"No pressure means better results and sometime surprises may happen," he added.
Although he has moved to a coaching job for many years but the trainer also often takes part in events with his athletes.
He said the running experience would help him understand how hard runners felt during their races, so that he could adjust his training plan to make it suitable and more effective.
Sy and some of his athletes will start their 2020 year with a test at the Ba Ra Mountain Climbing Tournament this Sunday in Binh Phuoc Province.
They will take part in both men's and women's 10km and 21km categories, which are considered their warm-up for a hard calendar to come.
Earlier this week, a list of 14 athletes, five of them are Sy's runners, has been made up. They will receive special support to be Vietnam's strong athletes at big tournaments this year and their most important task is to hunt Tokyo Olympics' slots this summer.
"To date, my athletes, especially the marathoners, are doing very well. We are having much work to do this year and hope to make it the best," Sy said. — VNS
Runner Nguyen Thi Oanh has been honoured as Vietnam's top athlete of 2019 thanks to her outstanding performances at the 30th Southeast Asian (SEA) Games in the Philippines.

Nguyen Thi Oanh crossed the finish line and lay down on the ground, exhausted.