Suite Ballet Carmen to be re-staged in HCM City

Suite Ballet Carmen is one of the most successful productions of HBSO's ballet division, and later this month it is being given two new performances.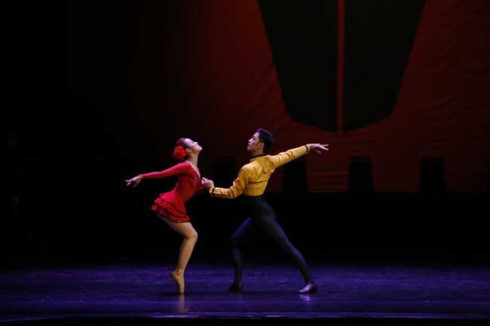 The show will take place at the Saigon Opera House on July 20 and 21- Photo: Courtesy of HBSO
Georges Bizet wrote Carmen in 1875, but as an opera. Then in 1967 the Cuban choreographer Alberto Alonzo created a ballet suite based in part on Bizet's music, but more specifically on music by the Russian composer Rodion Shchedrin. This is what we will hear at the Saigon Opera House on July 20 and 21, beginning at 8 p.m.
It comes as part of an evening of three ballets, but it is easily the longest and most impressive item.
The first two ballets, performed before the interval, are Falling Angels and Depaysement.
Falling Angels is a very short piece about the challenges of being gay. It will be danced by Do Hoang Khang Ninh and Sung A. Lung (who was partly responsible for the work's inception). Officially the choreographer is Nguyen Phuc Hung.
Depaysement (which means 'disorientation' in French) was choreographed by Julien Guerin to music by Chopin, Satie, Faure, Beethoven and Albinoni.
Eight dancers, four men and four women, form pairs and then dissolve into larger formations. It is an extremely polished work, and its lighting is in addition exceptionally professional, highlighting the dancers to maximum possible effect.
The variety of the music and the formality of much of the choreography make for a very effective combination.
Then comes Suite Ballet Carmen.
Shchedrin's music is far removed from the flamboyant Bizet original. Instead, you have an exceptional subtlety which partly masks the real passion of the participants.
In HBSO's excellent production the iconic image of a bull's head stares down from a red background and forms a potent overseer of proceedings. The line of motionless costumed figures that features several times is both surprising and effective.
Nguyen Thu Trang is a most appropriate Carmen, emphasizing her charm as well as her less admirable aspects.
Ho Phi Diep couldn't be bettered as Don Jose. The difficult balance between the character's tentative innocence and his anger – and strength – when jilted by Carmen are brilliantly caught.
Nguyen Luong Hoa as the toreador Escamillo is also outstanding, proudly strutting, and treating Carmen as someone who is his by right.
Also important is Thach Hieu Lang as Fate, a figure covered entirely in black who intermingles with the human characters without their entirely noticing. The figure could also have been called Death.
The atmosphere throughout is tense while remaining tautly lyrical, and the result is utterly mesmerizing. The staging is by People's Artist Kim Quy.
These three items make for a very attractive evening, despite the brevity of the first one. Elegance and passion are jointly present in all three works. They rise in quality, until Suite Ballet Carmen is reached, undoubtedly the evening's climax, and a memorable production by any standards.
Ticket prices are from VND300,000 to VND650,000, with a special price for students of VND80,000 on production of a valid student's card. SGT