Song-composing contest themed "Hat len Vietnam- Let's sing Vietnam" debuts
The song-composing contest with the theme of praising Vietnam- its land, spirit and people- welcomes both local and foreign authors. The winner will receive prize worth of VND100 millions (US$4,300).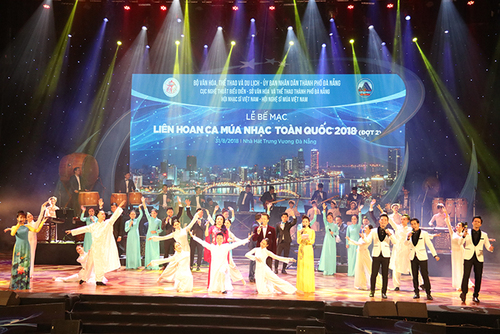 The national radio The Voice of Vietnam has launched a song-composing contest with the theme of "Hat len Vietnam- Let's sing Vietnam".
The contest is aimed at celebrating the success of the 13th National Party Congress as well as promoting the image of Vietnam as a beautiful country with friendly, and hospitable people.
The contest admits either amateur or professional songwriters who are locals or foreigners.
The lyrics of the song can be in Vietnamese and English or bilingual. Each author can submit a maximum of two entries which are newly composed that have never been awarded in any competition before.
Organizers encourage authors to send CDs or DVDs, audio files, pictures (self-recorded or choreographed) of the song performance. The entries are free of genres.
The selected entries will be divided into two main stream of music: Political songs and Non-political songs (in pop, rock, jazz, blues, R&B/soul, hip hop, among others).
The winning songs will be staged, recorded and broadcast on radio, television and digital platforms of Voice of Vietnam. The winning composer will receive a special award worth of VNDD100 million (US$4,300).
The entries of the song-composing contest can be sent to: Music Department VOV3, Voice of Vietnam, 6th floor, National Radio Centre, No 58 Quan Su street, Hoan Kiem district, Hanoi; Email: vov3@vov.vn
The contest deadline for all entries is June 30, 2021.
An awarding ceremony is expected to be held on the occasion of the August Revolution Day and National Day celebrations on September 2.
hanoitimes

Recent music activities like The Veston Concert held by singer Ha Anh Tuan have demonstrated how local tourism preferences have changed in the resort city of Da Lat in the Central Highlands.