Sharpshooter Linh leading the line for club and country
Just over two weeks ago, Vietnam's Nguyen Tien Linh latched onto a through ball and slotted past Emirati goalkeeper Ali Khaseif to score his fifth goal in seven 2022 World Cup qualifiers.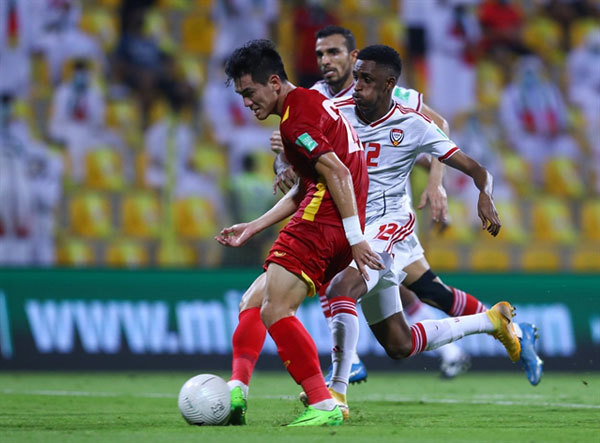 Nguyen Tien Linh runs ball during Vietnam match against the UAE at the 2022 World Cup Asian qualifier on July 15. Photo zing.vn
Vietnam lost the match 3-2 but for the first time advanced to the third and final round of qualification for the World Cup.
The 23-year-old's strike equalled midfielder Nguyen Hong Son's Vietnamese record of five goals in the qualifiers, registered back in the 2002 FIFA World Cup qualifiers.
The goal also helped him complete the promise of scoring three goals in three matches he made his father before he left for the matches in the UAE.
"It is great to level the record with my senior Son. Prior to any tournament I always set myself a target. And it was three goals for the UAE mission. I am happy as I made it," said Linh. 
Practice makes perfect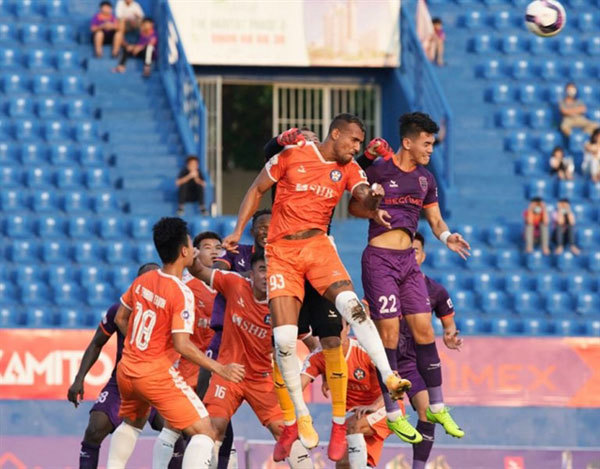 Nguyen Tien Linh (right) jumps to make a header during a V.League 1 match between Becamex Binh Duong and SHB Da Nang in April. Photo courtesy of VPF
Born in Hai Duong Province in 1997, Linh moved to Binh Duong Province when he was six and lived with his father while his mother worked in South Korea.
The little boy faced challenges in the new and strange environment where he had no friends and relatives.
"After school, I felt lonely. The climate, food and people there were totally different from what I was familiar with in Hai Duong. I just want to return to my former home and tried to kill my sadness by looking at our family's photo album," Linh recalled.
Football also helped Linh fight homesickness, but his start in the game wasn't smooth.
Linh joined the Binh Duong Football Training Centre when he was 13 and initially, the coaches were discouraged as Linh struggled on the ball and with physical strength exercises.
"I did not know how to control the ball well. The coaches were disappointed with me. I just wanted to quit but that was when mum came home. My parents' encouragement lifted me up. I told myself 'I must make it' and make them proud," said Linh who started as a midfielder before becoming a forward.
The boy did not give up. He worked harder than his teammates and asked his coaches to spend extra time training.
His efforts paid off as he rose up the youth ranks before becoming the top scorer with 12 goals in the National U19 Football Championship in 2015.
He was a member of the national team that won silver at the 2015 Southeast Asian U19 Football Championship and bronze at the Asian U19 Football Championship in 2016 which secured Vietnam and Linh a berth in the 2017 U20 World Cup. He was also part of the team that won the 2019 SEA Games.
In the domestic league, the young player was called up to the first team in 2016 but was stuck in the shadow of veteran Nguyen Anh Duc.
The 2018 season saw Linh's turning point when he scored 15 goals and was the top Vietnamese local striker in the league. He impressed national team coach Park Hang-seo who called him up to the national team for the first time to prepare for the AFF Cup 2018 and Asian Cup 2019.
But he was stuck as a substitute until he scored a goal in Vietnam's 3-1 win over Indonesia during the 2022 World Cup's second qualification in October 2019.
He earned a berth in the first team and then scored the only goal in the team's 1-0 win over the UAE a month later, a goal which Son had high praise for.
The Asian Football Confederation's website was also effusive in its praise.
"If current Group G leaders Vietnam are to win the group and advance to the third round of the Asian Qualifiers, they will certainly look back at Nguyen Tien Linh's winning goal against the UAE in November 2019 as a key moment.
"In the absence of veteran Nguyen Anh Duc who was left out of the squad by coach Park Hang-seo, Vietnam will be looking at the 23-year-old forward to build on a hot domestic form that saw him bag six goals in 11 appearances for Becamex Binh Duong so far," they wrote. 
Goal getter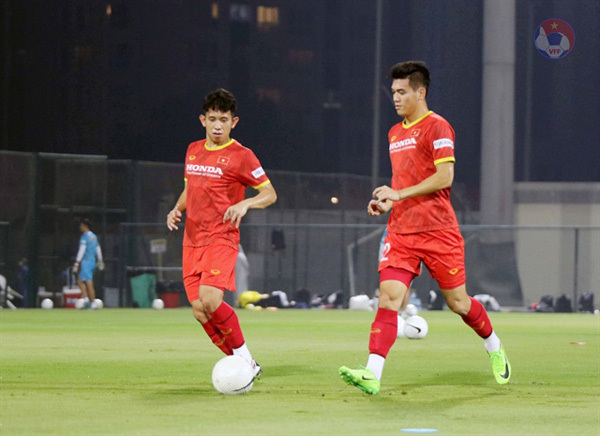 Nguyen Tien Linh (right) and Nguyen Phong Hong Duy seen during a practise in the UAE in early June for the 2022 World Cup qualifier. Photo courtesy of VFF
In the 2019 season, Linh scored nine goals in domestic tournaments. The next year, he could score only five goals as injuries hampered. This year, with the V.League 1 almost at the halfway point, the forward's six goals are equal to 43 per cent of Binh Duong's total and place him in the top six of the scoring charts.
According to former Binh Duong coach Tran Minh Chien, Linh may not always look the part, but he's a thoroughbred goalscorer.
"It is not easy to steal a ball from Linh who looks bulky but is technically skilled. His nimble feet allow him to control the ball in narrow spaces and dribble or pass," said Chien.
Binh Duong head coach Nguyen Thanh Son also praised his 1.83m-tall player's speed and composure with skills improved season by season.
Linh has learnt a lot from his senior Duc and jas escaped his shadow to take lead the line for club and country. Indeed, coach Park has said the future is bright for Linh.
After his remarkable performance in Dubai, former V.League 1 defender Danny van Bakel said Linh should go abroad.
The Dutch-Vietnamese football agent, who played a role in sending defender Doan Van Hau to SC Heerenveen in 2019 on loan, said Linh could play in Asia's top leagues.
"He appeared in key moments and scored important goals in the matches against the UAE, Indonesia and Malaysia. He made a big impact on the national team and is the kind of forward that Vietnam have been looking for years," van Bakel told zing.vn.
Van Bakel said Linh has developed quickly and impressively and has the best off-ball movement in Vietnam.
"With respect, I think that Linh, who has good height, speed, mental and physical strength, should not play in the V.League. Going abroad will help boost his career. He is ready."
The draw for the third and final round of 2022 World Cup qualification will be held on July 1 in Malaysia where Vietnam could face powerhouses such as Japan, Australia and South Korea, and Linh will be a key part of the team.
"It is a tournament for the strongest Asian teams. Of course, it will be tough for us. But as usual, it is difficult to predict anything in football," said Linh.
"Like what we did in the UAE match. They played better but we scored twice in the last minutes. We always compete with all we can for the best result."
Source: Vietnam News

Vietnam have made history as they advanced to the third round of the World Cup qualifiers for the first time ever, after a five-goal thriller against the hosts United Arab Emirates (UAE) on June 15 (local time).
Vietnam took a huge step towards making it to the third and final round of World Cup qualification for the first time in history with a tense 2-1 win over Malaysia on June 11 night.