Security to be tightened for Vietnam's upcoming World Cup qualifying matches

A meeting to implement security and safety work for Vietnam's upcoming World Cup qualifying matches against the United Arab Emirates and Thailand at My Dinh Stadium took place on November 7.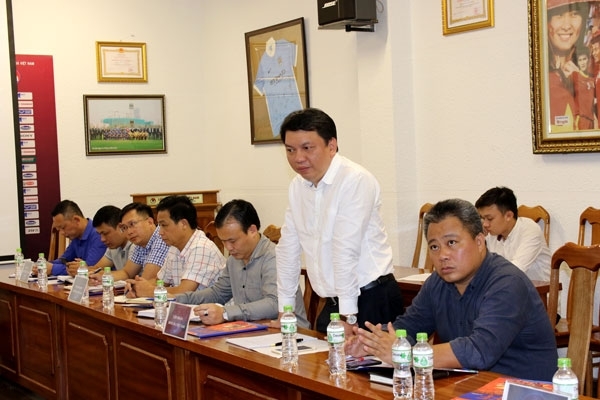 VFF General Secretary Le Hoai Anh speaks at the meeting. (Photo: VFF)
The event was attended by VFF officials and representatives from Hanoi's police forces, the National Sports Complex and the KTC Vietnam Security Company.
At the meeting, delegates reached a consensus on implementing security measures as with the Vietnam-Malaysia clash earlier on October 10.
Accordingly, the Hanoi Police will work with the VFF and relevant units to ensure security and safety before, during and after the matches in the most effective fashion, in addition to deploying traffic lane separation measures to prevent congestion around My Dinh Stadium and preparing backup routes.
Additionally, inspection will be strengthened keep prohibited items, especially explosives and flares, outside the stadium.
The VFF is responsible for providing a specific operational plan of foreign supporters so that the Hanoi Police can take protection measures if necessary.
Fans are encouraged to arrive at the stadium early to receive the best support.
As scheduled, Park Hang-seo's Vietnamese side will take on the UAE at 8pm on November 14 before hosting Thailand five days later. Nhan Dan

Good news has arrived to Southeast Asian football as the world's football governing body FIFA has decided to hand over the hosting rights of the 2021 U20 World Cup to Indonesia, marking the first time the tournament has come to ASEAN.

A total of 17 Vietnamese footballers have played during Vietnam's current campaign to qualify for the World Cup 2022, including the goalless with Thailand, the 1-0 win over Malaysia, and most recently the 3-1 win over Indonesia.