SEA Games: Vietnam crush Brunei 6-0 at first men's football match

The men's football team of Vietnam secured a perfect start for their 30th SEA Games journey with an emphatic 6 – 0 victory against Brunei at Binan stadium in the Philippines on November 25 afternoon.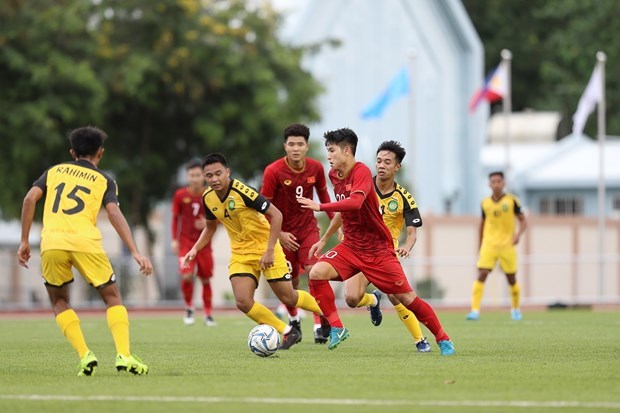 The Vietnamese men's football team (in red) play Brunei, the first match at the 30th SEA Games, at Binan stadium in the Philippines on November 25
The team of head coach Park Hang-seo netted the first goal at the 9th minute by Ha Duc Chinh, who headed in from a corner.
At the 23rd minute, receiving the ball from Do Thanh Thinh, Chinh marked his double with a close-range shot that was met with no resistance from the Brunei keeper.
In the second half, the match continued to be completely under Vietnam's control.
Chinh once again headed in the corner to complete his hattrick at the 48th minute.
The score was raised to 4 – 0 for Vietnam at the 60th minute when Nguyen Trong Hoang made a pass to Nguyen Trong Hung, who unselfishly passed to Trieu Viet Hung for an easy tap-in.
The ball made its way to the net at the 66th and 83rd minutes thanks to Nguyen Thanh Chung and Nguyen Trong Hung, respectively.
With this result, the men's team earned their first three points at the 30th SEA Games.
Vietnam and Brunei are in Group B, which also includes Laos, Indonesia, Singapore and Thailand. Vietnam's next match with Laos will be on November 28.
Vietnam is striving to win gold which will be the first for its men's football at the tournament./.VNA

FOX Sports Asia has named Vietnam's captain and key midfielder Nguyen Quang Hai among the top six players who are set to shine at the 2019 SEA Games.

Tickets for the Thailand-Vietnam SEA Games 30 football match have sold out quickly online.