Saigon Heat wins second 2020VBA championship
Saigon Heat won 73-54 in game 4 against Thang Long Warriors on Tuesday night, becoming the first team in the league to successfully defend its championship.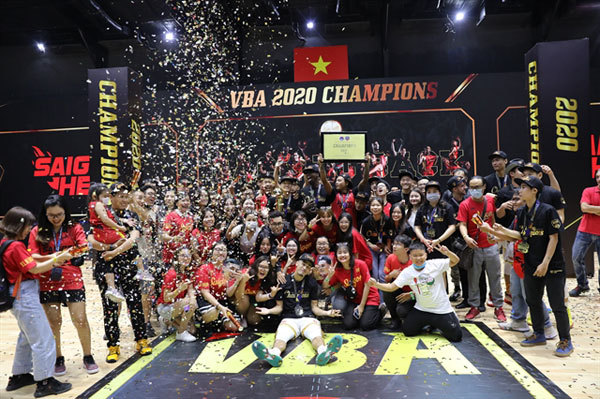 Saigon Heat is the first team in the history of the VBA to successfully defend the championship. Photo courtesy of VBA 
Saigon Heat entered the match with a huge advantage after taking a 2-1 lead in the five-game 2020VBA Final series. They were only one victory away from the championship.
The Warriors players were not in good form when they were under pressure. They let their opponent lead 10-23 after the first quarter of the match.
Coach Predrag Lukic of Thang Long Warriors had to use Nguyen Van Hung to play as a power forward to increase the attack and defense abilities under the basket area.
Hung and Robert Crawford were the key players that helped the Warriors close the gap in the second quarter.
They let the Heat players score only eight points in the quarter. Bit the Warriors closed the gap to 29-31 before the break.
After the break, Saigon Heat showed why their team was the top contender for the championship.
With an attacking tactic and good game mastery, along with Vo Kim Ban's three-point shots, the Heat widened the gap to 40-51 in the third quarter.
The Heat continued to increase the gap in the first minutes of the fourth quarter. The Warriors defenders had a bad day after giving Vo Kim Ban too many open shots.
The match ended with a convincing 54-73 victory for Saigon Heat. The team overcame the Warriors with a total score of 3-1 in the Finals series, and became the first team to successfully defend the championship in the history of the VBA.
Vo Kim Ban received the Player of the Match award with 31 points, including 24 points from eight 3-point shots. He was the first local player to receive the award this season.
Joshua Keyes of Saigon Heat won the MVP award for the 2020 VBA Final series.  VNS

Saigon Heat defeated Thang Long Warriors in the third game of the 2020 VBA Finals series on Sunday with the score 65-53.