Saigon Heat secure VBA playoff berth

Saigon Heat ended hosts Danang Dragons' Viet Nam Basketball Association playoff hopes after beating them 70-62 at the Military Zone 5 Gymnasium on Sunday.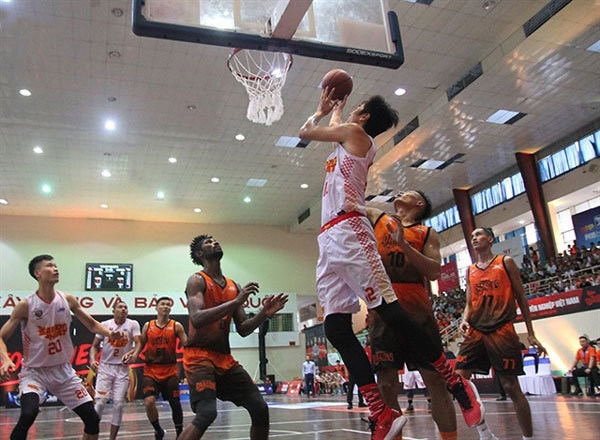 Nguyen Huynh Phu Vinh of Saigon Heat jumps to score during their VBA match agains Danang Dragons on Sunday. The Heat win 70-62. Photo vba.vn
Despite playing on away ground, the Heat set the pace of the match with Tim Waale, Vo Kim Ban and Tavarion Nix scoring 18 points quickly to secure a 25-14 first quarter lead.
Coach Phan Thanh Canh of the Dragons made changes in the second quarter, and they paid off, as Anthony January and Horace Nguyen poured in a combined 17 points to help the hosts narrow the score to 34-40.
The home team's comeback hopes were short-lived as the Heat flexed their muscles in the third period, led by Ban, Richard Nguyen and Trieu Han Minh, ending the period on top 58-50.
The final quarter saw both a frenzied effort to stay in the game by the Dragons, but time ran out on their season as the score ended 70-62.
The Heat advance to the playoffs together with Thang Long Warriors, who beat the Cantho Catfish 75-69 on Saturday.
In the last round of the regular season, Saigon Heat will meet Danang Dragons again at the CIS Area in HCM City on August 18. Earlier, the Warriors will face the Catfish on August 13 at the Tay Ho District Gymnasium and Hanoi Buffaloes, who are also out of the tournament, will host Wings by Jetstar at the Hanoi's Bach Khoa Gymnasium four days later.
VNS