Saigon Heat crowned as regular season champion, go to playoff
Saigon Heat ended an impressive Regular Season with the top spot in the table thanks to an 85-68 victory over the Ho Chi Minh City Wings on Wednesday night.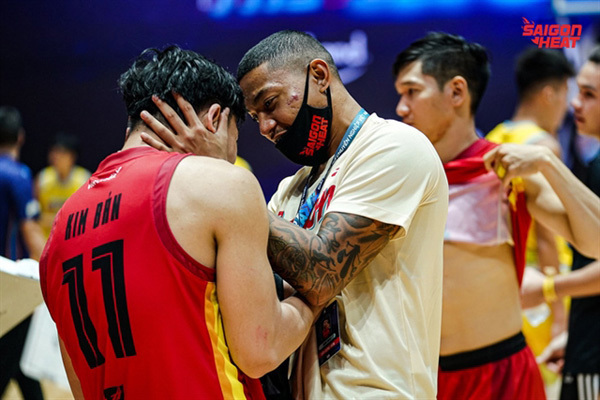 Vo Kim Ban (left) and Saigon Heat former player Richard Nguyen (right) celebrate after the game. — Photo Saigon Heat
Throughout the regular season, Saigon Heat showed that they were the top candidate for this year's championship.
Players who were considered as the main factors for the Heat's championship last year, such as "heritage" (Vietnamese overseas) players like Richard Nguyen and "Mr Wiggel" Khoa Tran, or imported centre Tavarion Nix, did not play for the Heat this season for various reasons.
Experts from the beginning of the season said this would be a difficult season for the Heat to defend their championship because of the lack of these players.
However, the Heat proved that these claims were wrong. With the first pick of the 2020 VBA Draft, Christian Juzang from Harvard University was selected by the Heat.
It didn't take too much time for Juzang, who has played in the NCAA tournament, the top league for universities in the US, to show his talent and chemistry with his teammates.
The 25-year-old player has become one of the stars of the tournament. With great skills like handling, assists, and long-range three point shots, Juzang has contributed a lot to the team's playing style.
After 12 matches in the regular season, Juzang had average stats of 22 points, 5.3 rebounds and 5.8 assists.
Along with Christian, imported player Joshua Keyes also showed an outstanding performance throughout the regular season.
Although Keyes did not play very well in the first matches, the more he played, the more he proved that the team was right to choose him for the imported player slot.
Saigon Heat this season also witnessed the improvement of the homegrown players.
Nguyen Huynh Phu Vinh, Vo Kim Ban, Du Minh An, and Tim Waale showed remarkable progress this season.
With the great performance of the team, Saigon Heat expect to be the first team to successfully defend its title in the VBA.
The team that could stop Saigon Heat at this moment is Thang Long Warrior, which is ranked second in the table and won the playoff ticket after Saigon Heat.
The team from Hanoi is the only one that the Heat did not beat during the regular season.
The remaining two playoff tickets are a fierce competition between the three teams Hanoi Buffaloes, Can Tho Catfish and Da Nang Dragon. VNS

Saigon Heat lost to Mono Vampire of Thailand 87-95 in the ASEAN Basketball League (ABL) at the GSB Stadium 29 in Nonthaburi, Thailand on Tuesday.  

Saigon Heat have won the championship title for the Vietnam Basketball Association League 2019 season following their victory over the Cantho Catfish during the final played on September 17.