Runner Oanh ready for SEA Games after domestic success
Nguyen Thi Oanh proved her status in Vietnamese athletics after she secured four gold medals in the four toughest categories of indoor events and set a new record at the recent National Athletics Championships.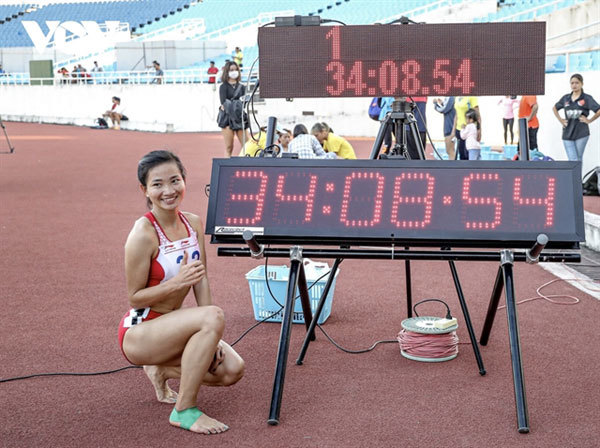 Nguyen Thi Oanh poses with her national record in the women's 10,000m event. Photo vov.vn
The pint-sized runner is now aiming to defend her thrones at the upcoming Southeast Asian (SEA) Games next November.
Oanh started the tournament with a gold medal in the women's 5,000m last Tuesday and then took the 1,500m title the next day. She went on to win the 3,000m steeplechase on Friday morning before setting a new record in the 10,000m in the afternoon.
"The 5,000m and 1,500m are my strong points. I have prepared really well to make sure of my No 1 position in the national competition for many years meanwhile 10,000m is optional for me," Oanh told reporters.
"What I have done in the 5,000m and 3,000m steeplechase was not as good as I planned while the result of the 1,500m event made me feel good. And I was really surprised because I not only won but also broke a record in the 10,000m," the Bac Giang Province-born runner said.
Oanh ran the former event in a time of 4min 13.88sec, nearly four seconds better than when she won gold in the Manila SEA Games last year.
In the later event, Oanh burst into tears at the finish line when she saw her result of 34:08.54 was the new national record.
Her score was about 40sec better than the 17-year-old record of 34:48.28 set by Doan Nu Truc Van at the 2003 national tournament.
Oanh recently decided to run the 10,000m event recently after she dominated long-course categories in marathons nationwide.
"I once practiced 10,000m about six or seven years ago but I did not focus much on it. I just thought and seriously trained for this year's championship but it is not a mandatory event for me," Oanh told Việt Nam News.
"After the 3,000m steeplechase in the morning I nearly decided to withdraw from the 10,000m (which was held only five hours later the same day). But after rest time and together with people's encouragement I wanted to test myself in this indoor longest race for the first time."
Oanh is a veteran runner but was a freshman in this event where she faced marathoner Pham Thi Hong Le who won a 2019 SEA Games silver medal, among other title favourites. They had to run 25 laps around Hanoi's My Dinh Stadium.
"I did not set any target, just asked myself to complete the race with the best result.
"At the halfway mark, I told myself 'wow, how really, really long it is'. I took a deep breath and self-pushed to try harder. When there were two laps left, I understood that I had a chance to break a record. And I ran with all the energy left in me to finish."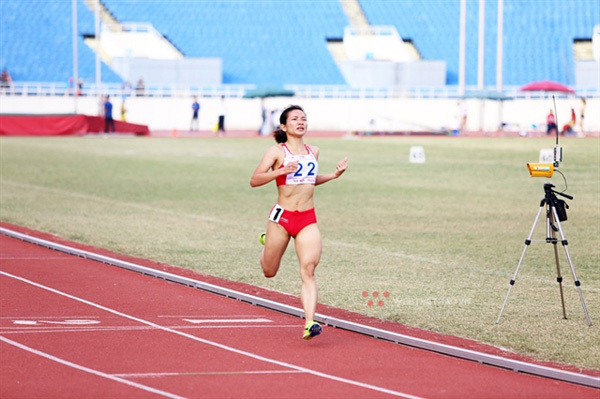 Nguyen Thi Oanh crosses the finish line of the women's 1,500 event. Photo webthethao.vn
Oanh has been one of the best Vietnamese athletes in the last decade. The 25-year-old has dominated the 1,500m, 5,000m and 3,000 steeplechase events since 2011.
She has also made her name at international tournaments including the Asian indoor championships, Asian Games, Asian Beach Games and others.
She is also a regional force with five golds and one silver medal in the SEA Games.
At the previous Games, Oanh made a hattrick with the 1,500m, 5,000m and 3,000m steeplechases and a Games record in the latter event.
This year, like other competitors, she has been impacted by the COVID-19 pandemic which delayed and cancelled many races including the London Marathon in October.
But she still grabbed golds in the Tay Ho Half Marathon, National Marathon and the Hanoi Marathon ASEAN which were rare tournaments held earlier this year.
"These tournaments were in my plans so that I could sharpen my skills as well as improve my strength for official events," said Oanh who will race in the Techcombank HCM City International Marathon 2020's full marathon next month.
As the national championship is the last event of the year, Oanh is now looking towards the 31st Games which will be held in Hanoi later next year.
Oanh will defend her three titles and may dream for one more after her outstanding result in the 10,000m.
"Everyone has their dream. And my wonderful dream could be in My Dinh in 2021," said Oanh who also hopes to reach Olympic standard and compete in the Tokyo Games next July. VNS
Thanh Ha 

Southeast Asian Games defending champion Nguyen Thi Oanh will compete in the London Marathon 2020 on October 4.
Runner Nguyen Thi Oanh has been honoured as Vietnam's top athlete of 2019 thanks to her outstanding performances at the 30th Southeast Asian (SEA) Games in the Philippines.