Rowers overcome challenges to secure Olympic slot
Planks, squats and push up. Exhaustion, sweat and boredom.
This is everyday life in the small hotel room in Hanoi where Dinh Thi Hao and Luong Thi Thao are staying during their 21-day quarantine after returning home  from an international tournament early this month.
The rowing duo secured Vietnam's seventh Tokyo Olympics slot after finishing second in the World Rowing Asia and Oceania Olympic and Paralympic qualification regatta's women's lightweight double sculls which ended in Japan on May 7. 
The cardio workouts are a way to help them stay in shape before returning to normal training and the start of their preparations for their first-ever Olympics this summer. 
Born to row
In 2013, Hao impressed scouts with her ideal figure, height and arm span for rowing. 
They persuaded the 16-year-old girl to try rowing, a strange sport to many people at that time.
Hao, born and raised in Tuyen Quang Province, which is hundreds of kilometres from Hanoi, had no idea what she was in for but curiosity led her to agree.
Her parents did not want to separate from her as they thought that sport would not bring her a good life, especially living far away from family.
Hao left her hometown after spending several days talking with her parents who finally gave in.
The scouts were right, they had found a talented athlete who used diligence to overcome all challenges.
About two years later, Hao became a member of the national team and grabbed her first gold medal at the Asian Cup 2016 in her international debut.
Apart from domestic events, she also triumphed at the Southeast Asian and Asian championships along with top-three finishes in other tournaments. 
Dinh Thi Hao poses with 30th SEA Games supporting items in 2019. She won a silver medal in the women's lightweight double sculls event. — Photo courtesy of Dinh Thi Hao
"Every medal has its own mark in my career but the 2018 Asian Games (ASIAD) silver is the most memorable one as the continental event drew the strongest rivals in Asia and we had to row really hard for that result," said Hao who rowed in the women's quartet heavyweight double sculls with three other teammates.
Speaking about his athlete, coach Nguyen Van Thang of Hanoi said: "Hao is a rare kind of athlete with an iron mind and strong determination. She is a woman of discipline and hard work. I always see her great efforts to overcome difficulties".
Meanwhile, ca was not an athlete who burst onto the scene but one who developed gradually. The 22-year-old and her teammate Thao are set to lead the national team for years to come.
Thao is two years younger than Hao but her achievements are even greater, with a gold in the women's quartet lightweight double sculls in the 2018 ASIAD.
Thao was recruited to be a track-and-field athlete for her native province of Son La and trained in Hanoi.
But after a few months, the little girl showed scant progress in running. When she was facing being sent home, Le Van Nup, deputy director of Quang Binh's Sports Training Centre, saw her and brought her rowing talent to light in 2016.
After dominating national and regional youth tournaments, Thao became a national team member when she was 19 in 2017.
A year later the youngest athlete of the team scored her best ever result with Asian Games gold alongside senior teammates. It was one of four titles Vietnam grabbed from the Games, the most successful ASIAD in history for the country. 
Olympics waving
COVID-19 in Japan was spreading when the six-strong team flew to Tokyo for their Olympic qualification bid in late April. This was why the rowing team left Hanoi to little fanfare.
When they took the seventh Olympic slot for Viet Nam, people took notice. It will be the fourth Games in a row that Vietnamese rowers have competed in.
Talking with Việt Nam News, Hao and Thao shared that winning an Olympic slot made 2021 their year after nearly two years of hope and waiting with no competitions and fears of Olympic cancellation.
"It is difficult to describe our feelings, training but no competition. So it was great when we finally had the chance to compete. I was kind of happy and strongly pushed although we had no information on our rivals. We just tried to train harder to make sure we performed to our best for the event which was the last one to take an Olympic berth," Hao said.
They had three days to get familiar with the venue and the climate.
"Three days was enough but if we had more time we would have done our job better. But it was okay because other teams would have felt the same," said Hao.
Their second-place finish with a time of 7 minutes and 17.34 seconds was the best for Vietnam in all tournaments to date, according to coach Quang.
"This category was Vietnam's strongest one, which also secured Olympic slots in three previous times. In this qualifier, athletes came in second with the fastest time recorded. If we had better tactics we might have competed for a gold medal with the host pair," Quang said.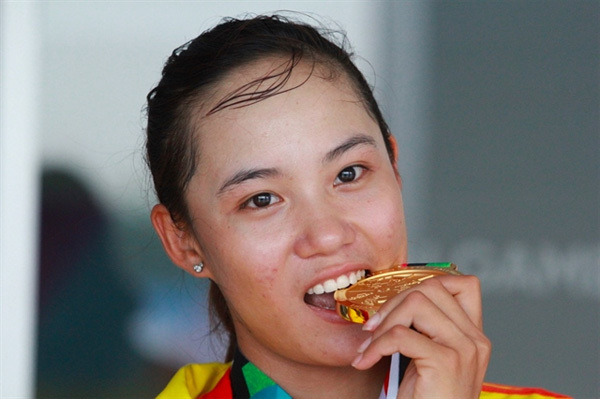 Luong Thi Thao and her ASIAD gold medal in the women's quartet heavyweight double sculls category in 2018. — Photo courtesy of Luong Thi Thao
Quang and his athletes are now working on maintaining their physique and awaiting the end of their quarantine by the end of this month.
"We have only one month and 20 days to focus on the Olympics. My players are currently doing workouts twice a day indoors without supporting equipment. It is not very helpful, only 20 per cent of what we need. It's boring too, but we can't do anything else."
While their coach is worried, Hao and Thao are confident.
"We are really happy for what we have done. It is our big milestone in career. We know we still have weaknesses which need to be fixed in the coming weeks. But we will not let pressure affect our performance. We will just do everything to our best," said Hao.
Thao said: "We will discuss with coaches to carry out best training plan. The Olympics is a big competition with the strongest athletes to come. We hope to grab a good result".  
VNS

Rowers have secured Vietnam's seventh Olympic slot at the World Rowing Asia and Oceania Olympic and Paralympic qualification regatta which ended in Japan on May 7.