Rejuvenated midfielder Truong leading HAGL forward
After a period of struggling in the aftermath of Vietnam's run to a silver medal at the AFC U23 Championship 2018, midfielder Luong Xuan Truong has found top form again to help lead V.League 1 Hoang Anh Gia Lai (HAGL) to the top of the table.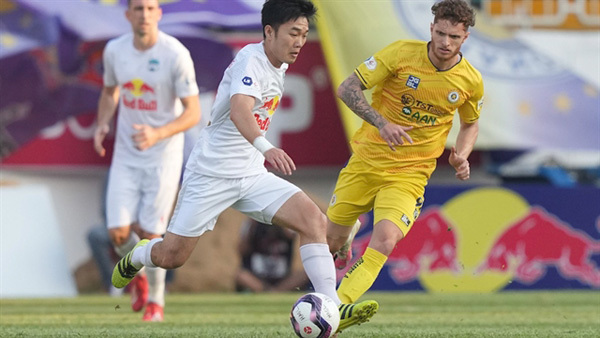 Midfielder Luong Xuan Truong (centre) seen in the match against Hanoi FC. Photo thanhnien.vn
On April 18, all eyes were on Pleiku Stadium in Gia Lai Province for the match between HAGL and 2020 V.League 1 runners-up Hanoi FC. HAGL hadn't defeated the visitors in four years and victory was seen as key to solidifying their position as the title favourites.
Thanks to a thunderous long-range strike from Truong, HAGL beat Hanoi 1-0. When the game finished, Truong burst into tears in the dressing room.
Coach Kiatisuk Senamuang of HAGL explained that Truong had released a lot of pent up feelings after years of struggles against Hanoi and getting the money off his back was a huge relief.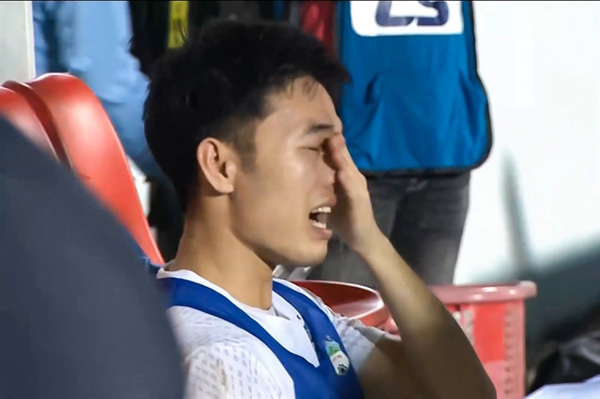 Luong Xuan Truong burst into tears after the HAGL victory over Hanoi FC. Photo tintuc.vn
Progression
It's clear to see how well HAGL's other stars like Nguyen Cong Phuong and Nguyen Van Toan are playing as they bang in the goals, while defenders Kim Dong-su, Nguyen Huu Tuan and Damir Memovic have played firmly in front of goalkeeper Huynh Tuan Linh.
While the impact a midfielder like Truong has is less quantifiable, those in the know are in doubt about his importance to Senamuang's team.
Truong didn't start this season well against Sai Gon FC and his side fell to a 1-0 defeat.
In the match against Song Lam Nghe An (SLNA) at Pleiku Stadium, the struggles continued and HAGL only managed to secure a 2-1 comeback victory after an SLNA player was sent off.
However, since returning after the postponement of the V.League 1 season because of the spread of the COVID-19 pandemic, Truong has come on leaps and bounds and he's now the beating heartbeat of the country's top side.
"During the rise of HAGL, Truong also gets inspiration. He understands what he needs to do, understands what needs to happen. He is playing harder and more decisively. It is beneficial for the overall result of HAGL," said pundit Ngo Quang Tung.
"Truong plays simply but is extremely effective. His touches of the ball all make it difficult for rivals to regain control. That helps HAGL form passing triangles," Tung added.
For coach Senamuang, Truong is the key player of HAGL and the Thai coach used the phrase "key player", not just "important player" to talk about Truong.
As well as leading with the ball, Truong has become Senamuang's captain on the pitch.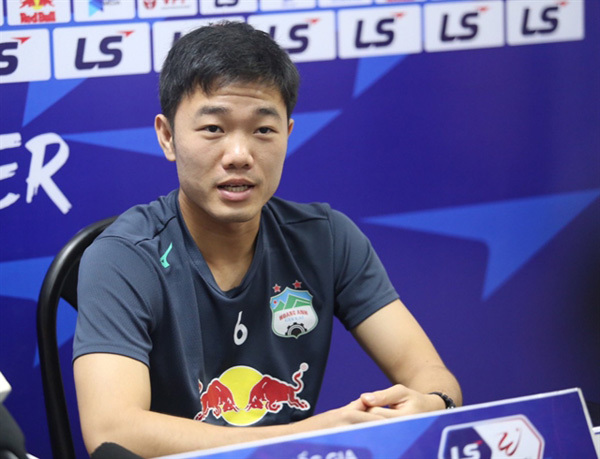 Luong Xuan Truong hopes he and his team will be very happy when the V.League 1 this year finishes. — Photo danviet.vn
Return to the national team
In the AFF Cup 2016, Truong was a key player for coach Nguyen Huu Thang. Two years later, he helped lead his country to second place in the AFC U23 Championship 2018 in China.
Truong was tipped to soon become a key player of the senior national team after that, but his physical limitations meant he wasn't the first choice of South Korean coach Park Hang-seo.
In tournaments such as Asian Games 2018, AFF Cup 2018 and Asian Cup 2019, Do Hung Dung, Nguyen Huy Hung, Pham Duc Huy and Nguyen Quang Hai were preferred in midfield, while Truong had to be content with coming off the bench.
In October 2019, Truong suffered a knee ligament injury and needed eight months to recover so he contributed little to Vietnam's rise to the top of their World Cup qualifying group.
Now that he's fit again though, Truong has a great opportunity to shine in the national team and midfielder Dung's recent injury could put him back in the starting 11.
"There is almost no midfielder in Vietnam who can play the box-to-box style like Dung. He's important, but he can be replaced by the team. If coach Park can't replace Dung with one player, he must be flexible in terms of tactics," said Tung.
"At present, the Vietnamese team can play with Truong and Cao Van Trien. The task will be clearly divided between these two players," Tung said.
His abilities may have doubled compared to two years ago," Tung added.
Truong was the first Vietnamese and Southeast Asian player to play professionally in the K League 1 and the first Vietnamese to play in the AFC Champions League. He even won the Vietnamese Silver Ball award at the age of 21.
Now, he'll be hoping for another first by leading Vietnam a step closer to the 2022 World Cup.  
VNS

Vietnamese midfielder Xuan Truong has the highest estimated transfer value from the HAGL FC squad, according to Transfermarkt's website.  

Luong Xuan Truong has been named as one of four Southeast Asian players who would make good signings for A-League clubs by leading Asian football pundit John Duerden.