Quality comes first for this perfectionist composer

While most symphony composers in Vietnam are veterans, 46-year-old composer Tran Manh Hung is considered one of the young generation, and is one among a small number of composers specialising in symphonies.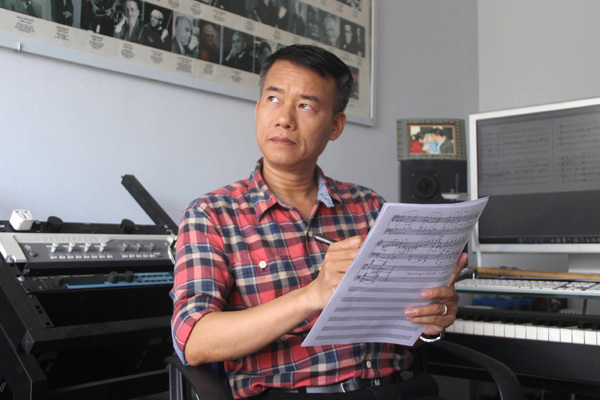 Composer Tran Manh Hung.
Alongside more than 20 songs, Hung has composed three symphonies and six poetic symphonies. His award-winning poetic symphony, Lệ Chi Viên (Tragedy of the Lệ Chi Garden) was presented at the Beethoven Classical Music Festival in Bonn and Berlin in 2009.
In 2016, during two concerts in Saint Petersburg, Russia, audiences were amazed by a series of his 11 compositions, which combine classic symphony and Vietnam's ethnic folk tunes.
The composer, who has also taken part in prestigious concerts in Vietnam such as Điều Còn Mãi (Everlasting Things) and Bài Ca Không Quên (Unforgettable Songs), speaks with Thuy Hang about his work.
What challenges are there for those working in classical music in Vietnam?
The biggest difficulty is the lack of an audience. It's really unusual compared with many other countries. The number of concerts, therefore, is also quite limited, due to the lack of audiences. As a result, it's hard to have new compositions.
To solve this matter, I think the most important is to see music teaching in schools of all levels, from kindergarten, as important. Music should be considered a major subject in schools. Instead of learning passively some specific music genres (mostly folk and children songs), children should be given a chance to get acquainted with different kinds of music genres, from Vietnamese traditional tunes, to pop, rock, jazz and symphony. At least, when they can define their own music taste, they can also have basic knowledge about other genres.
After years of being a lecturer on symphony composing, you are now teaching at the HCM City Music Academy's Jazz-Pop-Rock Department. Why did you make this decision?
It's the sad truth that students no longer have interest in this subject. It's explainable because it's very difficult for them to find a job after graduation. I experienced a long and very hard journey before becoming recognised in my profession.
I can't do my best in everything at the same time. Years ago, after graduation from the National Academy of Music, I tried to work as much as possible, from being a musician, to a composer, to music producer, to lecturer at the academy.
At a point, I had to choose – to work for today (to produce quality music products) or for tomorrow (to focus on composing only). And I realised that to focus on producing is more practical because the quality products of today are the basis for tomorrow.
However, this doesn't mean that I have turned my back on symphonies. At home, I'm still composing symphonies and working on things related to symphonies and orchestras.
Having a strong bond with Hanoi since you were born, why did you move to HCM City six years ago?
Compared to Hanoi, people in HCM City are more open-minded. For example, while orchestras, choirs, or opera theatre in Hanoi mostly perform works by European composers, those in HCM City pay more attention to localising their concerts.
In HCM City, people also seem to show more goodwill towards younger composers and offer those composers more opportunities to shine.
I feel more comfortable living and working in this city. My health has also improved since I moved down here. The high humidity of Hanoi had seriously affected my respiration.
However, in recent years, I'm glad to see a positive change in the Hanoi classical music scene with some enterprises willing to invest into this art form.
What is your opinion on the trend of using culture as a branding method that several enterprises employ nowadays?
Local culture – a soft power, can win the favour of people, especially foreigners. South Korea is a great example. Through their very successful 'Hallyu' [Korean Wave] campaign, people learned more about their culture and country. Therefore, South Korean brands also benefited from this worldwide campaign.
In Vietnam, thanks to several concerts sponsored by big brands, audiences have a chance to enjoy concerts featuring world-famous artists and orchestra. I think the music taste of local audiences has also improved thanks to those events.
However, those concerts were just to introduce and honour the quintessence of Western culture. The point is that the enterprises act as the 'cultural importer', while they should help Vietnamese people to produce quality products to export. I think that is much more important.
You have been described by others as a very fastidious and demanding composer. Do you agree?
No, I'm not that person. Honestly, if I lived in another country, with a developed classical music scene, it would be hard for me to have the position I have now in Vietnam. I would be a normal person, working a normal job.
Whatever I do, I always put quality first. For example, I didn't receive support from others when I wanted to produce a concert at region-standard or even international quality. It seems the current quality that remains for years is enough to satisfy them. They are unhappy whenever I have any request that is a bit higher than the quality they are used to. I think that's why people regard me as fastidious and demanding.
I think the position of Vietnamese symphony music is quite humble. I'm not such a daydreamer to imagine the day when our music reaches international level. I just want it to be improved. But many others don't need any improvement.
To work with you, what do you ask of others?
Alongside those who devote themselves completely to the work, I like to work with those who don't worry about financial matters because if they do, they may want to reduce the size of the orchestra or expenditure on the sound system. They might just want everything to be as simple as it can be so they can make more money.
In fact, all artists who have ever worked with me couldn't earn money from their concerts. Their concerts are to embellish life and make the artists themselves happy.
I'm also happy to be associated with people who aren't satisfied with what they have done and those who see the value of teamwork. A concert can't be successful without thousands of small details that are contributed by many people who always stay behind.
What are you working on at the moment?
After the upcoming concert The Moon by chamber music singer Pham Thuy Dung in Hanoi on September 29, I will complete a movie soundtrack and record this piece together with the Sun Symphony Orchestra.
I'm also working with a semi-classical singer to compose the full score of the musical Con Đường Cái Quan (The Mandarin Road) by Pham Duy which consists of more than 20 songs.
In addition, I will continue to compose new compositions for folk instrument orchestras.
VNS