Private theatres offer training to meet industry needs
Private theatres and drama troupes have been offering training courses in performance skills as the number of talented actors has declined in recent years.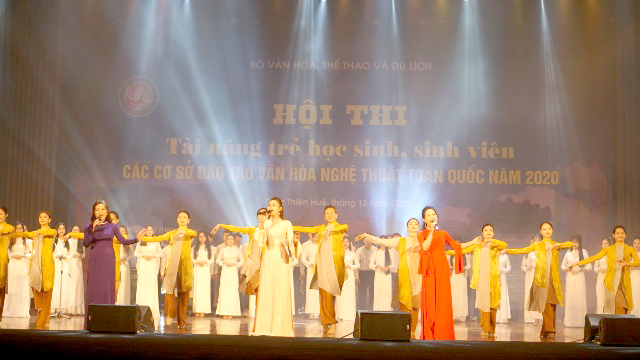 The 2020 National Contest for Students of Art Schools and Centres
5B Theatre, the first private theatre in HCM City, offers training courses for students aged 10 to 25, who first take part in selection rounds hosted by the theatre's veteran artists before training.
"Young people prefer to study fashionable subjects such as singing and contemporary dance, which help them earn fame quickly, at art schools instead of theatre, particularly traditional theatrical arts," Meritorious Artist Ngo My Uyen, the theatre's director, said.
"To develop theatre, we need more young, skilled performers."
Professional drama training has been part of her theatre's activities so that "we can be recognised as a specialty art centre," she said.
In recent years, the performing arts scene has expanded rapidly with an increasing number of young talents achieving success in modern art forms. However, traditional forms like cheo (traditional opera) cai luong (reformed theatre) and tuong (classical drama) have been ignored.
The Hong Van Drama Troupe, owned by People's Artist and famous comic actress Hong Van, has offered 11 training courses in different levels of performance. A three-year course fee ranges from VND15 million (US$650) to VND30 million ($1,300).
Last year, the troupe gave certificates to 20 young artists. These actors worked with professional artists, including Van, while attending class, and performed in the theatre's dramas and comedies while studying.
Young talents, such as Xuan Nghi and Tien Dung, made their debut in the troupe's latest plays, the drama Am Anh Kinh Hoang (Scared Obsession) and comedy Nga Re (The Side).
"Why do we offer training courses? The answer is very simple. Our troupe's plays use modern techniques and are challenging for the young staff, including graduates of the HCM City University of Theatre and Cinematography and the University of Culture, who are limited in performance experience and life skills," said Van.
"We ask our students to spend at least three years to study theatre, because with less time artists will not have enough to improve their skills."
"Theatres, particularly private art troupes, should independently headhunt for and train their own staff of young performers," added Van, who has more than 25 years of experience on the stage and eight years in training.
Theatre director Huynh Anh Tuan of the IDECAF Drama Troupe, said: "In theatre, you cannot perform unless you are properly trained. You can use a beauty queen or a fashion model to play in movie and TV shows. It's impossible in theatre."
"Traditional arts are particularly difficult to master," he added.
It takes four or five years for a beginner to study and perform well a piece of traditional theatrical art. To become a professional, a young actor needs five more years working for leading theatres. Studying at school is not enough for students to properly know the art.
National contest targets students
"My teachers have helped my friends and I perfect our voice and performance skills at school. They helped our young actors to perform, and to believe that Vietnamese theatre can open up a future for us," Tran Hong Ngan, a female student at Thanh Hoa Province University of Culture, Sports and Tourism, said.
Ngân brought home the second prize for Best Drama Actress at the 2020 National Contest for Students of Art Schools and Centres held in Hue City in December.
The contest, organised by the Ministry of Culture, Sports and Tourism, attracted more than 700 students, aged under 25, from 24 art schools and entertainment centres across the country.
It featured 200 performances in different genres of Vietnamese theatre, such as drama, quan ho (love duet), ca tru (ceremonial singing), cheo, tuong, cai luong, puppetry and circus skills.
Students from the Hanoi University of Theatre & Cinematography opened the contest with seven performances, themed Dong Vong (The Echo), featuring Vietnamese dance and theatre.
"Through our contest, young talents in theatre and traditional arts will be discovered and encouraged to develop their career," said Le Anh Tuan, the head of the event's organising board.
"I worked hard and played small roles on stage with my teachers during training. I believe I will win plaudits from audiences," said Tien Dung, a graduate of Hong Van Drama Troupe.
Dung will play the lead roles in Hon Ma Bao Oan (Revenge of Ghost) and Oan Hon Truyen (Story of the Haunted House), two new plays staged by Hong Van Drama Troupe to celebrate the Tet (Lunar New Year) season.
VNS

A music gala celebrating the upcoming 13th National Party Congress is scheduled to be held at the My Dinh National Stadium in Hanoi on February 2, with the participation of nearly 1,000 artists.