Poetry lovers commemorate late poets

A series of cultural and art events will be held from August 25 to September 1 in Hanoi to commemorate poetry couple Luu Quang Vu and Xuan Quynh.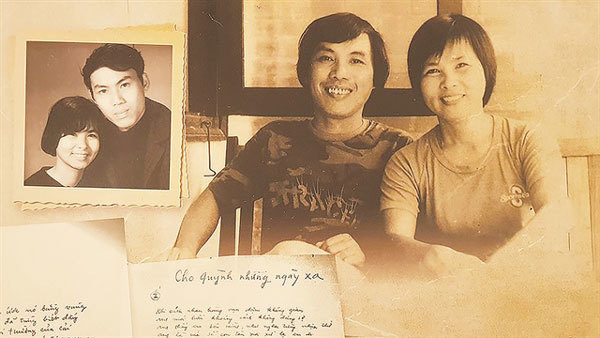 Although it has been more than 30 years since Luu Quang Vu and Xuan Quynh died, the public continues to cherish their poems. Photo courtesy of the couple's family
Art exhibition Mây Trắng Vẫn Bay Về (White Cloud Still Flies) will open the series with the participation of ten established artists including Le Thiet Cuong, Le Quang Ha, Hoang Phuong Vy and Dao Hai Phong.
The artists will display their latest works, including paintings and sculptures, inspired by the poems of Vu and Quynh.
One painting by Vy was inspired by the poem Cột Đèn Góc Phố (Electricity Pole at Street Corner).
The poem was penned by Quynh in 1967 about a pole on the street by which children played games. The poem also recounts the children's memories of the pole after being evacuated far away to rural villages during the American air war against North Vietnam.
"I made the painting with all my memory about Hanoi's streets with electricity poles in war time," Vy said. "The painting with a deep tone symbolises time but still flashes with the faces and glances of the children. It represents hope for a future without war."
Quynh is considered one of the leading female poets of the second half of the 20th century. She was part of the first training course for young writers by the Viet Nam Writers' Association.
She worked at Literature and Arts and Việt Nam Woman magazines and was member of the association in 1967.
Her poetry is rich in emotions and deep, refined feelings, but behind that sentiment is a generalised and philosophical thought, according to veteran poet Vu Quan Phuong.
She was posthumously given the State Award for Literature and Arts in 2001, 13 years after her family's death in a car accident.
She married noted playwright and poet Vu in 1973.
Vu was influential in the country's theatrical renewal process. At the age of 40, he had written about 50 scripts which were staged by popular directors such as Nguyen Dinh Nghi, Pham Thi Thanh and Doan Hoang Giang.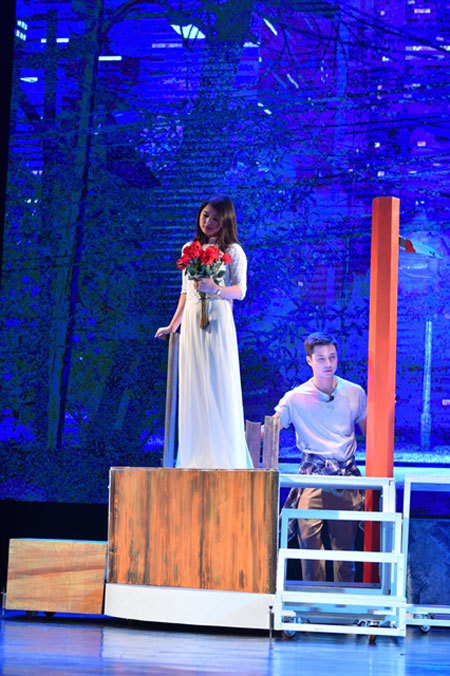 An extract of Luu Quang Vu's play Tin Ở Hoa Hồng (Believe in Rose) will be performed on August 29 at Ơ Kìa Hà Nội Art Space at 639/39/39 Hoang Hoa Tham Street. Photo Việt Nam Youth Theatre
He was also posthumously given the Ho Chi Minh Award for Literature and Art in 2000.
During 15 happy years together, the two poets continued to write and made significant contributions to the development of Vietnamese literature.
The series of event will include film shows, a talk show, a concert, art performances and May Trang (White Cloud) Poetry Room inaugural at Ơ Kìa Hà Nội (Oh Hà Nội) Art Space.
The room is made by independent filmmaker Nguyen Hoang Diep and dedicated to the couple.
"We hope to have a space for displaying documents about the couple and to connect poetry lovers," Diep said.
To build the room, Diep asked the couple's family for permission to visit their room in an old house at 98A Pho Hue Street.
"The old and very small room has only two large book cases covering the walls, an altar and a garret," Diep said. "The documents, certificates, pictures and many books are kept in good condition by Vu's younger sister Luu Khanh Tho."
At the beginning, Diep wanted to restore the room the couple used to live in. But after visiting, she decided to recreate the room in an installation at Ơ Kìa Hà Nội Art Space.
Diep called on people to contribute books published before 1988. The couple's works were scanned from their original manuscripts to be displayed in the room.
The display includes excerpts from Vu's diary, hand-written poems and love letters the couple sent to each other.
Documentary Lưu Quang Vũ – Xuân Quỳnh Gửi Lại (Lưu Quang Vũ – Xuân Quỳnh's Remains) was made by Nguyen Thuoc in 2008 on the occasion of the 20th anniversary of the couple's death.
Diep also visited Radio the Voice of Vietnam to find a recording of the couple's voices.
"Diep did everything to cherish the memory of my brother and my sister-in-law," Vu's sister Tho said. "When the whole family heard their voices we were all very touched. This is really a miracle."
All the events will be held at 639/39/39 Hoang Hoa Tham Street and Ha Noi Industrial Fine Arts College.

Events to remember
- An art exhibition will open on August 15 featuring paintings and sculptures by popular artists.
- Film shows will be held at 7:30pm at Ơ Kìa Hà Nội Art Spaces at Hoàng Hoa Thám Street and the industrial fine arts college from August 25 to September 1. All the films were made in 1988 including Chuyện Tử Tế (The Story of Kindness), Thị Trấn Yên Tĩnh (Quiet Town), Cô Gái Trên Sông (The Girl on the River) and Tướng Về Hưu (Retired General), which are symbols of Vietnamese cinema in the early stages of the national renewal process.
- White Cloud Poetry Room will open to the public at Ơ Kìa Hà Nội, Hoàng Hoa Thám Street on August 27.
- Talk show Xuân Quỳnh – A Half of My Life by writer Đông Mai will take place on August 28.
- Art performances featuring poem recitals, music and play extracts on August 29 will see the participation of guest artists.
- An experimental music show by musician Trí Minh inspired by Lưu Quang Vũ's Mưa (Rain) poems will be held on August 30.
- A guitar concert and poem recital will take place on August 30.
VNS