Striker Cong Phuong hopes to continue shining in AFC Cup

Striker Nguyen Cong Phuong will be tasked with leading HCM City FC's attack against Hougang United in the southern side's second match of Group F in the AFC Cup in Singapore today.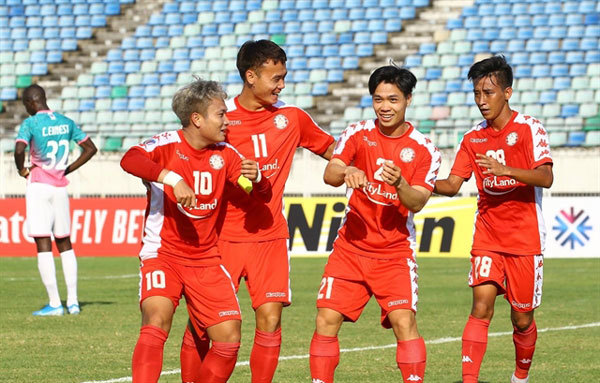 Nguyen Cong Phuong (second, right) celebrates his first AFC Cup goal with teammates in the first round match against Yangon United. — Photo the-afc.com
HCM City arrived in Singapore on Sunday after their proposal to delay the match due to the deadly coronavirus was dismissed by the AFC.
Phuong, who was selected as one of four most impressive players in the first round of fixtures by the AFC, is expected to continue his successful performance in both local and international events.
"The first match (again Yangon United) was really difficult for us because we had to play in very hot weather at 3.30pm. The team and I did not have a chance to show our best," said Phuong.
"We got one point from the match and it was pretty good for us. We will have to do better in the coming matches as well as the return game with Yangon.
"I am happy because I scored a goal in the match. It marked my return after a year that I did not play much when competing in South Korea and Belgium. I hope to reach my peak this season to push myself and contribute to the development of HCM City," said Phuong.
The match in Yangon was both City's and Phuong's debut in the continental tournament, but they still expect a lot of themselves.
"It is our debut. We do not have much info on Hougang. We have to search a lot and try to know them.
"However, the goal of the match is three points, definitely. It would not be easy but we will strive to complete our mission," Phuong said.
HCM City could include two homegrown players in the match, namely midfielder Nguyen Trung Thanh and defender Tieu Exal, who are from their U21 squad.
The team will have one day of training for the game at the Jalan Besar Stadium.
After the first round of fixtures, hosts Hougang United lead the group thanks to a 3-1 win over Laos Toyota FC in Vientiane.
HCM City are in second after their 2-2 draw with Yangon United.
Yangon will host Laos Toyota in the other match of Group F at Thuwunna Stadium.
Quang Ninh FC's challenge
Another representative from Vietnam is Than Quang Ninh FC will visit Filipino side Ceres Negros in Group G today.
Quang Ninh are third after a big 4-1 loss to Bali United last time out, while Ceres Negros are first after beating Cambodian champions Svay Rieng 4-0.
The visitors travelled to Manila without their main striker Andre Fagan who was sidelined due to the red card he picked up in the previous match.
Coach Phan Thanh Hung will have to rely on Fagan's fellow Jamaican Jeremie Lynch, who scored the opening goal against Bali United.
Local winger Giang Tran Quach Tan is expected to partner Lynch in the attack, although he has scored just six goals in seven years in domestic competition since 2013.
However, Quang Ninh still have former national team forward Mac Hong Quan and the V.League 1's 'king of assisting' Nghiem Xuan Tu who made a record in the V.League 2018 with 18 assists.
"We have made plans in details for the match. We have found a suitable player to replace Fagan," said Hung.
"Ceres Negros are powerful with six national team players and they are really experienced in the AFC Cup. This will be an important match for us and we must play at our best."
Coach Hung said doing without the forward wasn't his side's only challenge.
"Playing on artificial grass of Rizal Memorial will also bring difficulty for us. We have not often competed in this kind of field in Vietnam and we are not familiar with it. However, my players are given days to practise on it and hope we will do well," Hung said.
In the other match in Group G, Svay Rieng will entertain Bali United at Phnom Penh Olympic Stadium. — VNS

New signing Nguyen Cong Phuong was officially presented by V.League 1 side HCM City FC on Monday.

Vietnamese national team striker Nguyen Cong Phuong is waiting for a visa for a trial at French club Clermont.