Phan Thanh Nhien, from snowy peak to silver screen

Phan Thanh Nhien, born in 1985, is the youngest of five siblings. He starred in Hai Phuong (Furie), the acclaimed action movie released earlier this year.
Although he won plaudits for his acting abilities, Nhien's career in action started years ago when he was the youngest Vietnamese to conquer Everest in 2008. He also won the first and only silver medal for Vietnam in track & field at the SEA Games 26 in 2011 in Indonesia. He's a pioneer in developing extreme sports in Vietnam.
Longest zip-line in Vietnam recognized
Ngo Thanh Van turns from mother to heroine in new thriller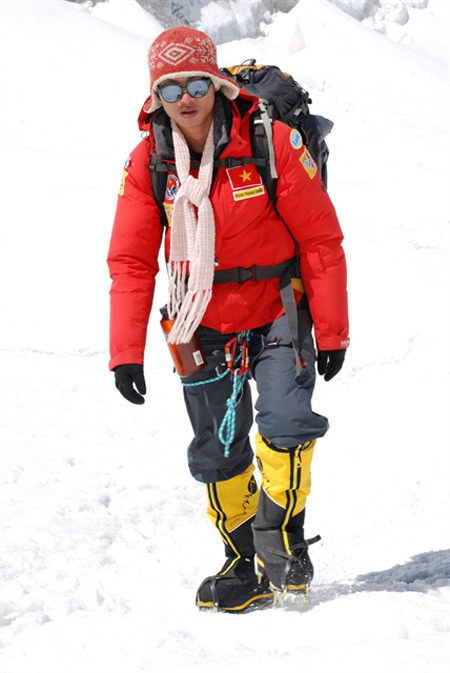 THRILL-SEEKER: Phan Thanh Nhien conquers Everest in 2008. Photo courtesy of Lasta Company
How did you start your journey to Mt Everest?
I was born in a poor family and wanted to make a better life for my family. I started studying at the College of Physical Education and Sports 2 in HCM City.
My friends persuaded me to apply for a Vietnamese reality show titled "Vietnamese Climbers Conquer Mt Everest" in 2008. At that time I had no idea of what Everest was.
My friends told me that we would be able to drink for free at the audition.
How was the challenge?
Thousands of people registered for the show. Twelve were selected for the final round. We spent many months training. Gradually, I got closer to the first phase together with Bui Van Ngoi, 24, and Nguyen Mau Linh, 31. At the age of 23, I became the youngest Vietnamese to set foot on the peak.
It's a severe journey. Many people die on the way and most of the bodies are never recovered. At the beginning, I accepted the challenge for money but I felt scared, of course. Who knows if I'd survive.
How did you prepare for the adventure?
We tried to climb different peaks before Everest, such as Fansipan (Vietnam, at a height of 3,143m), Kinabalu (Malaysia, 4,095m), Kilimanjaro (Tanzania, 5,895m), and Island Peak (Nepal, 6,160m).
Though we passed various challenges, conquering Everest is a severe struggle.
How did you overcome obstacles on the way?
The first thing I had to do before joining the adventure was agreeing to discard my body on the way if I died. It's scary, isn't it?
Nothing can describe the harsh conditions. We faced death every day. We followed the guidance and climbed in a group. We could die if we had a rest for too long or walked too fast.
Many felt regret at first. Others told us we should stop to save our lives because Vietnamese people's physical strength is not suitable for this mission.
I saw many dead bodies buried in the ice and snow. Looking at them, I urged myself to continue because if I didn't, I would meet the same fate. Anyone would feel dispirited seeing that, but it's also motivation to continue the journey. I had to reach the next station to get oxygen before it was exhausted.
Sometimes, I wanted to stop and sit down. But I thought of my mother and the nation. I wanted to put the name Vietnam on the peak.
How did you feel when you reached the summit?
I carried 35kg of weight – my shoes alone weighed 7kg. You can imagine how hard it was. But the national flag and the camera were always in my coat pockets. I needed them to announce to the world that Vietnamese people had conquered Everest.
I will never forget the five minutes I stood on the legendary summit. There were only snow and wind surrounding the three of us. We were more than proud.
In my mind, at that time, the only thing I could remember was taking the national flag out from my chest pocket. We shouted loudly "Vietnamese spirit together with the world!"
How's your life now?
After Everest, I had a difficult period finding a job and setting up my own business.
Then I auditioned for Furie with Ngo Thanh Van and director Le Van Kiet. I discovered another talent and passion – acting. I never believed that one day I could be a famous actor. Though it was my debut, the role of police officer Lương in Furie received encouragement from many people.
Now I focus on my business, running Everest Viet Company, providing team-building activities, trekking tours, climbing services and zip-lining at the Chay River and Dark Cave in Quang Binh Province.
ACTION STAR: Phan Thanh Nhien, a rising star in action movies and the youngest Vietnamese to conquer Everest. Photo courtesy of Phan Thanh Nhien
What's the next challenge?
I want to take my son up Everest before he's 12. This would be another world record. The youngest is Jordan Romero at the age of 13. With a passion for adventurous sports, I let my son practise sports at an early age.
Of course, I respect his passion and choices. I would never force him to do what he doesn't like. Before the mountain, I will help him practise physically and mentally.
I'm also training for a new record before I'm 40. I will stand on the summit with a bare chest for 10 minutes.
VNS