Park Hang-seo: "We are just lucky to beat Brunei 6-0"

Vietnam head coach Park Hang-seo said his side got lucky to beat Brunei 6-0 during a press conference after their Group B encounter at the 30th SEA Games in the Philippines on November 25.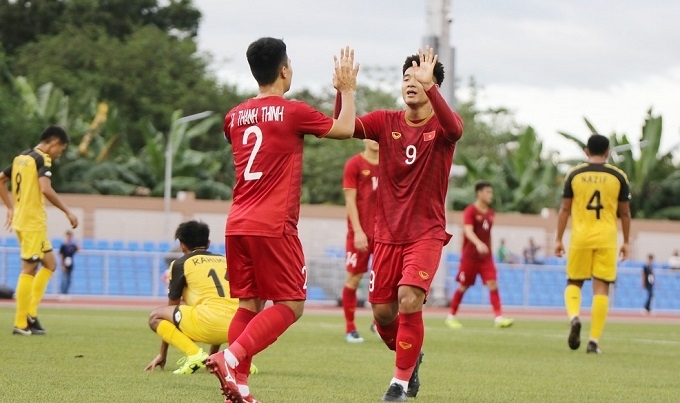 Ha Duc Chinh (no. 9) contributes a hat-trick to Vietnam's 6-0 victory over Brunei. 
Despite keeping some pillars on the bench, Park's troops hardly broke a sweat to defeat their Bruneian opponents with six unanswered goals thanks to a hat-trick from Ha Duc Chinh and three other goals by Trieu Viet Hung, Nguyen Thanh Chung and Nguyen Trong Hung.
The commanding victory has temporarily put Vietnam U22s on top of the group with three points and a goal difference of +6.
"We will try through each match. I am happy that the entire team played well today," the Vietnam coach told reporters after the match.
"This is just the first clash. The whole team need to exert greater efforts as it is still a long journey to go for the SEA Games campaign," he stated.
Concerning the decision to rest some key players, Park explained: "The pillars have yet to fully recover. So I gave them more time to rest in preparation for the upcoming game."
Speaking to the media, forward Ha Duc Chinh, who contributed a hat-trick to Vietnam's victory, said: "I am happy with the win. The entire team tried a lot. I will try to perform better in the coming matches."
For his part, Brunei coach Aminuddin Jumat gave words of praise to Park Hang-seo and his players for their impressive display.
"My players did their best right from the start. We proactively defended knowing that Vietnam were a stronger team. However, we failed to realise that goal because of Vietnam's incredible power."
Next up for Vietnam U22s will be a clash against Laos on November 28. Nhan Dan

The men's football team of Vietnam secured a perfect start for their 30th SEA Games journey with an emphatic 6 – 0 victory against Brunei at Binan stadium in the Philippines on November 25 afternoon.