Park Hang-seo unveils roster for World Cup qualifier against Malaysia

Head coach Park Hang-seo has finalised the roster of 23 players for the match against Malaysia in the World Cup 2022 qualifying round, according to the Vietnam Football Federation.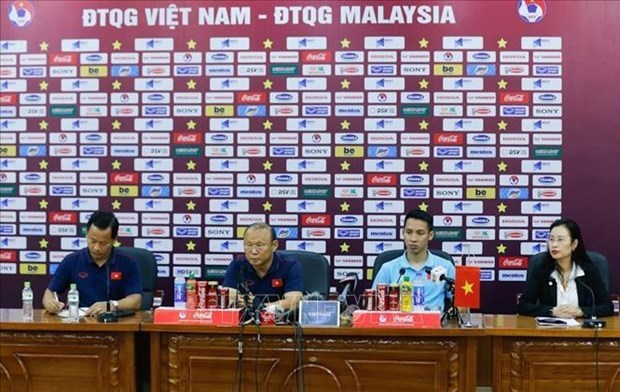 Head coach Park Hang-seo (second from left) at a press conference before the match between Vietnam and Malaysia
The qualifier will take place at the My DinhNational Stadium in Hanoi on October 10, starting from 8:00 pm.
Earlier, the Korean coach had chosen 25 playersfor the two games in the same month, against Malaysia and Indonesia on October15.
Two players who did not make into the list forthe first match are defenders Pham Xuan Manh of Song Lam Nghe An and Tran VanKien of Hanoi FC.
Dang Van Lam ofMuangthong United, Nguyen Tuan Manh of Khanh Hoa and Pham Van Cuong of Quang NamFC will serve as the team's goalkeepers.
Meanwhile, seven defenders comprise of Do DuyManh and Nguyen Thanh Chung of Hanoi FC, Que Ngoc Hai and Bui Tien Dung ofViettel, Nguyen Huu Tuan of Ho Chi Minh City FC, and Doan Van Hau of Heerenveenof the Netherlands.
There are eight midfielders in the team, withthree of Hanoi FC (Pham Duc Huy, Do Hung Dung and Nguyen Quang Hai), three ofHoang Anh Gia Lai (Vu Van Thanh, Nguyen Phong Hong Duy and Nguyen Tuan Anh),along with Nguyen Huy Hung of Quang Nam FC and Nguyen Trong Hoang of Viettel.
The team's forwards will be Nguyen Anh Duc andNguyen Tien Linh of Becamex Binh Duong, Nguyen Van Toan of Hoang Anh Gia Lai,Nguyen Trong Hung of Thanh Hoa FC and Nguyen Cong Phuong of Belgian teamSint-Trudense VV.
Earlier, Vietnam had a goalless match withThailand in a frenetic match in the opener of World Cup qualifiers' Group G inThailand's Pathum Thani province on September 5.
Vietnam have been drawn in thesame group with regional rivals Thailand, Malaysia and Indonesia, as well asfavourites the United Arab Emirates (UAE)./.
Vietnam, Malaysia keep cards close to chests
Vietnamese national team trains in Hanoi on October 7 (Photo: tinmoi24.vn)
Both Vietnam and Malaysia kept their cards close to their chests during training sessions ahead of their 2022 World Cup qualifying game on October 10.
Both Vietnam's coach Park Hang-seo and his counterpart Tan Cheng Hoe trained behind closed doors before the game, their first since the 2018 AFF Cup final last December.
Tan refused to speak with Vietnamese journalists but told the press from his home nation they are wary of Vietnam's counter attacking style.
The 51-year-old said no mistakes could be made especially in defence because Vietnamese players can turn defence to attack in the blink of an eye.
He said Malaysia could not beat Vietnam in three recent matches but history goes out of the window ahead of this match.
Tan said his team were ready to play with concentration and confidence against the wall of support behind Vietnam.
In the world ranking, Vietnam are No 99, much higher than No 158 Malaysia. But Tan asked his players to compete with a "can-do" spirit.
Malaysia arrived Hanoi on October 7 and among their squad are four naturalised players. One of them is midfielder Brendan Gan who believed that his team would do good job in the coming match.
He said Malaysia were different in both personnel and style. It would be a tough match but as it was a new era, new times for Malaysia.
Meanwhile captain Aidil Radzak said that Malaysia would attack from the beginning and look for an early goal.
Coach Tan has all players fit for the match, meanwhile Park faces with a slight disadvantage with midfielder Luong Xuan Truong ruled out through injury.
The Korean coach's key defender Doan Van Hau has had just two days to train with the whole team after he missed a fly home from the Netherlands.
"It is a pity that I wasted one day of practicing with the team due to late flight," Hau said.
"But I am always ready to play if Park believes in me. Two days are enough for me to get up to speed and catch up with the whole team."
Hau, 20, has key role in Vietnam's defence who conceded only one goal in their three recent matches.
Midfielder Do Hung Dung is also anxious for the whistle. "Malaysia just defeated Sri Lanka 6-0 in a friendly. It would be a push for them. But we have home advantage with thousands local supporters," he said.
"I am excited to play the game and want to score a goal."
Iranian referee Moud Bonyadifar will take charge of the match at the My Dinh Stadium.
FIFA-certificated Bonyadifar has never refereed a Vietnam match before.
He is a regular face working at the AFC Champions League, AFC Cup World Cup qualifiers./.
Park Hang-seo selects 23 players for U23 squad against UAE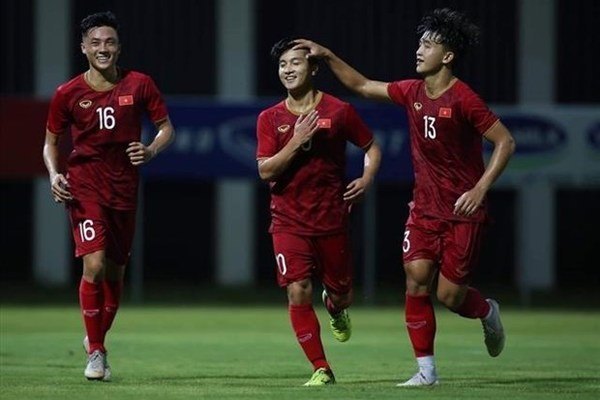 U22 players will leave for HCM City on October 13 for a friendly against the UAE (Photo: laodong.vn)
Korean coach Park Hang-seo has finalised a list of Vietnamese U22 players who will compete with the United Arab Emirates (UAE) in a friendly match on October 13.
The team includes three goalkeepers, eight defenders, seven midfielders and five strikers.
The Vietnamese team will leave for Ho Chi Minh City on October 10 to prepare for the match at Thong Nhat Stadium.
The match is seen as good preparation ahead of the 30th Southeast Asian Games next month as well as the Asian U23 Championship early next year.
Vietnam and the UAE have planned for the friendly match for months prior to the continental tournament. But a draw last month placed them in Group D together with the Democratic People's Republic of Korea and Jordan. However, both sides still decided to play the match as scheduled./. VNA