Original Xoan melodies preserved in Phu Tho ancestral land
Xoan singing of the northern midland province of Phu Tho is a folk ritual singing performed in temples and communal houses to worship the Hung Kings, the legendary founders of the Vietnamese nation, deities, or a village's tutelary gods.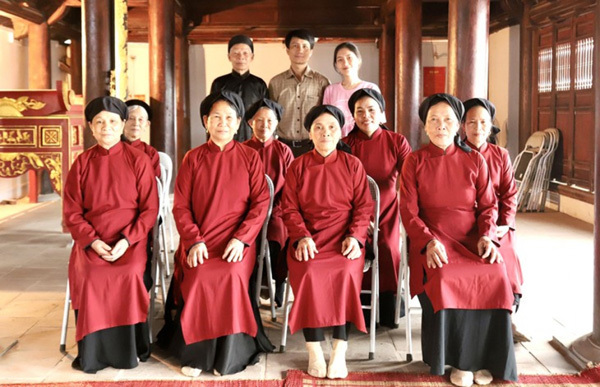 Xoan artists take photos with visitors. (Photo: baophutho.vn)
Originally the genre was passed down by word of mouth. After thousands of years, Xoan singing has become a unique intangible cultural heritage of Vietnam.
We were lucky to attend a full Xoan singing performance at Lai Len temple in Kim Duc Commune, which is considered the cradle of Xoan singing.
There are a lot of legends concerning the origination of Xoan singing that have been handed down from generation to generation.
"Once upon a time, in the spring, the Hung King, who was searching for a place to construct his citadel, saw a small group of boys and girls playing and singing "dong dao", a Vietnamese folk song for children. The king found it interesting, talked to the children, revised the lyrics a bit, and taught them more songs and dances of the Lac Viet people (the ancient Vietnamese)," said Nguyen Xuan Hoi, the custodian of Lai Len temple.
To begin a Xoan singing session, Hoi, head of the Phu Duc Xoan guild, respectfully offered incense to the altar of the Hung Kings. The aroma of frankincense spread gradually throughout the worship hall, creating a solemn atmosphere.
In the first phase of Xoan singing - worship singing – the artists perform five repertoires.  
"Moi vua" is a dance welcoming the King to the communal house. The sound of gongs and drums starts the performance. Then female singers stand in two lines from the altar to the gate of the communal house, waving their hands to welcome the king.
"Giao Trong" and "Giao Phao" involve a joint performance by the guild's leader, four female singers, and two male instrumentalists aged 12 or 13 clicking castanets, singing, and dancing in rhythm with the songs. "Giao Trong" is a song of praise for a cylindrical drum and a wish for prosperity and peace as well.
"Giao Trong" and "Giao Phao" are followed by "Tho Nhang", sung while offering incense to the king's altar and praying for the villagers' happiness. During the performance, the female singers hold incense sticks in their hands while they sing and dance.
After completing the song, they place the incense sticks on the king's altar and then begin to sing "Dong Dam", the final song of worship singing, which describes the role of the female singers in the performance.
The second phase of a performance of Xoan singing is ritual singing in which 14 different melodies, called "Qua cach", are performed.
Ritual singing is aimed at village notables who attend a communal house feast. "Qua" means melody, "cach" refers to the style of the melody. At a communal house feast, 12 melodies are always performed. The other two melodies are only played at the most important Xoan guild events.
As Xoan singing was originated by wet rice farmers in Phu Tho, it's no surprise that Xoan performances reflect a farm culture.
In a grey four-part flowing tunic with a black raven's beak-shaped kerchief, Nguyen Thi Sen of the Phu Duc Xoan guild told VOV that Xoan songs originated from the working life, the customs and habits of farmers growing wet rice.
"I'm happy to be born into a family with a tradition of Xoan singing and I like songs about agriculture," said Sen. "My mother taught me how to sing Xoan songs. I'm trying to keep the art form alive."
Xoan singing is still practiced in 15 communes of Phu Tho Province and 3 communes of Vinh Phuc province. In the past, only four Xoan guilds performed at festivals in the area.   
People's Artist Le Thi Hue shared her memories of Xoan performance trips, "I remember being invited to the Vietnam National Academy of Music to teach Xoan singing for a week, and performing four times at the Vietnam Museum of Ethnology, twice for Vietnam Television, and many times at embassies in Hanoi."
"In 2005, I was invited to Thailand for a one-week series of performances. I was happy and proud," said Hue.
New Xoan singing clubs have been established in Phu Tho. Members include teachers, students, farmers, and retired persons.
In the Phu Duc Xoan guild, Xoan songs are sung by old people and youngsters as young as 8 or 9.
People's Artist Hue said she is proud that Xoan singing has transformed generations. 
"The youngsters who participate in Xoan singing are diligent, perhaps because it is ritual singing to worship the Hung Kings and to perform in communal houses. They study and practice very seriously. Some families ask us to let their children join a Xoan singing classes," confided Hue.
In Kim Duc Commune in Viet Tri City, everyone devotes to Xoan singing and considers preserving this heritage an important duty.
VOV5
Xoan singing, a traditional ritual art form, is believed to date back to the time of the Hung kings (2890 BC to 250 BC) in the ancestral land of Phu Tho.

Xoan singing of Phu Tho province was recognized by UNESCO as a World Intangible Cultural Heritage in late 2017.