"Nha Lam" rap band fined for writing vulgar lyrics
The Ministry of Culture, Sports and Tourism has imposed a VND45 million administrative fine on a rap band called "Nha Lam" for circulating a music product that offends beliefs and religions.
According to Clause 4, Article 13 of Decree 38, besides the administrative fine of VND45 million (over US$2,000), this product must be removed from circulation..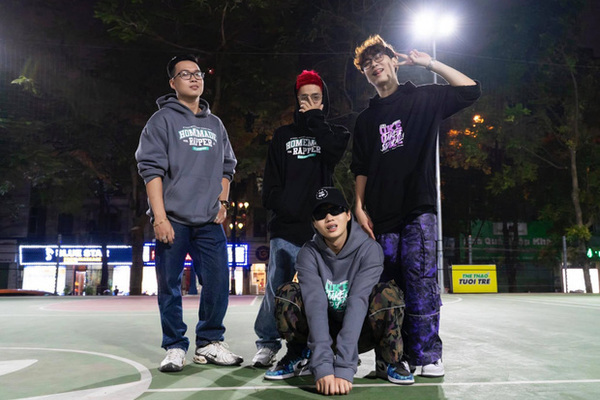 "Nha Lam" rap band.
Nearly two weeks ago, this troupe caused public outrage when it released the song "Thich Ca Mau Chi" with content blaspheming Buddhism, distorting the image of the Buddha. Not only Buddhist followers but also Vietnamese audiences and the media have harshly criticized this song.
Facing the harsh reactions of Buddhist followers and the community, the rap band apologized twice on its Facebook page. After that, they went to Quan Su Pagoda (Hanoi) to repent. They promised to not repeat the mistake. The penitential ceremony was witnessed by Venerable Thich Duc Thien, Vice President, General Secretary of the Executive Council of the Vietnam Buddhist Sangha, and the members of the Central Office of the Vietnam Buddisht Sangha.
The penitential document was then sent by the band to the Executive Council of the Vietnam Buddhist Sangha.
"We admit that our awareness is still poor, thereby causing wrong actions. We will learn deeply from experience. Personally, I feel very grateful that the venerables (of the Vietnam Buddhist Sangha) have opened their hearts to forgive, and accept our apology. The venerables also gave the necessary instructions and allowed us to hold the penitential ceremony," wrote Low G, the representative of the Nha Lam rap band.
In the face of the current situation in which many cultural products with content are not consistent with Vietnam's customs and traditions are rampant online, Le Minh Tuan, Deputy Director of the Performing Art Bureau of the Ministry of Culture, Sports and Tourism said the management of performing art products online will be one of the main contents of the Law on Performing Arts, which will be compiled by the Ministry of Culture, Sports and Tourism in the coming time.
Tinh Le

Rap music has been dominating the Vietnamese music industry this year, with the continued success of rap artists and projects.

Den Vau, whose real name is Nguyen Duc Cuong, was born in 1989. He is a native of the northern region, but was born and raised in the South.