Nguyen to take Vietnam's first ever SEA Games tennis title

In the past 30 years, not a single player in any category has ever come away with a gold medal, but maybe that's about to change.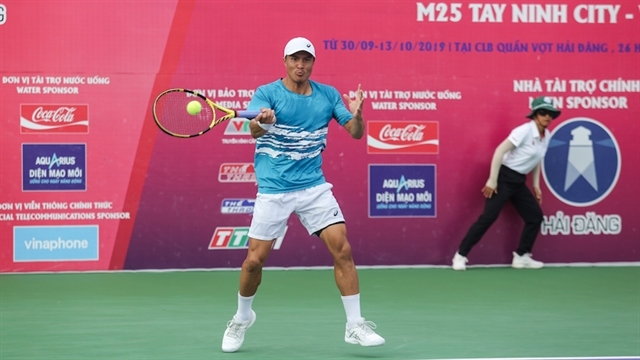 Daniel Cao Nguyen competes at the ITF World Tennis TourM25 in Tay Ninh Province in October. Nguyen is Viet Nam's goldenhope at the SEA Games. Photo courtesy of VTF
Hopes rest on the shoulders of Daniel Nguyen who will lead the tennis players at the 30th Games in the Philippines later this month.
Tennis has not been a good sport for Việt Nam at the Southeast Asian Games.
In the past 30 years, not a single player in any category has ever come away with a gold medal, but maybe that's about to change.
Hopes rest on the shoulders of Daniel Nguyễn who will lead the tennis players at the 30th Games in the Philippines later this month.
The 29-year-old was born in California in the US, but has been naturalised and will fly the flag for Việt Nam at the games.
Ranked 355th in the world, he is top seed at the games and is tipped for success in both the men's singles and doubles.
"It will be tough for a gold medal," Nguyễn told Việt Nam News.
"There are several good players in South East Asia. I will look forward to compete and try my best to bring Việt Nam a gold.
"However, both events will be extremely difficult. I will continue to fight. I'm really looking forward to the challenges in both singles and doubles."
Việt Nam's best result was semi-final berth by Lý Hoàng Nam who was No 1 seed at the previous Games two years ago in Malaysia.
Born in a family of Vietnamese parents in the US, Nguyễn was first introduced to tennis at the age of four by his mother who had a huge passion for the sport and his two older brothers who also played.
After graduating high school he attended the University of Southern California (USC) where he studied communications and played four years at college level.
"My days at USC were planned precisely throughout the day," he added.
"Generally, I would go to a few classes in the morning, day, or night then practice tennis and attend fitness during the day.
"During these years it was difficult to balance academics with tennis. It took a tremendous amount of hard work and discipline to complete my education and play collegiate tennis.
"I was fortunate enough to be on a team that made me a better person and tennis player. I had some success with tennis while at USC and that inspired me to play tennis professionally."
Nguyễn helped USC win the tennis title four years in a row at the National Collegiate Athletic Association.
A good network of mentors and sponsors helped fund his career before turning pro in 2012 after graduating.
Since then he has won 15 singles and seven doubles titles at the International Tennis Federation's events and nine singles and five doubles title in the Men's Futures competitions.
He reached his best position at No 189 in the world in July, 2015.
In 2015-16, Nguyễn competed in the US Open doubles main draw twice and played the qualifying of singles all four Grand Slams. He won a singles qualifying round in both the US Open and Wimbledon.
Nguyễn first came to Việt Nam in 2015 to take part in a Challenger event in HCM City. And then he has become a regular face in tournaments in Việt Nam.
"I was introduced to the Hải Đăng tennis club in Tây Ninh Province through coach Christian Brydniak during the Đà Nẵng Challenger earlier this year and formed a relationship with Thái Trường Giang, the owner of the team," said Nguyễn who won both singles and doubles titles at the first Việt Nam Tennis Federation Master 500 in March for the new home.
Two months later he was a key member in Hải Đăng's team gold medal at the national championship.
In late September and October, under Hải Đăng's jersey Nguyễn triumphed at two Men's Futures events in HCM City and is currently placed No 355 in the world.
Giang and Nguyễn discussed the possibility of joining the Việt Nam team and helping grow tennis in the country.
"I feel nervous but excited becoming Vietnamese and representing the country. I always found it fascinating to play tennis in Việt Nam, the country where both my parents were born, Nguyễn said.
"I'm a big believer in giving back and helping people. My plan is to use my knowledge to help develop tennis and motivate individuals in Hải Đăng and it would also be amazing to inspire more people to play this beautiful sport." VNS 

Born in the US to Vietnamese parents, Nguyễn competed for the national swimming team at the SEA Games in Malaysia two years ago for the first time and grabbed four bronze medals.

Although Vietnam's karate team will be without three key athletes, they're aiming for four gold medals at the upcoming Southeast Asian (SEA) Games.