Nguyen Huy An to hold solo exhibition at Galerie Quynh

"Am sang", a solo exhibition of Nguyen Huy An, which was inspired by the rich folk and religious traditions of Northern Vietnam, now opens at Galerie Quynh in District 1, HCMC.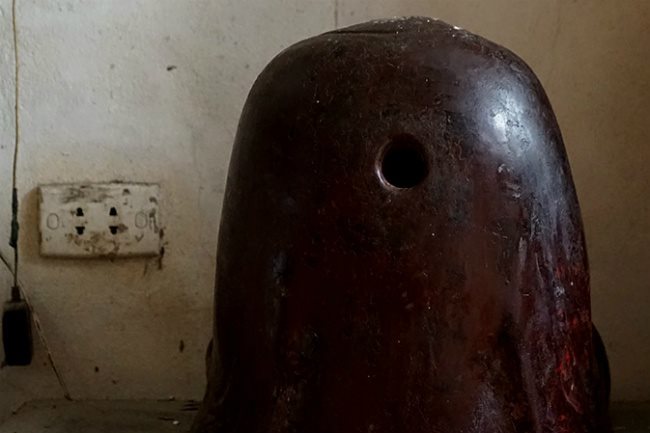 An object that will be on display at "am sang", Nguyen Huy An's second solo exhibition at Galerie Quynh - PHOTO: COURTESY OF ORGANIZER
"Am sang" is a phrase invented by the artist, communicating a sensation of light, shadows, and reflections. While "sang" is translated as "light", "am" refers to yin, the feminine being in nature, and suggests the spiritual world.
For "am sang", Huy An found and collected relics and memories from temple sites, theaters and distinguished actors. Once collected, these items are subtly manipulated by the artist, drawing out reflections between contemporary life and cultural heritage.
Huy An's artistic practice has long built on his fascination with the objects and spaces of daily life, particularly in and around Hanoi.
He sees these objects, or certain details of them, as points of departure, leading viewers to deeper thoughts on what exists behind them.
Huy An's "am sang" exhibition is supported by the British Council under the FAMLAB Fund initiative, which provides grants to projects that seek to engage with Vietnamese music and film heritage through contemporary mediums.
Born in 1982 in Hanoi, Nguyen Huy An is among the most dynamic and innovative artists of his generation. He has participated in numerous exhibitions and performance art festivals over the last decade in various places at home and abroad including France in 2014, in Norway in 2009, HCMC in 2009, and many others.
In 2010, Huy An co-founded with artists Vu Duc Toan and Hoang Minh Duc the performance art collective The Appendix Group. The group has performed in festivals in Vietnam, Singapore, China, Germany and Poland.
The event will close on July 2. SGT