New exhibition of paintings on display at Fine Arts Museum

Three artists' 70 paintings in different media are part of an exhibition being held in the HCM City Fine Arts Museum.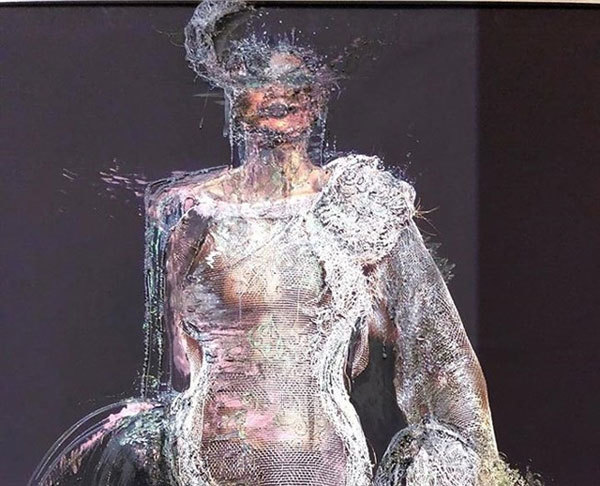 A painting by fashion designer Quynh Paris at the exhibition SpringTime-Xuân Thì 3. (Photo from the organiser)
The works were chosen from the latest collections by Dieu Ha, Thanh Le and Quynh Paris.
The event, Springtime - Xuân Thì 3, is organised by the Spring Gallery of HCM City. With the theme Life and Love, it brings artists together who share cultural values through paintings.
Fashion design Quynh Paris is displaying her paintings, called Nhìn Về Tương Lai (Reaching to the Future), to the public for the first time.
Her art is inspired from lotus flowers and oriental art. Quynh Paris is involved in different fields of fashion, music and dance.
She has presented collections at fashion weeks in Vietnam, New York and Los Angeles.
Her designs often appear in international events and have been featured in Vogue magazine in the US.
She has worked with the HCM City Ballet Symphony Orchestra and Opera.
She sent her paintings to the exhibition Springtime - Xuân Thì 3 to share and learn new things about art.
Both Ha and Le are professional artists in oil and watercolor.
Ha has displayed her paintings at several solo and group exhibitions in Belgium, Switzerland and the US.
Most of her works are about peony.
Artist Le's watercolour works in yellow, brown and green feature villages, rivers and women.
His paintings tackle the subject matters of life and people in various ways, but the underlying themes of admiration and romanticism are highlighted.
The event SpringTime-Xuân Thì 3 will close on June 25 at 97A Pho Duc Chinh Street, District 1.
VNS