Musicians perform to thank COVID-19 fighters

Vietnam's three biggest orchestras will perform together in a concert at Vietnam National Academy of Music (VNAM)'s Grand Hall today (June 19).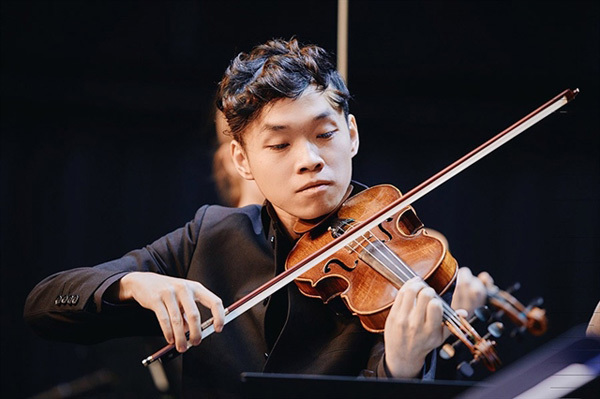 Violinist Nguyen Thien Minh will perform at a concert entitled We Return at Vietnam National Academy of Music on June 19. — Photo ticketgo.vn
Supported by the Ministry of Culture, Sports and Tourism, the concert entitled Chúng Tôi Đã Trở Lại (We Return) aims to thank health workers, soldiers and all people in the frontline of the fight against the COVID-19 pandemic. 
The concert features 130 musicians from Vietnam National Symphony and Orchestra (VNSO), VNAM's Hanoi Orchestra and Vietnam National Opera and Ballet (VNOB). 
The musicians will perform Overture from Gioachino Rossini's opera La gazza ladra (The Thieving Magpie); Concerto for oboe and violin by Johann Sebastian Bach; Concerto for two pianos and orchestra by Francis Jean Marcel Poulenc and Pini di Roma (Pines of Rome) by Ottorino Respighi. 
Oboist Hoang Manh Lam, violinist Nguyen Thien Minh and pianists Nguyen Huy Phuong and Nguyen Trinh Huong will be soloists at the concert. 
The artists are lecturers at the VNAM. Lam was a member of Vietnamese orchestra and foreign orchestras including the Chinese Cisma Orchestra, German International Jungle Orchesterakademic and Southeast Asia Youth Orchestra and Wing Ensemble. 
Minh won first prize at Asean Concerto Contest in Jakarta, Indonesia. He has performed with many foreign orchestras including the Norwegian Nordic Philharmonic and the Paraguay Landfill Harmonic Orchestra. 
Phuong and Trinh are senior teachers at VNAM. Both have received the title Doctor of Performing Art in Russia and their students have won regional and international prizes. 
The concert will be conducted by Japanese Tetsuji Honna, the principal conductor and music director of VNSO since 2009. 
Tickets are sold from VND200,000 (nearly US$9) at 77 Hao Nam Street, Dong Da District; Star Lotus, 101B Nguyen Khuyen Street; and Sketch Travel, 20 Nui Truc Street.  VNS

A total of 70 Vietnamese artists have worked together to release a music video titled "Thank you" which displays the group's sincere gratitude to heroes across the nation who have contributed to efforts to fight against the COVID-19 epidemic.

A special concert entitled "We Return" will take place in Hanoi on June 19 as a "thank-you" gesture to those who have been on the frontlines in the battle against COVID-19, gathering together over 130 artists from Vietnam's three largest orchestras.