More theatrical plays for teenagers are needed

More theatrical performances have been created for children, but plays for teenagers are needed as well, experts have said.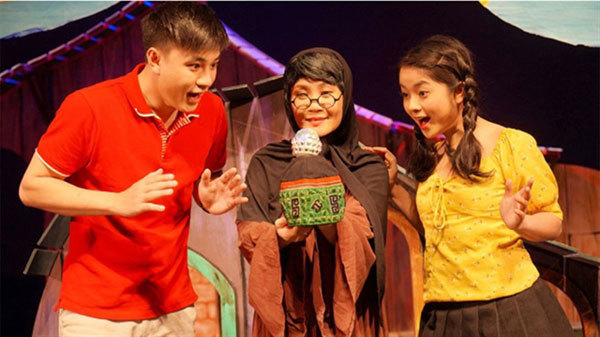 Theatrical performances for teenagers should be relevant to their age group. Photo courtesy of Tuổi Trẻ Theatre
In addition to children's theatrical plays inspired by foreign culture such as the movies Shrek or Mermaid, Tuổi Trẻ Theatre has recently launched several plays on traditional Vietnamese folk tales such as Con Chim Xanh and Sơn Tinh – Thuỷ Tinh, and Le Ngoc Theatre has introduced Tấm Cám.
Compared to previous years when most characters in the plays were from famous cartoons, games or superhero movies, this year's traditional orientation has made the industry more exciting.
This year, Tuổi Trẻ Theater will schedule weekly performances for children.
While it might be easier to produce shows for kids, coming up with theatrical plays for teenagers in secondary schools has become a challenge among many artists.
"We used to think that kids are simply kids. However, as audience's tastes have become more sophisticated, we think it is necessary to determine the age group each play should be for," deputy director of the Tuổi Trẻ Theatre Nguyen Si Tien told Thanh Niên (Young people) newspaper.
"There is a gap for teenagers," he said. "Even as a parent myself, I don't know what to show my teenage kid as this age group easily gets happy and sad at the same time. It's challenging to find a suitable play for this age group."
Performances at school's stages have filled the gap somewhat, experts said.
Last year, the musical play Mathilda, produced by Hoang Huong and performed in English by students from many high schools in Hanoi, was introduced to the public.
Since many people enjoyed the show, this play was performed multiple times.
Meanwhile, students at Ha Noi – Amsterdam High School for the Gifted also had their projects. Though they were not professional stages, these performances were appealing.
Screenwriter Chu Thom addressed the importance of having plays suitable for teenagers.
"This is a crucial age group to form a habit of watching plays. If we leave this group, there won't be audiences in the future," he said.
He added that screenplays for teenagers have to touch on modern topics that are relevant to their lives. Aesthetic elements and structure of each play needs focus as well.
On a different note, Tien said that Tuổi Trẻ Theatre has plans for future plays.
"We have signed a three-year contract with Belgian delegation Wallonie-Bruxelles to invest in teen performances," he said, adding that they are considering inviting their director to Vietnam.
VNS