Monsoon Music Festival to return this November

The Monsoon Music Festival 2019, Vietnam's largest music event, is scheduled to be held at the Thang Long Royal Citadel in Hanoi on November 1-9, featuring a lineup of Vietnamese and international artists.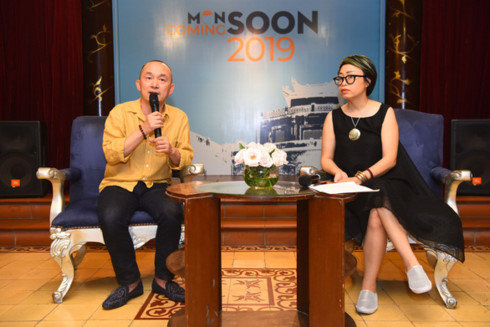 Founder of the Monsoon Music Festival Quoc Trung
The announcement was made by Quoc Trung, a music producer who is also the founder of the Monsoon Music Festival (MMF) and head of the organising board, on May 28.
He said that the festival will return to the capital after a two-year hiatus. The Hanoi People's Committee has granted permission for the festival to be held at the Thang Long Royal Citadel until 2020.
Attempts to hold the festival in the capital in recent years have faced difficulties with local authorities not allowing the MMF to take place at the former Imperial Citadel of Thang Long due to the significance of the site to the city.
The authorities made the decision despite the festival being part of Hanoi's long-term cultural development plan, as approved by Hanoi May or Nguyen Duc Chung.
Trung noted that the first warm-up event for the festival will be held at pedestrian streets close to Hoan Kiem Lake with the three main days being held at the Thang Long Royal Citadel.
A notable feature of this year's event will be those who attended previous versions of the MMF will receive attractive discounts on ticket prices. Moreover, MMF will become the first music festival in Vietnam that will purchase insurance for both organisers and the audience.
Since debuting in 2014, MMF has attracted thousands of music lovers from Vietnam and across Asia thanks to a diverse range of music styles. Some big international names have previously performed at MMF, including the all-female Australian-British string quartet Bond, Grammy-award winning soul singer Joss Stone, and famous German rock band the Scorpions.
The festival also aims to be a platform to introduce fresh musical projects and allow new generations to share their passion for music at a world cultural heritage site, the Imperial Citadel of Thang Long.
VOV/VNN

A Vietnamese musical piece, Four Symphonic Pictures from Vietnamese Folk Songs, has been played at the Beijing Modern Music Festival.  

The Dofrance meditation music wind chimes have become popular in many cities nationwide and have also been loved by many foreign markets.  

The HCMC Ballet, Symphony Orchestra and Opera (HBSO) will present an evening of 'Music of the German Masters' on June 2 at the Saigon Opera House.