Marksman Hoang Xuan Vinh to compete at Olympics 2020
Vietnam's leading shooter Hoang Xuan Vinh is the only representative of the Vietnamese shooting team to attend the 2020 Tokyo Olympics by invitation.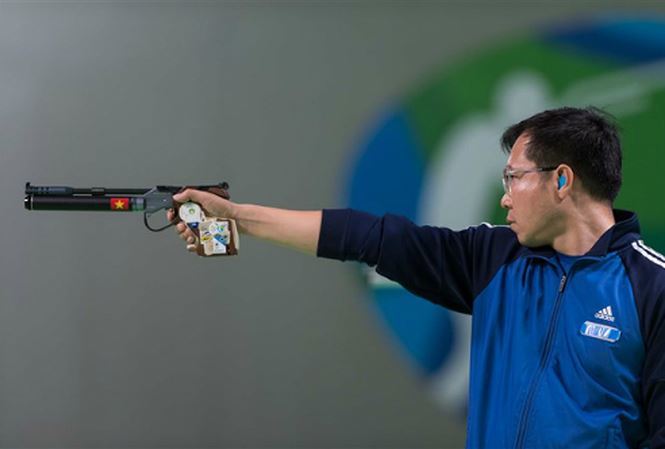 Hoang Xuan Vinh
The Vietnam Shooting Federation and the national shooting team's training board have decided to send Hoang Xuan Vinh, not Tran Quoc Cuong to the Tokyo 2020 Olympics by the only invitation card from the World Shooting Federation, according Mr. Tran Duc Phan, Deputy General Director of the General Department of Sports and Physical Training.

The World Shooting Federation allocated one slot to Olympic 2020 for Vietnamese shooting in the men's 10m air pistol event. The training board of the Vietnamese shooting team nominated veteran shooter Hoang Xuan Vinh while the Vietnam Shooting Federation nominated maskman Tran Quoc Cuong or another young athlete.

Director of the Elite Sports Department I Hoang Quoc Vinh said that Hoang Xuan Vinh deserves to attend the 2020 Olympics, because in addition to his great achievements, Vinh is the current champion of the men's 10m air pistol category, and during the recent training sessions his performance was very stable and outstanding.
Both Hoang Xuan Vinh and Tran Quoc Cuong attended the Rio de Janeiro Olympics in Brazil in 2016 and Hoang Xuan Vinh made history with 1 gold and 1 silver medal. 
2016 Olympian Cuong who placed fourth at the 2010 World Championship also competes in men's 10m air pistol and 50m pistol.
Recently, Hoang Xuan Vinh usually recorded 580-582 points. This is the outstanding result that shows the talent of the athlete who won the Olympic and is good enough to reach the finals at this year's Olympics.
Vietnam dominated shooting at the SEA Games since 2009 with 11 gold medals to lead the ranking table. In the next two events, Vietnamese marksmen secured seven each but they were still the top team.
However, their gold medal haul fell to four in the 28th Games in 2015 and one in the 29th Games two years later.
2019 was a big failure as they set a target of one gold but could not make the task.
Vinh lost his title after his poor performance in the last shots and ended with a silver, behind Pongpol Kulchairattana of Thailand.
After the loss, Vinh said he tried his best but the result was unexpected and admitted the pressure since his success in Rio in 20165 had gotten to him.
Bang Lang

Vietnam has received an invitation from the International Olympic Committee (IOC) to compete in shooting at the coming Tokyo Olympics.