Making recycled toys for Mid-Autumn Festival
This year, many children are not allowed to carry lanterns and go out to celebrate the Mid-Autumn Festival due to the outbreak of COVID-19. 
Therefore, parents have come up with the idea of making their own Mid-Autumn toys at home to bring joy to their children during the pandemic.
From bottles of soft drinks and milk cartons that are no longer in use, Mai Thanh, a housewife living in Hanoi and her children have created a small lantern string to decorate their home for the Mid-Autumn Festival.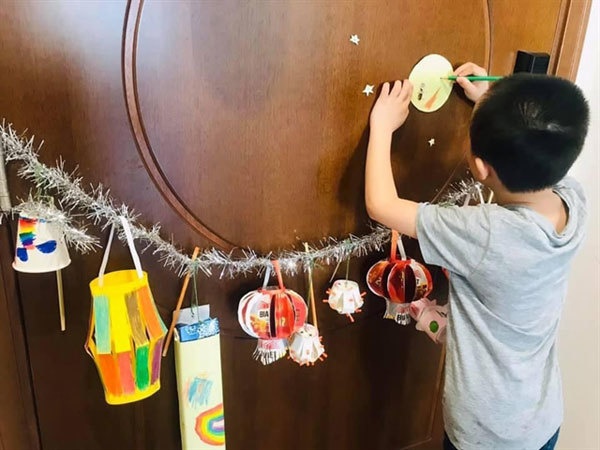 Decorate your home for the Mid-Autumn Festival with a string of small lanterns. Photo courtesy of Mai Thanh
Each lantern is completed in about 30 - 60 minutes by cutting and sticking the plastic bottles together. Materials are collected from her household waste such as plastic bottles, disposable cups or old red envelopes.
Thanh and her family moved to Hanoi eight months ago. Since the city is under lockdown, her children often feel sad because they miss their relatives and friends. Therefore, the mother of two came up with the idea of ​​recycling many kinds of Mid-Autumn Festival toys at home so that her kids can have more fun.
Thanh's idea of making "mini-moons" from tangerine and grapefruit peels also received dozens of compliments from the online community for their creativity.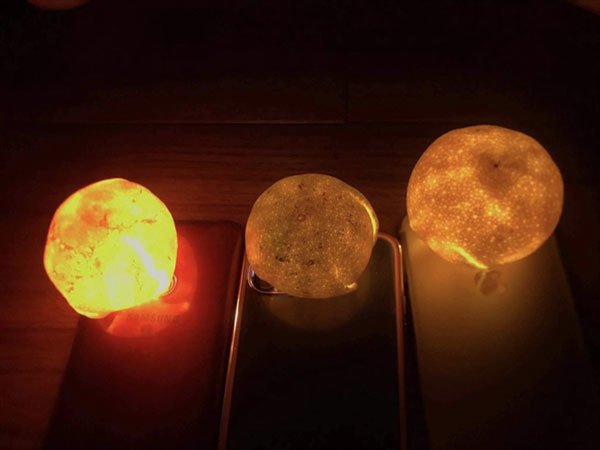 Making "mini-moons" from tangerine and grapefruit peels.  — Photo courtesy of Mai Thanh
"Mid-Autumn Festival toys made from household waste are cheap and easy to make. Recycling also makes my kids more creative and learn to make better use of everything," Thanh said.
Also celebrating Mid-Autumn Festival at home this year, Dinh Duy, a photographer living in HCM City, decided to make a dragon head out of milk cartons for his children.
"I want my kids to celebrate the Mid-Autumn Festival even if they can't leave the house. So as soon as I saw the empty milk cartons, I knew I had to start doing something right away," Duy said.
The young photographer's handmade dragon head is made from materials that are available at home such as cardboard, empty milk cartons and coloured with acrylic paint.
After three days of work, Duy's dragon head surprised the whole family and friends because it looked exactly like it was bought in a store.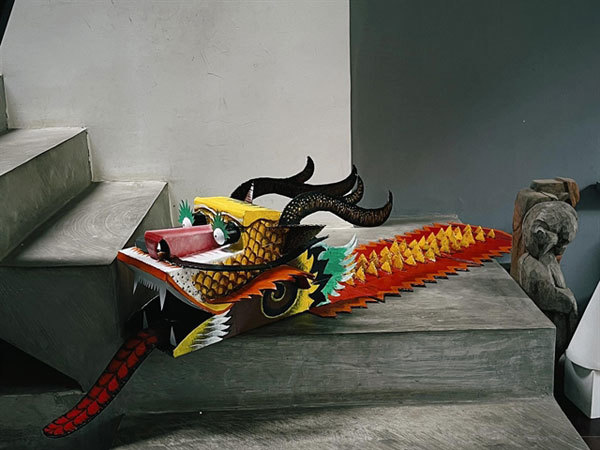 Duy's dragon head looked like it was bought in a store. — Photo courtesy of Dinh Duy
Learn to love the environment
During COVID-19, milk cartons and plastic bottles become even more meaningful when they are recycled into toys, helping children to think creatively and become less dependent on electronic devices.
Recycled toys also help children understand the value of waste if they are disposed properly. Moreover, children are motivated to continue to maintain the habit of sorting and recycling garbage.
Along with the concern of making more play areas for children, Bui Van Huy, an architect living in Hanoi came up with the idea of ​​recycling waste into Mid-Autumn Festival toys for children.
"Why not use waste as a source of raw materials to make safe toys for children and helping parents reduce a large amount of spending on expensive toys that are sold in stores?" Huy said.
From that, Huy started researching how to make toys for his kids out of various cardboard boxes.
His idea of making dragon heads and carp lanterns out of cardboard was immediately loved and praised by many parents.
Cardboard dragon head. — Photo courtesy of Bui Van Huy 
Huy also continues to expand his recycling idea by creating a Youtube channel called "kheoleodoitay" to teach parents and children to make toys from household waste.
"Through recycled toys, I want to help people be more aware of littering and waste segregation in the future," he said.
Minh Nguyet, from Tohe channel, also won praise when sharing the idea of making carp lanterns out of plastic bottles.
Many bottle caps, plastic bottles and cellophane are cleverly and creatively used to create the typical Mid-Autumn Festival toy.
She believes that creating such toys with children will nurture their imagination, creativity and logical thinking.
"When making toys with parents, children will also learn to love the environment and use waste wisely," Nguyet said.
Source: Vietnam News

The Thang Long Royal Citadel in Hanoi is scheduled to hold a range of activities from September 19 aimed at celebrating the Mid-Autumn Festival.

A studio located in a small lane on Thuy Khue Street, Hanoi, is making eco-friendly toys from environmentally-friendly material – hemp.

After a hard day at work, Luu Chung Nghia from Vong La Commune on the outskirts of Hanoi returns home to his favourite hobby: creating toys from trash.