Linh to become first Vietnamese professional boxing athlete

Vietnam champion Ha Thi Linh is hope to fight her way to the top.
On Saturday, she will make her professional debut at the World Boxing Organisation Asia Pacific tournament in China.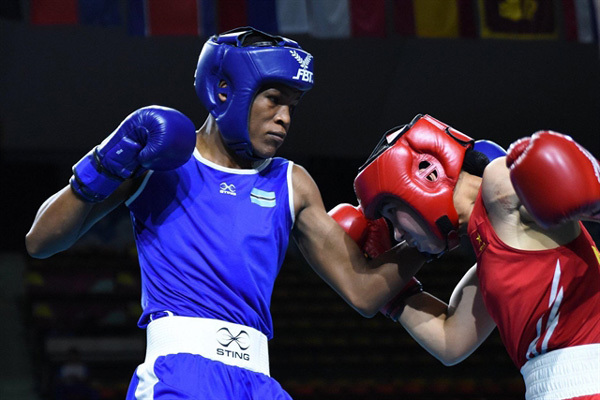 Ha Thi Linh (right) competes against a Botswana boxer at the Thailand Open International Boxing Tournament last month. — Photo courtesy of Ha Thi Linh
The 26-year-old is the first Vietnamese female boxer to turn professional.
Linh, 26, will face China's Zhao Yuanyuan in the lightweight of 61kg category at the Shenzhen Bao'an District Sports Centre in Shenzhen, China.
Zhao is more experienced than Linh as she has won both two bouts in her career.
At 1.70m, Zhao, taller than Linh, is said to be an orthodox fighter with great skills.
"Yes, I am a little nervous because it is the first time fighting professionally," said Linh.
"But I have to prepare myself first, and then things will be adjusted when I am in the ring, depending on how she competes."
Linh, who has a 16-month-old daughter, last month won a bronze medal at the Thailand Open International Boxing Tournament.
She added: "It is difficult to say anything prior to the match. I do not set any target myself because it would be heavy pressure for me and that may cost 50 per cent of my power.
"I just try to improve my physique and my strong points then fight best in the ring."
Linh previously won gold at the Southeast Asian Games in 2013.
She is currently training with coach Nguyen Nhu Cuong who set up special plan for her.
"It is similar to amateur boxing but professional is a little different," said her coach.
"We still do boxing on the ring but it is in higher level and in different rules. So it requires athletes train hard to improve their technique and physique.
"To take part in professional competitions, athletes must have experienced a lot from local and international tournaments such as the regional, Asian, world and Olympics.
"Organisers will select potential athletes from those we nominate. This year, we have sent two names and Linh is selected due to her remarkable achievements."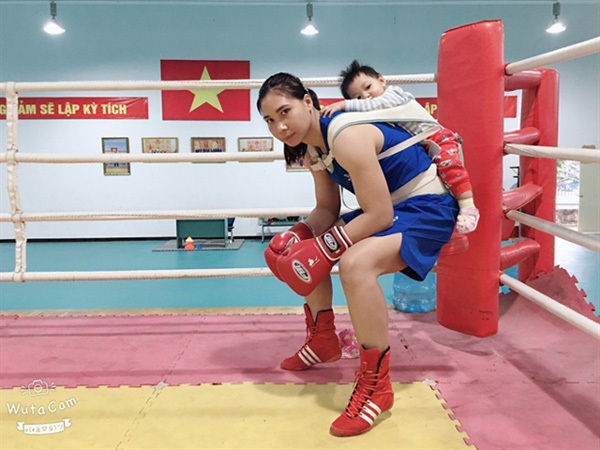 Ha Thi Linh and her daughter after competition at the National Sports Games in 2018 when she took a gold medal in the women's 69kg class. — Photo cand.vn
Linh is already a successful boxer in Vietnam as she has collected titles in all national tournaments from junior to senior levels and from 57kg category to 69kg class.
"Linh is an outstanding athlete," said coach Cuong who has been working with her for 13 years.
"She is hard working, agile and really strong.
"At first tests, we learned she would be a good athlete. But the more she practises, the more we believed that she would be a good boxer.
"Linh has all elements to be successful. She has good speed, endurance and a strong mind. She is also determined and loves boxing. It is really difficult to have such a boxer. She is a rare kind athlete."
Linh moved from her Lao Cai Province to Hanoi when she was 13-years-old to concentrate on her boxing.
After two years, she was called up to the national youth team and three years later made it to the national team.
"I have been in different classes, from 57kg in the junior tournament and up to 69kg after I gave birth last year. And I have almost won all of them," said Linh.
"It is hard to practise boxing, as the same as other sports. We have to train for strong physique first and then we have to practise fluent tactics.
"Sometime it is tiring and boring but I told myself that I have spent years living far from family for the sport that I love and I cannot quit easily. Family is my great encouragement," said Linh, mother of a 16-month girl.
"Sometime, it hurts and I get a black eye but boxing is my destiny and I will stick at it forever."
VNS