Lifting trophy with Saigon Heat like a dream: Nix

Saigon Heat have fulfilled their dream of lifting the Việt Nam Basketball Association (VBA) title after beating Cantho Catfish in the decisive fifth match of the VBA final series last month.
The hero of the Heat was American Tavarion Nix, who had one of the best matches of his career with 30 points and 20 rebounds. Nix, 27, won the Most Valuable Player (MVP) Award for the VBA Final series, and Thanh Nga talks to him.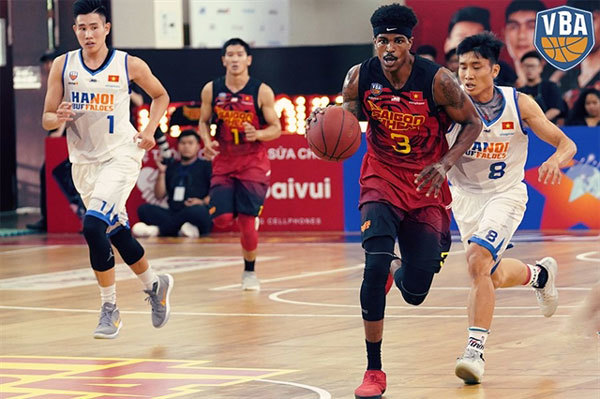 FAST MOVER: Tavarion Nix (right) competes in the VBA this year. Photo courtesy of VBA
Can you tell us a bit about yourself?
My name is Tavarion Nix. I'm from St Petersburg, FL, USA. I'm a five-year professional basketball player. I've played in nine different countries. I've won three championships in my career including two professional titles and one in college.
How did it feel to win the MVP award at the VBA Finals?
It feels great to win the championship and the MVP. I feel like all my hard work has paid off and it's like a dream.
I thank my coach, teammates, staff and fans of Saigon Heat very much.
We completed our target of taking the title for the first time. Saigon Heat are the champions. We broke the misfortune of only reaching the finals. We won!
Besides your outstanding performance, can you explain the reason why the Heat triumphed in the VBA?
I have to pay a lot of respect to my teammates. They played well all season and they've had my back since day one. I also have to credit our coach David Singleton. I felt we were prepared for every team and every game this season, especially in the playoffs. Singleton had a game plan and we as players just had to execute.
You have played well in the VBA for Cantho Catfish in 2016 and Saigon Heat from 2018-19. What do you think about your achievements?
Last season I was second on the scoring averages with 26 points. In my first season at Can Tho I averaged 18 points and 16 rebounds, which I led the league in rebounds. But this season we had a lot of guys returning, we had a good system and we meshed well together as a team so I also played better.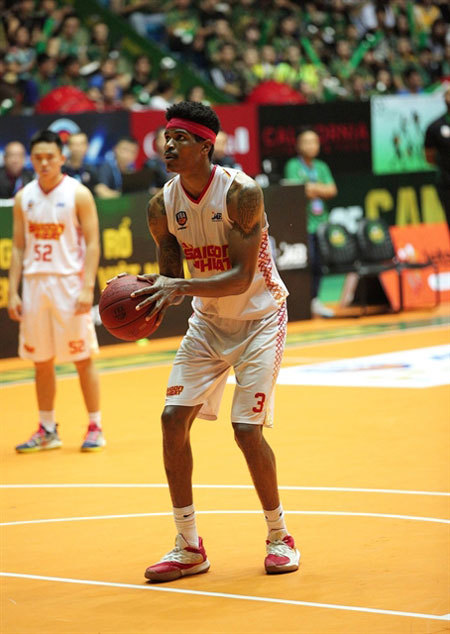 ON THE MARK: American Tavarion Nix won the Most Valuable Player Award in the VBA Finals. Photo tin247.com

Can you say something about the VBA?
It is clear the VBA has changed quickly since I came here (2016). The quality of domestic and foreign players has also increased significantly. Besides, the VBA is more and more successful thanks to the enthusiasm of fans. Saigon Heat owns a frenetic force of fans. Few clubs have such many excited supporters like the Heat.
This year, the imports were better than they've ever been in the VBA. The local players are still continuing to improve, especially the youth.
When did you fall in love with basketball?
When I was 17.
Did your family affect your way of playing?
My whole family play basketball so of course they affect me playing the game and the way I play.
My father was a sailor so my family was often on the move when I was small. My parents transmitted inspiration for me. They were good players in university.
I inherited the love for basketball from my parents, who also taught me the way of facing and accommodating myself with difficult circumstances.
As a professional player and competing in a modern sporting environment, I always push myself to improve daily or else I'll suffer defeat.
Who's your idol in basketball and why?
I like Kevin Durant because I feel we play similar games and have similar body types. Durant is an American basketball player for the Brooklyn Nets in the National Basketball Association (NBA). He played one season of college basketball for the University of Texas, and was selected as the second overall pick by the Seattle SuperSonics in the 2007 NBA draft. He played nine seasons with the franchise, which became the Oklahoma City Thunder in 2008, before signing with the Golden State Warriors in 2016, winning back-to-back championships in 2017 and 2018.
Which Vietnamese food do you like best?
My favourite Vietnamese food is phở, a delicious beef noodle soup.
What do you do in your free time in Vietnam?
When I'm not at practice I just play video games and listen to music.
Do you intend to stay longer in Vietnam?
No, my journey here in Vietnam is complete. I'm leaving my legacy here on top of the mountain.
In the VBA, I became the champion after three seasons, and two seasons attached with the Heat. I am very happy and feel that I was very lucky to play in Vietnam.
However, I see I have got what I wanted in Vietnam. My close friend coach Singleton has also left Vietnam. It is time for me to move on to greater things.
My love for the Vietnamese fans is very big. I am very moved and fired and want to thank them very much.
What are your future plans?
I have several offers to explore for next season, but for now I will rest and spend time with my family. VNS
Thanh Nga