Lan awarded two golds after Asian champs winner banned for doping

Vietnamese runner Quach Thi Lan has been awarded two gold medals from the Asian Athletics Championships 2017 after winner Nirmala Sheoran of India tested positive for a banned substance.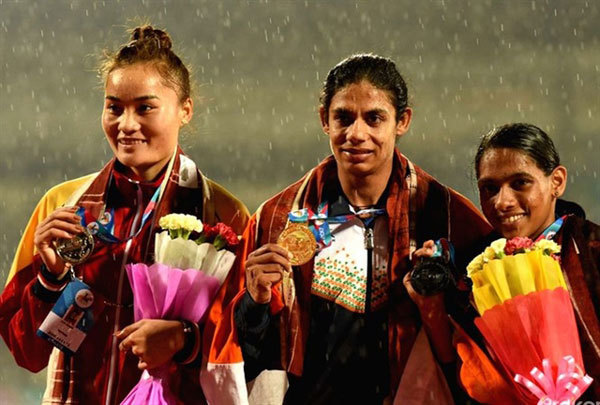 Quach Thi Lan (left) poses with her silver medal from the women's 400m at the Asian Athletics Championship 2017. — Photo tienphong.vn
The International Association of Athletics Federation (IAAF) has banned the Indian athlete for four years due to doping and the federation has also rescinded all her results from August 2016 to August 2018, including two gold medals in the 400m and 4x400m relay at the Asian event two years ago.
During the competition, Sheoran won gold in the women's 400m with a time of 52.1 seconds, while Lan took silver medal with a time of 52.78secs.
During the 4x400m relay, Lan and her three teammates won a silver medal with a time of 3:33.22. This was behind the Indian team which included Sheoran, who finished in a time of 3:31.34.
Now, Lan's results have now been upgraded with two gold medals gained at the Asian Championships 2017.
Lan is an unique situation in Vietnamese sport as the 24-year-old girl has been awarded three continental gold medals in a year after her rivals were found to have been using banned substances.
Lan, from the central province of Thanh Hoa, was also awarded a gold medal for the women's 400m hurdles at the 2018 Asian Games after winner Kemi Adekoya of Bahrain tested positive for a banned substance.
At present, Lan is training in Hanoi to prepare for the upcoming Southeast Asian Games to be held in the Philippines later this year. She is the golden hope for Vietnamese athletics in the women's 400m and 4x400m relay.
VNS